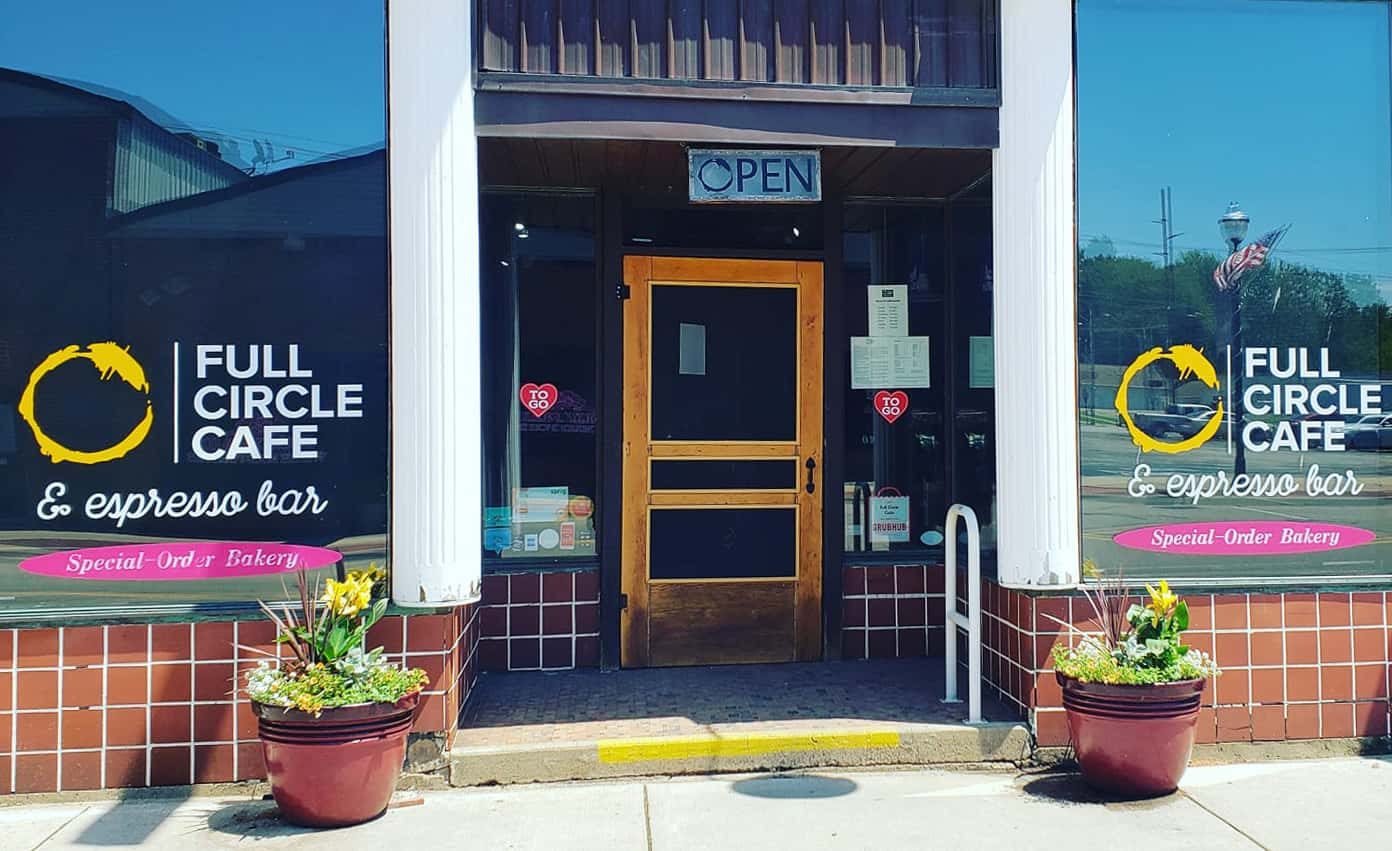 In far more ordinary times, many among us purposefully seek out uniquely cozy little spots to grab a leisurely breakfast or a light lunch. Unfortunately in days of pandemic, social distancing mandates leave many such cozy corners scratching their heads over what to do to even survive.
One such local entrepreneurial business, gravely concerned in recent months about the ability to make it through to the other side of these strange times has been forced to make tough decisions and innovate like many colleagues in the hospitality industry. Fortunately, the team at Full Circle Cafe & Espresso Bar in downtown Stevensville has boldly sought permission to literally spill into the street and been granted the green light for what they hope will be a highly successful venture onto St. Joseph Avenue downtown. More on their dual patios both behind and in front of their business in a moment.
Owner Jayme Bendoski has been on an emotional rollercoaster like so many others in the food service industry. Her five year old business was gaining great traction and garnering rave reviews, and all was right with the world. Until it wasn't anymore. When the pandemic forced decisions in Lansing to order everyone to Stay Home and Stay Safe, Jayme and her partner in both business and in life, husband Ryan, made the decision to shut the doors on March 23rd.
Following a dramatic decrease in sales beginning in early March, they elected to make the health and safety of both staff and customers alike their top priority. Jayme is the first to admit, "This was a very tough decision, financially. While we knew we couldn't keep our doors open if we continued to stay open with the new restrictions of takeout only, closing meant we'd enter the unknown territory of figuring out how to reopen after an undetermined amount of time, with potentially zero capital."
It was scary, as we all know. Jayme tells us, "We were closed for 10 weeks, however during that time, our amazing customers rallied for us and literally kept hope alive for us as they continued to purchase electronic gift cards." She adds, "We were also grateful to be awarded a RAMPP zero-percent interest loan through Cornerstone Alliance to cover our rent during the closure."
It was anything but a vacation, as the Bendoski family, while in shutdown mode, created a brand new website at http://FullCircleStevensville.com complete with an online ordering system that enables them to receive orders at a much faster pace than just taking phone calls on two landlines, like they had done prior to the pandemic.
Like many other restaurants, diners and cafes, in preparation to reopen, Full Circle Cafe & Espresso Bar was professionally deep-cleaned from top to bottom, sanitized by ServPro, with plexiglass barriers installed by Doubleday Office Products, set up multiple sanitizer stations, and the entire staff completed ServSafe's Covid 19 certification regimen.

Jayme says, "Since reopening on June 8th, we continue to offer contact-free takeout, curbside pick-up, and our own Full Circle delivery service, with online and phone ordering options, as well as walk-ins." With summer at hand, they recently opened their shady and lush back patio, which can seat 24 perfectly socially distanced guests, for "dine-in" table service.
Realizing that the otherwise huge benefit of a cozy cafe was not a plus factor in times of social distancing, Jayme says, "We have made the difficult decision to NOT allow indoor dine-in table service for now, and we have lost sales because of it. However, our building is one of the oldest on the block, and like most of our neighbors, it's a very narrow, cozy space and we feel the layout does not allow for proper social distance, even at 50-percent capacity."
Rather than give up and hope for the best with limited in person service and continued options for carry-out and delivery, Jayme and Ryan worked to strike a deal with the Village of Stevensville. She says, "In an effort to serve additional customers in the safest way possible, we asked the Village to allow us to do something that's never been done in Stevensville before. We asked them to grant us access to 2 parking spaces on St. Joseph Avenue in order to set up an additional patio in the front of our building." It was a bold move, but the council has voted to approve the request, and a formal temporary license agreement was signed today.
Excited beyond compare, Jayme says, "If all goes as planned this week, we'll have an additional 24 socially distanced seats set up and ready to roll by this Saturday, June 11th, and we will begin serving our full menu of breakfast, lunch, coffee and sweets on our new street-side patio, just in time for the weekend."
You can keep tabs on those plans and beyond by following Full Circle Cafe & Espresso Bar on social media pages, by way of their website, or by just picking up the phone and calling at (269) 429-8696. You'll find links below.
You'll find Full Circle Cafe & Espresso Bar at 5729 Saint Joseph Avenue in downtown Stevensville. Here's what you need to know about their patio service:
Open Wednesday-Sunday, 8am-2pm, weather permitting, beginning July 11th.
Access is first come, first served. Maximum party size is 6 persons.
While we're not accepting reservations at this time, you may call ahead to hop on our wait list at (269) 429-8686
If there is a wait to get seated when you arrive, we'll ask for your phone number and text you as soon as your table has been clean and sanitized. There's an adorable new gift boutique next door, along with lots of other neighboring businesses to discover while you wait. (Watermark, Red Coach, Woodies, Goodwill)
A full menu will be available, and all menus are single use, and will be discarded after each party is served.
Because we care about you, our employees will be wearing masks, even when they're outside. Communicating can be a challenge while wearing a mask, especially if it's noisy, so please be patient and understanding. We are doing the best we can.
Here are the links:
Facebook: https://www.facebook.com/fullcirclecafeandespressobar/
Instagram: https://www.instagram.com/fullcirclecafeespressobar/
Website: https://fullcirclestevensville.com/