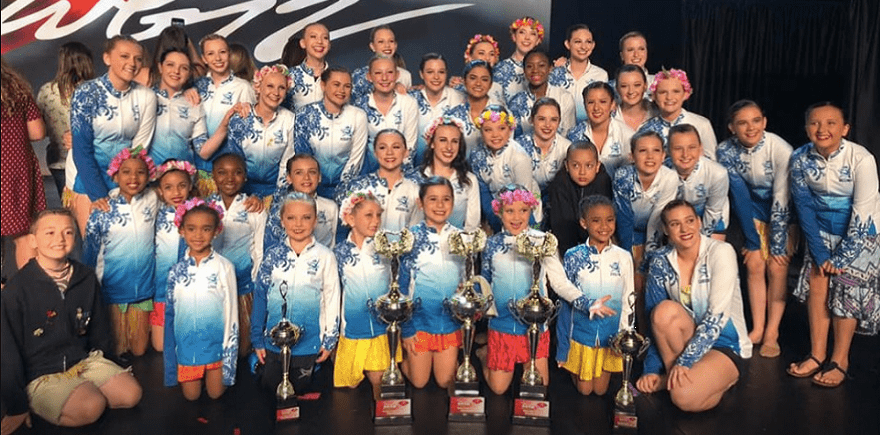 The Fusion Center for Dance is dancing all the way home from Daytona Beach, where they made waves at the Showbiz National Dance Competition.
Over 5,000 dancers from 37 studios across the country competed in the competition, with six of Fusion's dancers making it to Grand Finals. In the end, three of Fusion's group dances took the top prize, making those dancers National Champions.
"I am proud beyond words of these kids," said Fusion Co-Owner and Artistic Director Jennifer Loy. "To see them take the stage all week and then to dance with passion and integrity and true artistry, and then make grand finals and win, I never thought we would be in this place at year four. They have exceeded every expectation ever placed, and have worked above and beyond and they made this happen!"
"Our goal was to make it to the Grand Finals," Fusion Co-Owner Christine Waterhouse added. "Odds were against us, we were one of the smaller studios competing against teams from all over the United States with over 150 kids (we have 43). But then, as you can see in the videos on Facebook, our dancers did it! I have never cried, screamed and been so proud in my entire career."
Fusion Dance Company will be accepting new members in August for the 2019-20 season. Team workouts begin July 30th with a mandatory intensive August 19-22 with auditions on the 23rd. Dancers should have had at least one year of experience and a passion and commitment for dance. Ages 3-18 are eligible to participate. If you are interested in learning more, you can visit their website here, or call at 269-985-8144.
Fusion will also host open houses at their two locations in Benton Harbor and Coloma. The Benton Harbor open house will take place Saturday, August 24 from 11 a.m. to 2 p.m., the Coloma open house on Tuesday, August 27 from 4 to 6 p.m. The Benton Harbor location is at 2162 Plaza Drive, the Coloma location at 6777 Paw Paw Avenue.
---
Listed below is the complete list of awards earned by Fusion Dancers.
Solos/Duets/Trios
Evelyn Burt – Costume Winner Petite Solos
Reese White – Photogenic Winner and 8th Overall Diamond Petite
Annabella Naka – 8th Overall Sapphire Pre-junior
Kate Mosher – 6th overall Ruby Pre-junior
Aubrielle Floyd- 5th overall Ruby Pre-junior
Kaylin Hauch – Open Icon Award and 6th overall Diamond Pre-Junior
Abby Klopp- Miss ShowBiz, Open Icon Winner and 3rd overall Sapphire Junior
Brye Waterhouse – Costume Winner Pre-Teen solos
Bekah Siri – 7th Overall Ruby Pre-teen
Lauren Vegter – 8th Overall Ruby Teen
Grace Larsen – 7th Overall Ruby Teen
Breckyn Bussey- Photogenic Winner, Musical Theater Icon Winner, and 4th Overall Ruby Teen
Together at Last (Courtney & Mya Holley) – 3rd Overall Petite Sapphire Duet
Girls (Kate Mosher & Aubrielle Floyd) – 4th Overall Junior Ruby Duet
Count on Me (Jillian Abshagen & Madison Dickey) – 9th Overall Senior Ruby Duet
Leah Terry – Miss ShowBiz Runner Up and 4th Overall Senior Ruby Solos
Meredith Gacek – Jazz Icon Winner, Miss ShowBiz Winner and Solo Showdown (re-compete)
2nd Overall Winner Ruby Senior Solos
Jordan Moyer – Costume Award Winner and 8th Overall Diamond Senior Solos
Group Dances
Trophy – 7th Overall Junior Ruby Small Groups
Little Secrets – 9th Overall Teen Ruby Small Groups
Placekeeper – 7th Overall Teen Ruby Small Groups
A Musical – 6th Overall Teen Ruby Small Groups & Choreography Award winner
Banana Split – 7th Overall Petite Sapphire Large Group
Stand by Me – 8th Overall Junior Ruby Large Groups
Latin Beats – 4th Overall Senior Large Groups
Bathing Beauties – 4th Overall Petite Ruby Small Group and 5th place nationally
In the Land of Dreams – 6th Overall Junior Ruby Small Groups and 5th place nationally
Moana – 2nd Overall Ruby Teen Production and 4th place nationally.
Gaston – 3rd Overall Teen Ruby Large Groups and 1st place National Champions!
Breaking Ground – 1st Overall Senior Large Groups and 1st place National Champions!
Queen – 1st Overall Teen Ruby Line and 1st place National Champions!