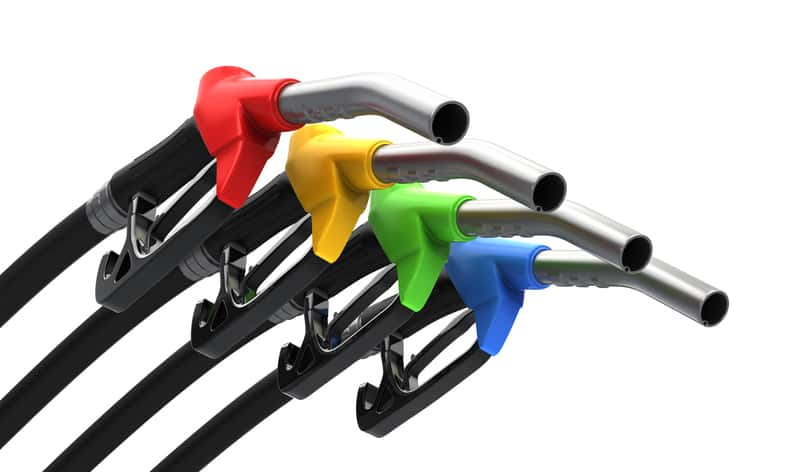 We haven't seen gasoline prices this low in Michigan since the leaves that are currently falling off of the trees first began to take bloom last spring. It has been at least seven months, dating back to April, since prices were in the current range, but tomorrow's election results could bring the free-fall to an end or help continue the downward trend.
Triple A-Michigan's Nancy Cain says drivers across Michigan are finding the lowest prices at the pump since April, with the state average price for a gallon of regular unleaded now sitting at $2.72 — some 40-cents less than this year's high, and the same as this time last year.
Gas prices continued their downward trek last week, declining another 9-cents.  The state average declined for the 10th consecutive day on Sunday, for a total discount of 12-cents.
Most expensive gas price averages: Marquette ($2.89), Ann Arbor ($2.81), and Metro Detroit ($2.76)
Least expensive gas price averages: Grand Rapids-Muskegon-Holland ($2.65), Benton Harbor ($2.66), and Jackson ($2.66)
Cain, the spokesperson for AAA-The Auto Club Group says, "Michiganders are saving 40-cents per gallon, compared to when gas prices peaked the during Memorial Day weekend." She points out that, "Gasoline is becoming less expensive to produce-and-sell thanks to lower crude prices and cheaper-to-produce winter blend fuel. Retail prices have not quite caught up with declines on the wholesale side, so motorists should see another round of discounts this week."
Tomorrow's election, however, has the potential to reverse course on fuel prices based on any fluctuations in the stock market due to voting results and the activation of U.S. sanctions against Iranian crude. Cain says, "Regardless, AAA believes the highest prices of the year are behind us."
Gas prices in Metro Detroit averaged $2.76 on Sunday – the lowest since April 2018. Detroit gas prices have declined the last 10 consecutive days for a total of 8-cents. Motorists in Detroit are finding prices averaging 5-cents less than last week, 23-cents less than last month, and 2-cents less than this time last year.
Crude oil prices are hovering near 7-month lows. On Friday, WTI settled at $63.14 per barrel – nearly $4.50/b less than the week before, and the lowest daily settlement since April 6, 2018. The weekly average price for U.S. crude has declined the past four consecutive weeks. Before then, crude prices faced upward pressure amid growing concerns that U.S. sanctions against Iranian crude would cause a global supply shortage. However, those concerns are being quelled by increased production by countries like the U.S., Saudi Arabia, and Russia.
Crude production in those locations all remain strong. U.S. oil inventories rose for the sixth consecutive week, according to weekly data from the Energy Information Administration. Domestic supplies rose 3.2 million barrels from the week before. Meanwhile, gasoline inventories dropped by 3.2 million barrels. Additinally, OPEC production levels for October reportedly reached the highest output levels since 2016 as some members boosted production in preparation of Iran sanctions.
On Friday, the Trump Administration announced the U.S. would re-impose sanctions on Iran that were lifted in 2015 under the Obama Administration. The sanctions, which will go into effect today, November 5, 2018, target the Iranian energy sector and impede Iran's ability to sell oil.
According to the Energy Information Administration, Iran ranks as the world's fourth-largest reserve holder of oil. Iran also ranks among the world's top 10 oil producers, producing almost 4.7 million barrels per day of petroleum and other liquids in 2017. While Iran is an oil powerhouse, Saudi Arabia (9-percent) and Iraq (6-percent) are the top two OPEC countries exporting to the U.S. and 2 of the top 5 countries overall that sell oil to the U.S.
In May, when the decision to re-impose oil-related sanctions was announced, the market reacted quickly with crude oil prices (WTI) peaking at $77 per barrel this summer. As the crude market saw big upward price swings due to concerns about restricted global supply, Iran started to feel the impact on oil exports.
According to the Trump Administration, Iran went from exporting 2.5 million b/d in May to 1.5 million b/d in October and over twenty countries have reduced their imports of Iranian oil to zero. Exports are expected to drop further, but not immediately. Bloomberg reports that the U.S. has granted temporary waivers to eight countries – including Japan, India and South Korea – allowing them to continue to import Iranian oil. Those receiving the waiver are expected to continue cutting imports.
Here are Gas Price Information Tools available to the consumer:
GasPrices.AAA.com – Daily national, state, and metro gas price averages
AAA Mobile app – Free app that compares gas prices near you
Gas Cost Calculator – Determine how much gasoline will cost on your next road trip
Every day up to 130,000 stations in the nation and more than 4,200 stations in Michigan are surveyed based on credit card swipes and direct feeds in cooperation with the Oil Price Information Service (OPIS) and Wright Express for unmatched statistical reliability. All average retail prices in this report are for a gallon of regular, unleaded gasoline.
AAA updates fuel price averages daily at www.GasPrices.AAA.com.