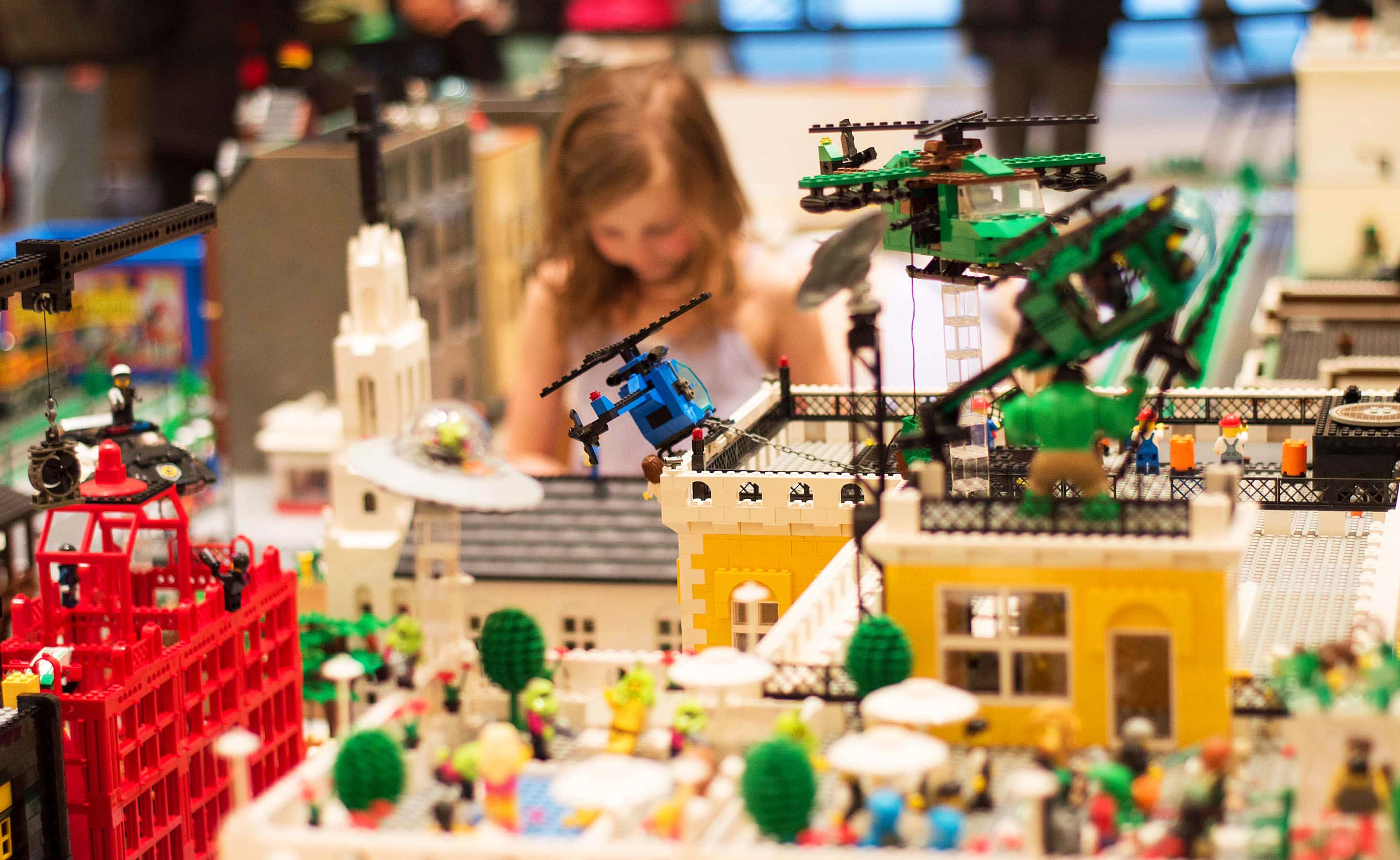 Other than accidentally stepping on one in the middle of a darkened room after midnight, most among us still marvel over the colorful tiny plastic bricks we have come to know and love as LEGO bricks. In fact, in Michigan's Great Southwest, LEGO bricks will pop up all around the town in the coming days to the delight of fans everywhere.
Stacks of fun are coming to St. Joseph during the 5th Annual Build Your Way Around Town LEGO bricks event beginning on Thursday, March 2 and running through April 9. Sponsored by United Federal Credit Union, the event will be hosted at seven downtown sites that will entertain all ages with amazing displays, a professional Big Build, games, workshops, live LEGO characters and dress-up costumes. Parking at all sites is free.
Here's what you can look forward to:
March 2: Builders' Bash, 4 to 8:30pm at the Silver Beach Carousel at 333 Broad Street. This marks the Grand Opening Event for the Carousel's Amazing LEGO Display. You can view more than 100 brick creations, made by local builders, enter to win hourly prize drawings (for ages 3-12 years) and ride the Carousel at half price (only $1). A live LEGO character will make an appearance for fun photo opportunities.
March 2-April 9: Amazing LEGO Display at the Silver Beach Carousel. See pre-built exhibits created by youth ages 4-12 years old. Visit SilverBeachCarousel.com<http://silverbeachcarousel.com> for hours and more information. Admission is free.
March 3-5: Big City Build from 11am until 9pm on Friday and Saturday and from noon until 5pm on Sunday at the Shadowland Ballroom at 333 Broad Street. Professional builder Jason Spear and the Western Michigan LEGO Train Club will create a magnificent cityscape with multiple trains. Viewers can talk with the creators and get building tips. Admission is free.
March 6-18: LEGO Mosaic Mural Brick Creations from 10am until 4 pm from Monday through Saturday at the Box Factory for the Arts located at 1101 Broad Street. Visitors can create their own 6″x6″ LEGO brick mural that will be included in a larger installation on site. Admission is free.
LEGO Creationary Board Game 10am to 4pm, Monday through Saturday at the Box Factory for the Arts. Bring family and friends and challenge each other's building skills. Admission is free.
March 6, 13, 20 & 27: Monday Prize Drawings at the St. Joseph Today Welcome Center located at 301 State Street. Children can turn in entry forms each time they visit any of the participating sites. LEGO and DUPLO prize packages, donated by United Federal Credit Union, will be awarded in random, free drawings on each Monday. Winners do not need to be present.
March 11: LEGO Bingo from 1-4 pm at the Curious Kids' Museum at 415 Lake Boulevard. Children, ages 2-10 years, can play for prizes. New games start every half hour. Enter through brown door on south side of building for free admission.
March 16: LEGO Culinary Creations Class 5:30-7:30pm at the Box Factory for the Arts. Participants in this hands-on activity will make colorful LEGO head marshmallow pops and LEGO block rice cereal treats. $20 per participant. Space is limited and pre-registration is required: 269-983-3688
March 18: Skyscraper Building and Stop-Motion Workshops at the Krasl Art Center at 707 Lake Boulevard. The Skyscraper Building is geared for children 5-7 years old and will offer Session 1: 12-1:30 p.m. and Session 2: 2:30-4 p.m. Teams of participants will use LEGO's Architecture Studio design toolkit to build tall and strong skyscrapers.
Stop-Motion will offer two sessions for children 8-12 years old. Session 1: 12-1:30pm and Session 2: 3-4:30pm. Young animators will collaborate to bring LEGOS to life in short, stop-motion animation videos that will be uploaded to the Krasl Art Center YouTube page for public viewing. Admission is free. However, because of limited seating, pre-registration is required at http://public.krasl.org/public/Youth.faces.
March 23: LEGO Family Carnivale from 6-8pm at The Heritage Museum and Cultural Center (in partnership with Maud Preston Palenske Memorial Library) at 601 Main Street. This fun-packed evening includes free build stations, LEGO games, cupcake walk, relay races, bucket toss, demonstrations by the First LEGO League, viewings of the Krasl Stop-Animation videos, plus drinks and snacks. Admission is free. However, because of limited space, pre-registration is appreciated. Please call the Library at 269-983-7167 to RSVP.
For Build Your Way Around Town event updates, directions and more information click these links:
http://BuildYourWayAroundTown.com
http://facebook.com/BuildYourWayAroundTown