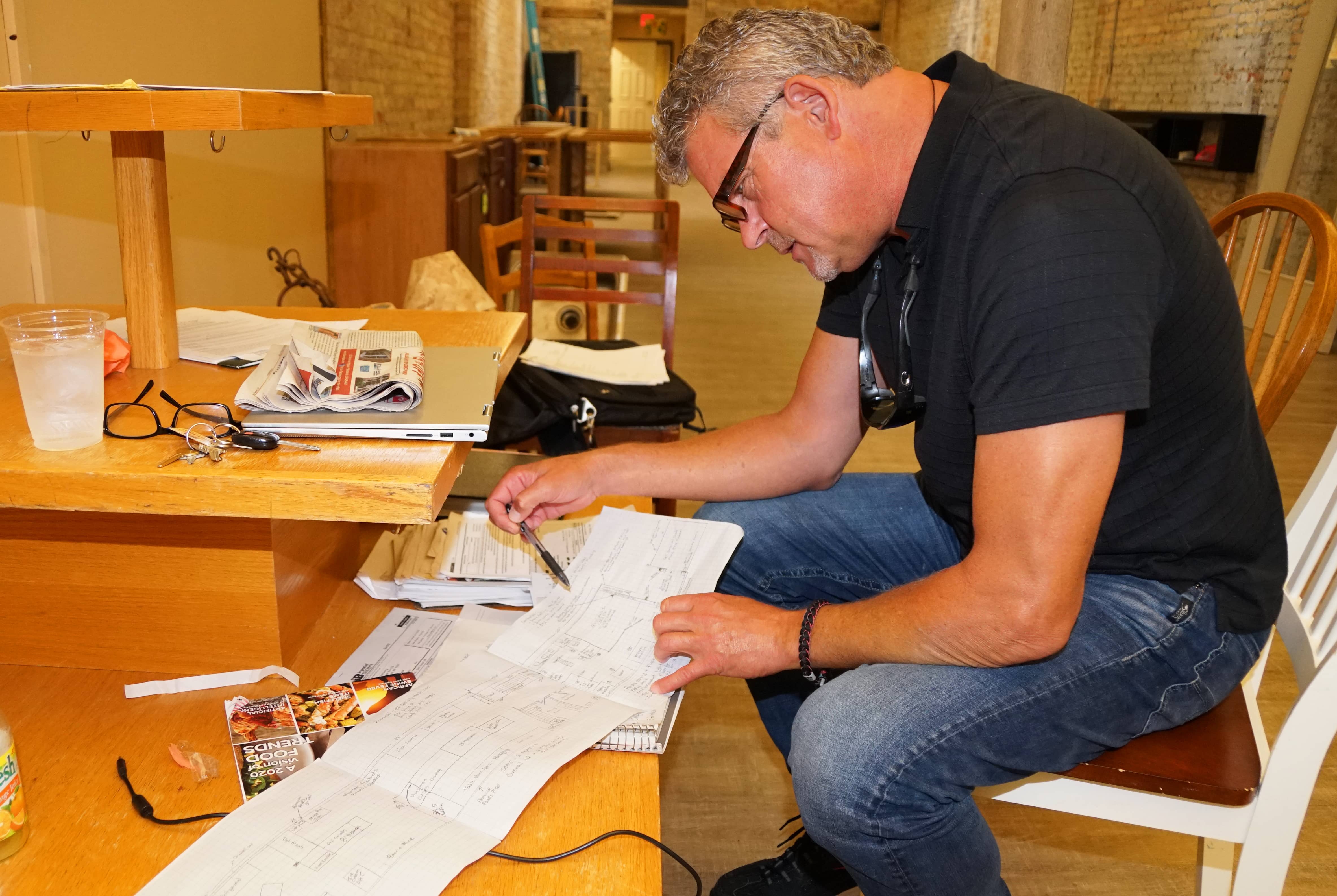 Ken Kozminski is a member of that rare breed of entrepreneurs who never stops thinking of the next great thing. Even in his eight year old State Street enterprise, The Buck Burgers & Brew, he works continually to upgrade, improve, innovate, and keep things fresh. To Ken, Fresh is Best, but even he might have a hard time explaining the great fortune of fate that has crossed his path on the way to his next adventure he's calling State Street Meats.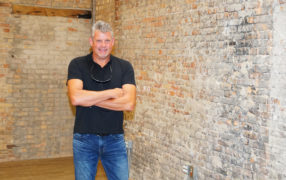 In the middle of the pandemic, as Kozminski was piecing together plans for that venture of a full-on Gourmet Butcher Shop, Deli & Market two doors down from The Buck, he was also in the process of selling his rustic home along a meandering stretch of Pipestone Creek in Sodus Township.
At the closing, he was introduced to the buyer Nate Inboden, and asked him what he did for a living. At the moment, Nate was between jobs, but explained that he is a third generation Master Certified Butcher. Oh, and he's one of less than 250 such Certified Master Butchers in the entire nation. Talk about serendipity. In likely record time, Ken had filled the most important position at his forthcoming State Street Meats where Nate is not only helping design the layout, but will personally train the entire staff for the store opening late this fall or early winter at 416 State Street in downtown St. Joe in the space that was most recently home to 4 A Song Vinyl, who ended their lease.
Ken bought the building recently with plans to leverage his resources to build a business that will remain essential no matter what outbreaks occur.
His vision is to fill a niche that has long gone empty in the community for a one-stop-shop for a full lineup of culinary and grilling supplies, in the form of an upscale, old-town, full service butcher shop and specialty market which Ken says is being designed "specifically to bring you exactly what you are looking for in beef, pork, chicken, lamb, game, seafood, and a variety of other delicacy items."
Kozminski promises, "Full-service doesn't stop at the meat counter." Essentially, he has plans for State Street Meats to offer products that would complete a full 5-course meal for you and your family and you and your guests. The long building will offer a full line of fruits in season, vegetables to help round out your meal planning, and a full service Deli providing sliced meats like ham, pastrami, salamis and more, cheeses, and unique salads. A special "Grab-n-Go" section of pre-made offerings prepared at The Buck will include soups and sandwiches for those heading to the park, the boat, or a simple picnic lunch. You'll also find a selection of chips & salsas, breads from top notch bakeries like Bit of Swiss and others, desserts both fresh and frozen, juices, high-end soft drink brands, and when the licensing is complete, a selection of upscale bottled beers and wines to round out your meal planning.
Equipment has been ordered and the build-out construction process has begun with a team from McGuire Construction of Benton Harbor. Because the full-scale butcher shop will feature a 9×12 walk in cooler and a 9×12 walk in freezer and a full array of saws, grinders, mixers, sausage-stuffers, patty-making machines and more, electricians are changing the single phase 200 amp service to three-phase 400-amp service to handle the loads. Meat processing will take place right in the house, and eventually they will offer both cooler-aging and case-based dry-aging of some of their beef products for customers, as well as providing high-end specialty cuts designed just for those with smokers at home who want to smoke their meats.
As work on the building progresses, Ken is meeting with vendors, and was headed to Elsie, Michigan this week to look at an array of European-style meat cases that feature curved glass, with front opening arrays that are easy to clean, stock and fill, as well as doing a beautiful job of displaying the products for sale.
The main section of the showcase meat cases will run some 16-feet down the center of the shop. True to form, as in the finest butcher shops, Ken says, "My butchers in back will be able to pull out a full tenderloin, have it cut up to your desired size, slice it to your preferred thickness, or help you select the finest steaks from the case for your grill." He adds, "Most importantly, if you don't see what you want, or want something prepared in a different manner, the butchers will be able to produce that for you or order it if it's not in the house at the moment."
There are also plans for a lot of seafood. Noting, "We already feature high-end tuna at The Buck, we'll be able to feature that quality of product here, something you typically can't find locally, including an array of Great Lakes seafood, side by side with seafood from around the world, including seasonal specialties like Grouper." He's meeting with three or four seafood vendors this week to pull all of that together.
A real win-win for Kozminski is that thanks to the proximity to The Buck his butcher shop will be the source for all of the meat products offered up at the restaurant, giving diners even fresher offerings than ever before.
As he was perusing the floor plan and detailing for me the layout of his product lines, Ken said, "We'll be here to help those who want to stop by and get a full meal, but 75 to 80-percent of our volume is projected to come from the meat case." Nevertheless, it will be a one-stop shop whether you're stopping by after work or planning a party. He plans to offer coupons for diners at The Buck to earn a discount at State Street Meats.
Ken's delighted to have crossed paths with his Master Certified Butcher, Nate, because Nate brings a world of experience to the butcher block, having spent most of his life as a butcher or in the food business and helping his family run their 55-year old butcher shop and specialty market in DeKalb, Illinois known as Inboden Meats. He garnered his certification after studying for two years at the University of Wisconsin and under some of the best industry leaders in the country. Ken says, "His talent goes far beyond just cutting meat, inasmuch as Nate is an expert in understanding how to run a successful butcher shop and market, and an even greater understanding of what high quality meat looks like. He has a passion for it."
Additionally, Ken is bringing on Erin Miner who currently works at The Buck for him, to primarily focus on front of house operations at State Street Meats. She has a wealth of experience having worked at Martin's in Stevensville and at Meijer in Benton Harbor, managing the meat department there. She will monitor and manage all market items including the Deli as well as assisting customers with their meat products.
Once open for business, State Street Meats will tentatively operate summer hours of 6 to 7 days a week from about 11am until 7pm and between Labor Day and Memorial Day, the off-season, would be open Thursday through Monday those same hours but closed on Mondays and Tuesdays, like The Buck.
Regarding opening day, Ken says, "Ideally I would like to be open by Thanksgiving, but it will depend on how quickly we can get the display cases because we're looking for that specific style which is difficult to find, especially since manufacturers are running behind due to the pandemic and just don't have the staff that they used to have in order to produce them for us." He adds, "We'll have missed the fresh turkey season for this year, but next year we'll have that available. At Christmas, we'll be doing things like prepared prime ribs and meals like that which people can just take home and cook, ready to go. Additionally, we'll eventually have kits, like a burger kit or a rib kit, where you can just take it home and throw it on the grill and have the complete kit to serve a family of four, or however you want to do it with guests over."
Ambitious plans indeed, from an accomplished, first-rate business man who has a strong track record of getting things done. Stay tuned.