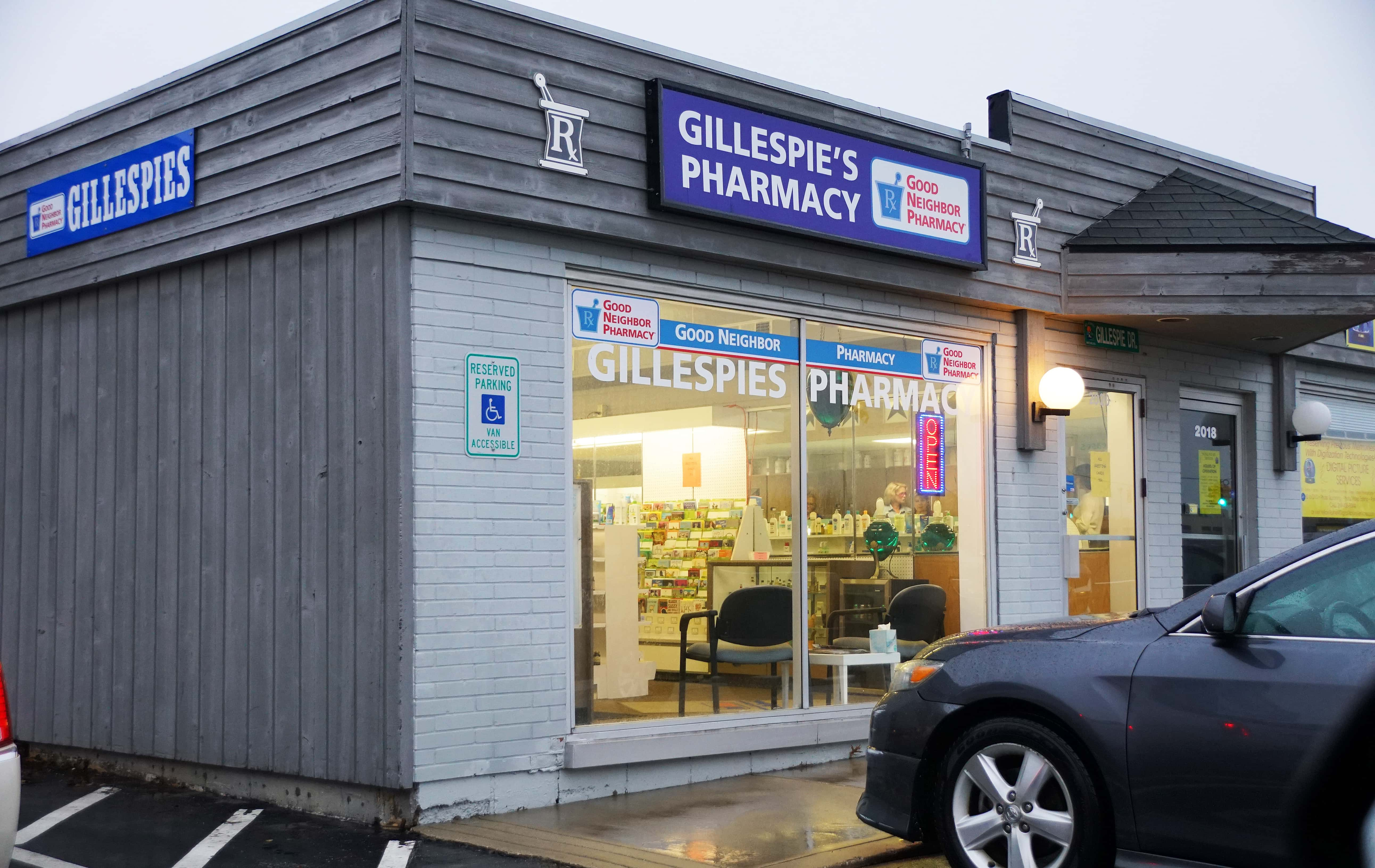 For the first time in 114 years, the community of Michigan's Great Southwest is waking up this morning without the presence of family-owned pharmacy in town bearing the Gillespie family name. Ultimately, despite one hell of a good fight, the heirs of Frank Gillespie have finally "exhausted all reasonable measures to compete with today's pharmaceutical market."
Amy Gillepie and Kelly Karsten, the third generation to own and operate Gillespie's Pharmacy, had a tough time dealing with the decision, but ultimately had to close the doors for the last time last evening, Monday, February 4th, 2019.
They issued a statement about the closure of what has been known for years as Richard Gillespie Pharmacy on Washington Avenue across from Burger King in the Southtown neighborhood of St. Joseph. They said:
"It is with deep sadness that we will be closing the doors of our 114 year old, family-owned, pharmacy. Not only does this closing end an era for the Gillespie family pharmacy traditions, we now have to say good-bye to so many customers and families, who have relied on us for generations. We have had the pleasure of serving children and grandchildren of many people, whose parents were the original clientele from the first Gillespie drug store and fountain."
It was their grandfather, Frank Gillespie, who began the business all the way back in 1905 in downtown St. Joseph in the building that is now home to Perennial Accents in the heart of the central business district.
Amy and Kelly say it was their father, Richard, and his brothers, Collins, Bob and Bill who all studied to be pharmacists and were deeply committed to carry on the family business after their grandfather passed away.
Richard then opened his own store, at the current location on Washington Avenue, 59 years ago in January of 1960.
When he retired in 1993, the daughters proudly kept the store open and say they have "truly loved serving our community for the last 26 years,: adding, "Other than major holidays and Sundays, we followed the family tradition to keep the store open at all costs. That meant keeping it open on the day of our father's memorial service….he would have wanted it that way."
After retiring and closing the downtown store, their Uncle Bill came back to work with the girls until he was 86 years old, and his wife, Trudy, is the sole survivor of that generation in the family.
On an emotional roller coaster, Amy and Kelly say, "Through the years, we have been blessed with the most dedicated pharmacists and staff members, who shared our deep commitment to provide the highest level of personal, customer service and pharmaceutical advice. We couldn't have done it without them."
They also voiced gratitude for the people who kept them in business for decades, saying, "We are extremely grateful to all of our loyal customers. They trusted us and gave us the distinct privilege of serving their health and pharmaceutical needs, and we have so many wonderful memories of them coming through our door every single day."
The two hard-working business women say, "As Uncle Bill would say, 'These people aren't just our customers, they are our good friends.' We love these people and have gotten to know all of them through the years. We have celebrated with them through births, graduations, weddings and anniversaries. We also grieved with them through deaths and difficult illnesses. These people have touched and impacted our lives in so many ways, and that's the most difficult aspect of closing our doors."
As the lights were turned out and the doors locked one last time, Amy and Kelly noted, "Even though this closing ends a family business, we are confident our grandparents, parents and Aunts and Uncles would be proud of the personal and caring service we provided our community for so many years after them." Ladies...you have know idea how proud not only your family is, but how an entire community embraced your outstanding customer service for well over a century. An era has ended, and it is a sad farewell for those you served as well.