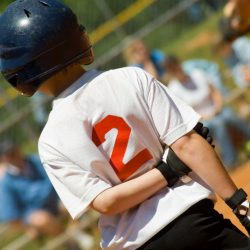 Children in Michigan's Great Southwest have learned life lessons and forged friendships through baseball at a small neighborhood diamond in St. Joe for more than 60-years and now some of the people who recognize that little diamond as a truly substantial asset to the entire community are asking everyone to pitch-in, pony-up, lend a hand and more on a full-tilt restoration weekend.
Organizers are calling it a Wells Field Restoration Weekend, as the small but mighty neighborhood park which is woven into the fabric of life in our region undergoes an overdue makeover.
Realtor Lars Petzke and friends are spearheading the effort as the St. Joe Baseball Association gives the fields along South State Street next to the Jefferson Lofts Condominium project a bit of tender loving care in a bid to return the field to its former beauty.
Petzke says, "We want to provide a facility that you can be proud to bring your kids to and one you can drive past to savor the fond memories you had once upon a time." He and fellow organizers hope you'll consider finding time in your busy schedules to stop by and lend a hand as they execute an 'all hands on deck' restoration effort not seen in years at Wells Field.
The clean up campaign runs this Friday, Saturday and Sunday, October 13th through the 15th.
On Friday, action runs from noon until dark, and on both Saturday and Sunday its from 8am until 4pm. You're welcome whenever you can join in during those times, and someone will be there to direct you.
The areas they will be addressing include:
The general appearance, overall usability and safer playing surfaces for the kids…
Painting of sheds, trim on the dugouts, concessions, and other areas to brighten the overall appearance…
The trimming of branches, general weeding, fence repair, trash pickup, and other general maintenance…
Other beautification projects as needs are identified.
Here are suggested items to bring with you:
Gloves
Trash bags
Rakes
Branch trimmers
Shovels
Buckets
Wheelbarrows
Ladders
Scrapers
Paint brushes & rollers
Friends, family,  and neighbors (you get the idea!)
Of special need are the time and talents of electrical, masonry and roofing contractors.
You can also participate by donating cash, inasmuch as more projects are planned in the near future (like laser cutting the fields, replacing roofing, updating electrical, upgrading some fencing, and many more).
Organizers recognize that this is not an overnight process, but every hour and every penny will help restore Wells Field. Donations of cash or checks (made out to SJBA) can be mailed to P.O. Box 253, St Joseph MI 49085 or can be dropped off at RE/MAX by the Lake at 449 Upton Drive, St Joseph between the hours 9a-5p, M-F.
Donations can also be made by using the PayPal link on the website at sjba.us. They are a 501(3)(c) non-profit organization, so all donations are tax deductible.