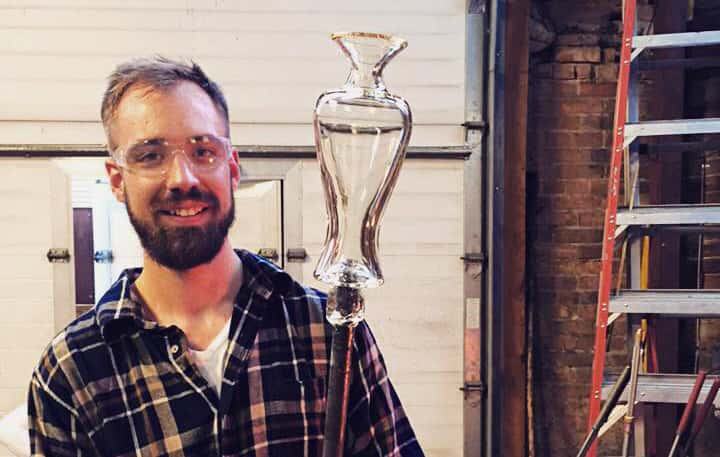 Imagine being so fired up by an after school experience that it changes your life forever. That's the life story thus far for Eli Zilke from the Fairplain area of Benton Harbor. You may recall I told you a bit of his story when he exhibited for the first time ever at the Krasl Art Fair on the Bluff in 2017.
Zilke was so overwhelmed by his experience in the Fired Up! program through the Water Street Glassworks and Benton Harbor Area Schools that working with glass became his life's avocation. That was when he was 12 years old and he blossomed into an incredible young talent.
Over the past five years, Zilke has been the Studio Manager and Product Designer for Hot Shop Valpo, a designer glass production house and gallery over the state line in Valparaiso, Indiana. Now, however, he is returning to his roots in Benton Harbor, making a career moved over which he says he is "incredibly excited." He revealed to Facebook friends and fans today, "I accepted a position with Water Street Glassworks," located in the Benton Harbor Arts District, adding, "I will be the new Studio Manager, Production Designer, and Core Instructor."
It's great news for everyone involved including the community of the Arts District. He says the position provides him with a ton of personal growth opportunity, and adds, "I will be making work under my name again as well as having the chance to travel during the summer for art fairs and expand my gallery reach." Best of all, Eli says, "I'm thrilled about the chance to make an impact on the community through the re-launch of the Fired Up! program."
Zilke's return to the market is a full-time position. While at Hot Shop Valpo his team supplied more than a dozen galleries, completed several large public installations, taught hundreds of students the art of glassblowing, and toured the Midwest doing art fairs. He admits, "I am extremely proud of all we accomplished and excited to see where Hot Shot Valpo goes in the future."
Eli is looking forward to seeing a lot of his friends and meeting new ones at the upcoming Artoberfest event as they roll out some brand new designs. Additionally, their Fired Up! Open House from 4pm until 8pm on September 13th is for current participants and new prospective students and their families, as he encourages Benton Harbor area teens to stop by and fill out an application to see if the Fired Up! program is a good fit for them. There will be demonstrations and alums will be on hand to help field questions from interested students and their families.
Having started in the Fired Up! program when he was 12, Eli says, "The studios provided me with endless inspiration and experience and really formed the glass artist (and person) I am today. I'm thrilled to be able to give some of that back." The young super talent says, "Water Street Glassworks is in a great position to really take off this year, we have an amazing staff, a freshly rebuilt furnace, and a really exciting buzz around the arts district. My goals for the year at WSG:
Relaunch the Fired Up! program
Expand the Water Street Glassworks production line
Continue to improve the studio functionality and efficiency
Work to provide the opportunities that were available to me for passionate glass students
As I wrote when Eli earned his slot in the renowned Krasl Art Fair last year, "How fortuitous is it that Eli Zilke held the same fascination with fire that seemingly every 10-year old kid has. Even more fortuitous for the art world is that his early fascination has transformed into a full-tilt avocation and he's drawing a regular paycheck because of it."
Zilke was one of the 201 featured artists who earned his way through the arduous gauntlet of the Krasl Art Fair jury and was a first time presenter in last year's Krasl Art Fair on the Bluff.
Eli, who is 26 now, says of the Fired Up! program, "It came at a really great point in my life that I could have gone one of two directions, and it really focused me and I fell in love with it immediately. From then on out, that's all I could think about. That was it. It was glass from then on out."
Besides learning great things from Water Street Glassworks artist Jerry Catania, Eli traveled to, and watched, the masters work in Verano, Italy, and worked with a guy in Wisconsin that does it professionally, and he also mentored Eli. He grew up in Benton Harbor, graduated from Lakeshore High School, went to SW Michigan College after high school, and still lives in the Fairplain area.
Eli tells a great story about how it all got started, saying, "My mom took a glass bead-making class somewhere up north in Michigan, not sure where, when I was nine or ten years old, and she brought all the materials home and set it up on the kitchen table. Now, every ten year old wants to play with fire, right? So, it was one of those opportunities and from then on I knew that that was in the realm of things I wanted to do. Once I touched it on a larger scale and started working with blown glass rather than beads, that was it. That was when I knew immediately that that was what I needed to be doing forever."
Asked about his style in glass, Eli explains, "What I strive to do with glass is capitalize on its immediate advantage of transparency. I try to build in layers, and really take advantage of that transparency, that light, and try to really make glass glow. Ceramacists and glassblowing are not that different, but we have the advantage of letting that light through, so I try to really hone in on that."
Eli has been producing in series, doing about 7 or 8 different series, while trying to narrow it down every year. At the Krasl last year he told me, "I try not to over do anything. I'm not going to create a thousand of any vessel, I try to limit the series and then switch it up and do something new."
Now…he's back home where it all started and ready to help the next young talent acquire a taste for the special nature of creating art that others will cherish for decades to come.  Congratulations, Eli, and welcome home!
The photo of Eli at Water Street Glassworks accompanying this story on Moody on the Market is courtesy of Eli himself.