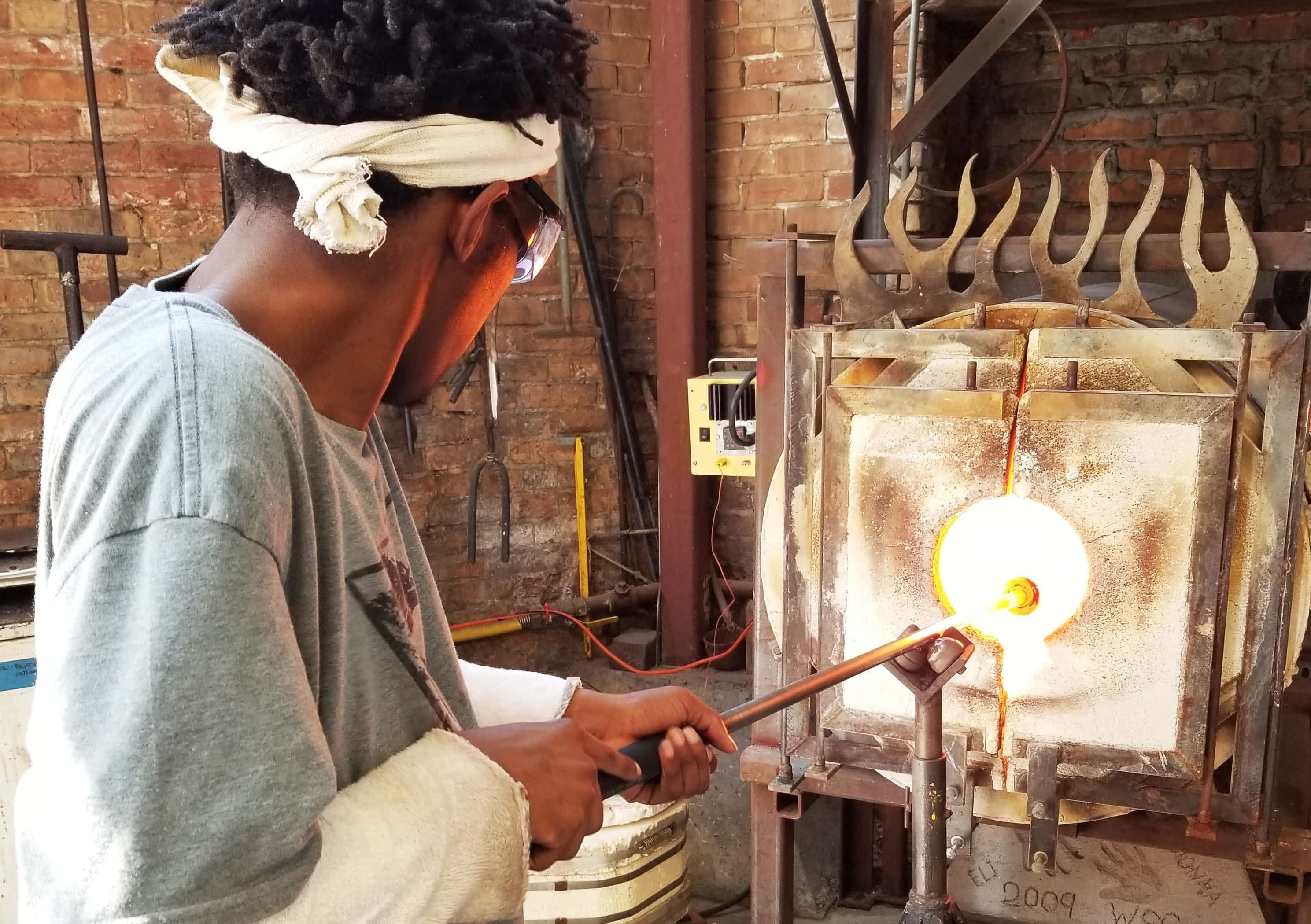 If you've read before my stories about Eli Zilke of Water Street Glassworks, you know that his roots in glass-blowing extend back to his own days as a student engaged in the Fired Up! teen glass program. That heritage brings amazing meaning to word this week that one of Zilke's young proteges at Water Street will join him in traveling this month to a notable program in New York where they will participate together.
Antwon Johnson, a Benton Harbor glass artist in the Fired Up! teen glass program at Water Street Glassworks, and his mentor instructor Eli Zilke are headed to Corning, New York, next week, from June 16th-23rd, to participate in the Expanding Horizons program, presented by The Corning Museum of Glass & Robert M. Minkoff Foundation.
Johnson, the Benton Harbor teen, is one of just six teens selected nation-wide for this intensive glass experience. Eli is the Studio Manager and Production Designer at Water Street Glassworks.
The Glassworks is located at 140 Water Street in the Benton Harbor Arts District and its award-winning Fired Up! program is the second-oldest youth glass program in the country. Johnson is actually the second student from WSG to attend Expanding Horizons.
During their experience Johnson and Zilke will take lessons from Master instructors at Corning's glass studio, teach their own class, explore the museum and its research library, design and make production work and discuss a university glass education and career opportunities.
Water Street Glassworks Executive Director Lynne Clayton says, "This will be an amazing and memorable experience for both Antwon and Eli. We are also excited for Antwon to take his first flight to get there!"
Johnson's glass artwork will be on display in the Fired Up! program booth on July 13th-14th at the Krasl Art Fair, in St. Joseph.
For further information about Fired Up! and the Glassworks, you can visit on line at: www.waterstreetglassworks.org or call 269/925-5555.