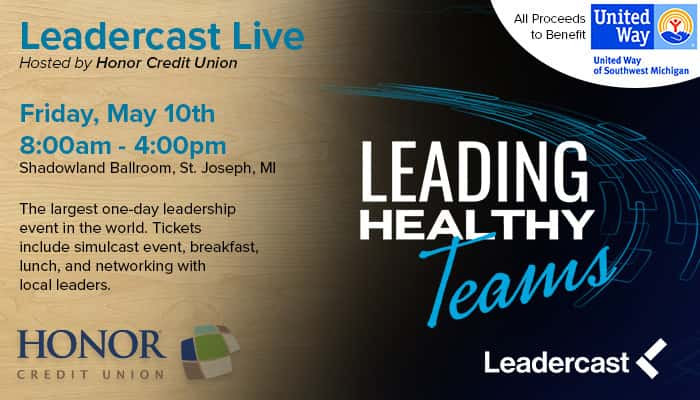 You have the unique opportunity to be part of the largest one-day leadership event in the entire world, and you don't even have to leave town to do it.
The team at Honor Credit Union is joining forces with United Way of Southwest Michigan to bring Leadercast Live, proven to in fact be the largest one-day leadership event in the world, to Southwest Michigan on May 10th.
Broadcasting live each year from Atlanta to hundreds of Host Sites around the world, Leadercast Live assembles globally respected leadership experts on one stage to share knowledge and insights from their leadership journeys. The event and networking opportunity will center around the topic of "Leading Healthy Teams" and attendees will hear from experts in organizational health to gain the tools to become leaders worth following.
Honor Credit Union's Stacey Carlin is Co-Chair of the event. She encourages you to, "Come for the leadership lessons, stay for the networking, enjoy the food, and leave with a plan for your team." Carlin is also Honor's Community and Brand Manager.
All proceeds from the event will benefit local programs provided by United Way of Southwest Michigan, where Charlotte Becker says, "We are excited to partner with Honor Credit Union on the Leadercast Live event." Becker, who serves as Director of Annual Campaign for United Way of Southwest Michigan adds, "It's a unique opportunity for United Way of Southwest Michigan to be a part of this leadership event, where we can all learn from experts about how to tackle issues as a team and make our community stronger."
The simulcast event will be hosted at The Shadowland Ballroom in downtown St. Joseph. Members of the public and area businesses are invited to attend by purchasing tickets through Honor's Facebook page. Any questions regarding the event can be directed to Charley Shasky, at cshasky@honorcu.com.
Honor Credit Union serves more than 85,000 members across the State of Michigan, anchored by the driving force of, "Providing solutions for financial success and giving back to the communities we serve." For additional information you can call 800.442.2800, or visit www.honorcu.com.
Here's a direct link to Honor's Facebook fan page where you can purchase tickets to the Leadercast Live event: