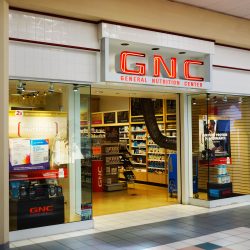 If a couple of stores that are destined to be next door neighbors want to get creative down the line they just might work out a joint sign that says "Power your Stuff here…and Power your Body there." While the final paperwork is wrapping up, it appears that the General Nutrition Center, or GNC store, will relocate soon from the Orchards Mall to new digs along M-139.
GNC Store Manager Joshua Shumate confirmed today that contract negotiations have been completed and the paperwork is in the final stages for his store to move to new quarters not too far from their current location, but with much easier accees in the future.
Shumate has been with General Nutrition Centers for eight years now, first in Kalamazoo and over the past two and a half years in the Orchards Mall. GNC itself has been a staple at the Orchards Mall dating back to 1979 — a total of 38 years.
Shumate says he is "super excited" over the impending move, as he hopes for considerably greater visibility for his showcase of vitamins and nutritional health foods for the market. He says it's not uncommon at all to meet people in the community who had no idea there was even a health food and vitamin store in the mall.
Joshua says, "It's exciting that we will be able to give people a space with easier access in a more welcoming environment." Shumate voiced ongoing concerns about his mall space where it has been a hot summer due to malfunctioning air conditioning and even the threat of a forced closure when his store was tagged with a water shut-off notice due to unpaid water bills by the mall's owner.
The new home of GNC is targeted for space along M-139, and while Shumate is hopeful that the move can be accomplished by the end of the year, it could slip into the first quarter of 2018, depending on the build-out process for the new store.