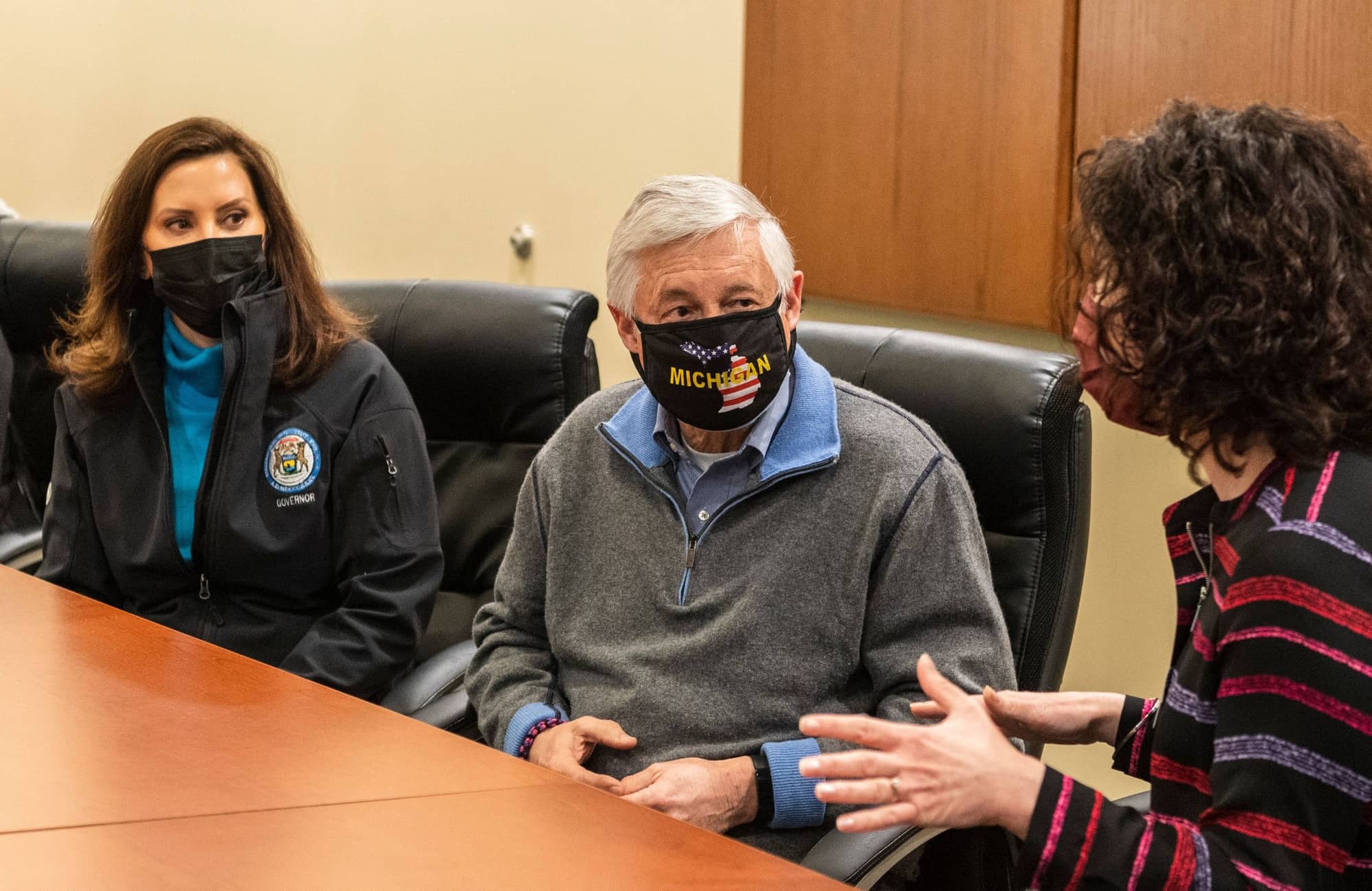 With nearly one third of Berrien County residents now vaccinated with the COVID-19 vaccine, Michigan Governor Gretchen Whitmer and Congressman Fred Upton stopped by the Berrien County Health Department today to applaud the work of the team there for their Herculean work to get shots in arms across the region.
It has been a very busy week again, with now more than 40,475 Berrien County residents having received the vaccine, representing 32.6-percent of the population to date. Nearly 62,000 shots have been administered to those eligible to get the vaccine, and the governor stopped by both the Benton Harbor offices of the Berrien County Health Department here and a vaccination clinic at the YMCA in Battle Creek to get a first-hand update from organizers.
Today, Governor Whitmer toured vaccine facilities in both cities to observe ongoing COVID-19 vaccination efforts and ensure that vaccines are being distributed efficiently and equitably.
She says, "Just one year ago, we were all grappling with a novel virus, but now we have three safe, effective vaccines that can protect us and our families, and help us get back to normal," while adding, "Sites like the YMCA in Battle Creek and the health department in Benton Harbor will help us reach our goal of equitably vaccinating 70-percent of Michiganders who are 16 years or older more quickly. I encourage all Michiganders to get the vaccine once it becomes available to you. Let's beat COVID-19 together."
In Benton Harbor, Governor Whitmer visited the Berrien County Health Department with Congressman Fred Upton and Berrien County Health Department Director Nicki Britten. The health department is assisted by members of the Michigan National Guard.
In Battle Creek, Governor Whitmer visited the Battle Creek Family YMCA alongside Rep. Jim Haadsma, Calhoun County Medical Director Dr. William Nettleton, Calhoun County Health Officer Eric Bessell, and Battle Creek YMCA CEO Jill Hinde. The YMCA vaccination site is staffed by members of the Michigan National Guard.
To date, Michigan has administered 3,919,796 vaccines, moving the state closer to its goal of equitably vaccinating at least 70-percent of Michiganders ages 16 and older as soon as possible. As part of these efforts, Michigan is working to administer 50,000 shots per day, partnering with organizations like the Battle Creek YMCA and local health departments like the Berrien County Health Department to create more opportunities for Michigan residents to receive a vaccine.