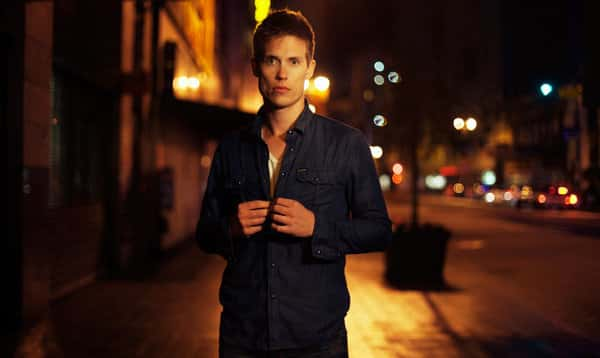 One of the hottest concert tickets in town this year will feature not only "Bluegrass," but also "Newgrass" and "Popgrass" as a couple of Grammy Award winning artists take the stage for the 2016 BBQ, Blues & Bluegrass Festival to launch the summer season one week ahead of the Memorial Day holiday.
Whitney Behnke is Executive Director of the event organizers at St. Joseph Today. She tells us today that the American blues, gospel and rock singer and songwriter, Jonny Lang will headline the BBQ, Blues and Bluegrass Festival: A Taste of Michigan, May 21 at Whirlpool Centennial Park below the bluff in St. Joseph. She says, "This is an incredible opportunity to hear Lang perform live with Lake Michigan as his backdrop." She says this start-of-beach-season festival presented by Chemical Bank will serve up continuous music, finger-licking barbecue, regional craft brews and wines from noon to 8pm (EDT) just yards from the big lake.

Behnke said Lang is one of five bands scheduled for the rain-or-shine event. Grammy award winning, American Bluegrass multi-instrumentalist player Sam Bush will perform his signature Newgrass style with mandolin in tow. Canadian country music duo, High Valley will share what they call "popgrass" with listeners. Festival goers will recognize the electric blues guitar sound of Joe Louis Walker. And Trout Steak Revival will present their soulful narratives, heartfelt songwriting and tightly woven instrumentation.
Sixteen years ago, at the age of 16, Jonny Lang found incredible success with the release of his major label debut album Lie To Me. Fame does not seem to have impacted him from being the same country farm boy from Fargo, North Dakota who got his start in the local clubs of Minneapolis. He survived the passage of youth to adulthood, fell in love, began a family, and in the process passed through the life lessons we all endure. He has a keen sense of what he aims to achieve creatively, what music means to him, and is focused on the impact that his songs bring to the lives of those that encounter his repertoire. For Lang, with the release of Fight For My Soul, he is entering a chapter wherein he has found his true voice.

When asked what he would tell his younger self if he was afforded the opportunity to share advise, Lang wisely answers, "I would say all of those voices steering you away from questionable decisions, listen to them. They are right." He has encountered many in the public eye through his career that approaches two decades. With those experiences, and the personality traits he has witnessed, he has a clarity of how he wants to be, and how he wants to treat others.
Alternately known as the King of Telluride and the King of Newgrass, Sam Bush has been honored by the Americana Music Association and the International Bluegrass Music Association.

He says, "It's overwhelming and humbling," when speaking of his lifetime achievement award from the AMA. "It goes along with the title cut of my new album, Circles Around Me, which basically says, how in the hell did we get this far? In my brain I'm still 17, but I look in the mirror and I'm 57."
The remote hometown and the unique upbringing seem a magic combination for the music coming from High Valley these days. These two young men are making what the music industry in Nashville has called "singular," "seminal," and "a perfect mix of radio, revision, and respect." Brad and Curtis Rempel like to call it "popgrass." Growing up on a 1,400-acre farm in the far-northern reaches of Alberta, with music, farming and family as the basis of their entertainment, their musical language was formed at a very young age. When they started out, the Rempel brothers booked as many gigs as they could, playing cover songs to audiences near and far. During those formative years, High Valley became a buzz-worthy act in Canada's outlying areas.
The title track off of High Valley's new album saw huge success on the music charts in 2014, causing observers to note that if every year from here on out is anything like 2014, High Valley is destined to become one of the most accomplished country music acts in the business.

Behnke notes that event organizers wanted to raise the caliber of music at the event without impacting its affordability. That was made possible again this year through the generosity of music sponsor Paul & Rose Suchovsky Charitable Trust managed by the Neumann Financial Group of Hilliard Lyons. She also extends thanks to beverage tent sponsor, Bud Distributing, Inc., and the City of St. Joseph who helps host this and many of St. Joseph Today's annual events.

Tickets will go on sale March 1, and will be priced at $15 in advance, increasing to $20 on the day of the festival for the all-day event. There will be an additional charge for drink tickets on site. Food will be available for cash purchase. Behnke says local lodgings are geared up to host BBQ and music guests. Ticket and overnight stay information are available by clicking this link: stjoetoday.com/bbq or the Welcome Center at 301 State Street in downtown St. Joseph.

Since 1917, Chemical Bank's home town approach to banking has been focused on community banking, highlighted by local leadership and decision making, a devotion to community and personalized service. Chemical Financial Corporation is the second largest banking company headquartered and operating branch offices in Michigan, operating through its subsidiary bank, Chemical Bank, with 185 banking offices spread over 47 counties in Michigan.

The Paul & Rose Suchovsky Charitable Trust, managed by the Neumann Financial Group of Hilliard Lyons, is devoted to supporting the education of our local youth as well as supporting the growth of local businesses through community events.

St. Joseph Today is a membership-based organization dedicated to developing and promoting events and businesses in St. Joseph and its surrounding communities. For more information about BBQ, Blues and Bluegrass or upcoming events, visit stjoetoday.com, facebook.com/stjoetoday or call 269-985-1111.