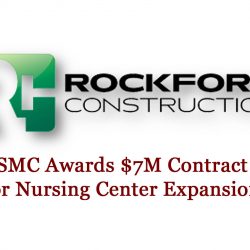 We now know who will build the new Nursing & Health Education Building on the Dowagiac Campus of Southwestern Michigan College. At a special Board of Trustees meeting this morning, Friday, August 11, 2017, the more than $7-million contract was awarded to Rockford Construction Company of Grand Rapids.
The $7,042,435 contract is for the project that will double the size of SMC's existing 1970 facility while adding four state-of-the-art simulation labs and a 16-bed skills lab.
A construction celebration is now slated for Wednesday, September 6, from 5:30 to 7:30pm at the Charles O. Zollar Building on the Dowagiac campus with remarks by Michigan State Budget Director Al Pscholka and several nursing students.
Dr. David Mathews is President of Southwestern Michigan College. He says, "We will probably take occupancy in September or October (2018), then move in in December, with classes beginning there in January (2019)."
Rockford Construction was established in 1987, and is a nationally-recognized construction, real estate development and property management provider.
The contracting giant is licensed in 44 states and ranked by the industry publication, Engineering News-Record as one of the top 150 contractors in the nation.
With regional offices in the Midwest and Southeast, Rockford has built projects totaling nearly $4 billion in more than 800 cities across the nation.
The contracting firm has a track record in the world of higher education according to Abonmarche Consultants architect Arvin Delacruz in Benton Harbor. He tells us Rockford's previous clients include the likes of Grand Valley State University and Grand Rapids Community College.
Bids were first opened on the new $9.5-million Nursing & Health Education Building back on June 21st at a regular board meeting as the project draws one step closer to reality.
The Southwestern Michigan College Board of Trustees opened  the construction bids that night saying they had received seven bids from contractors interested in completing the project and numerous alternates for consideration, and trustees has used the time since that bid opening to determine where to place the final contract. Trustees said back in February that this project would be the largest undertaking ever for the Dowagiac institution.
The 12,047-square-foot 1970 facility south of the David C. Briegel Building on the Dowagiac campus will be rebuilt to 29,086 square feet with a glass atrium across the front facing residential halls.
This east-west open area encourages student and faculty interaction outside of classroom instruction.
Southwestern Michigan College is a public, residential and commuter, community college, founded in 1964. The college is accredited by The Higher Learning Commission of the North Central Association of Colleges and Schools and is a member of the American Association of Community Colleges.