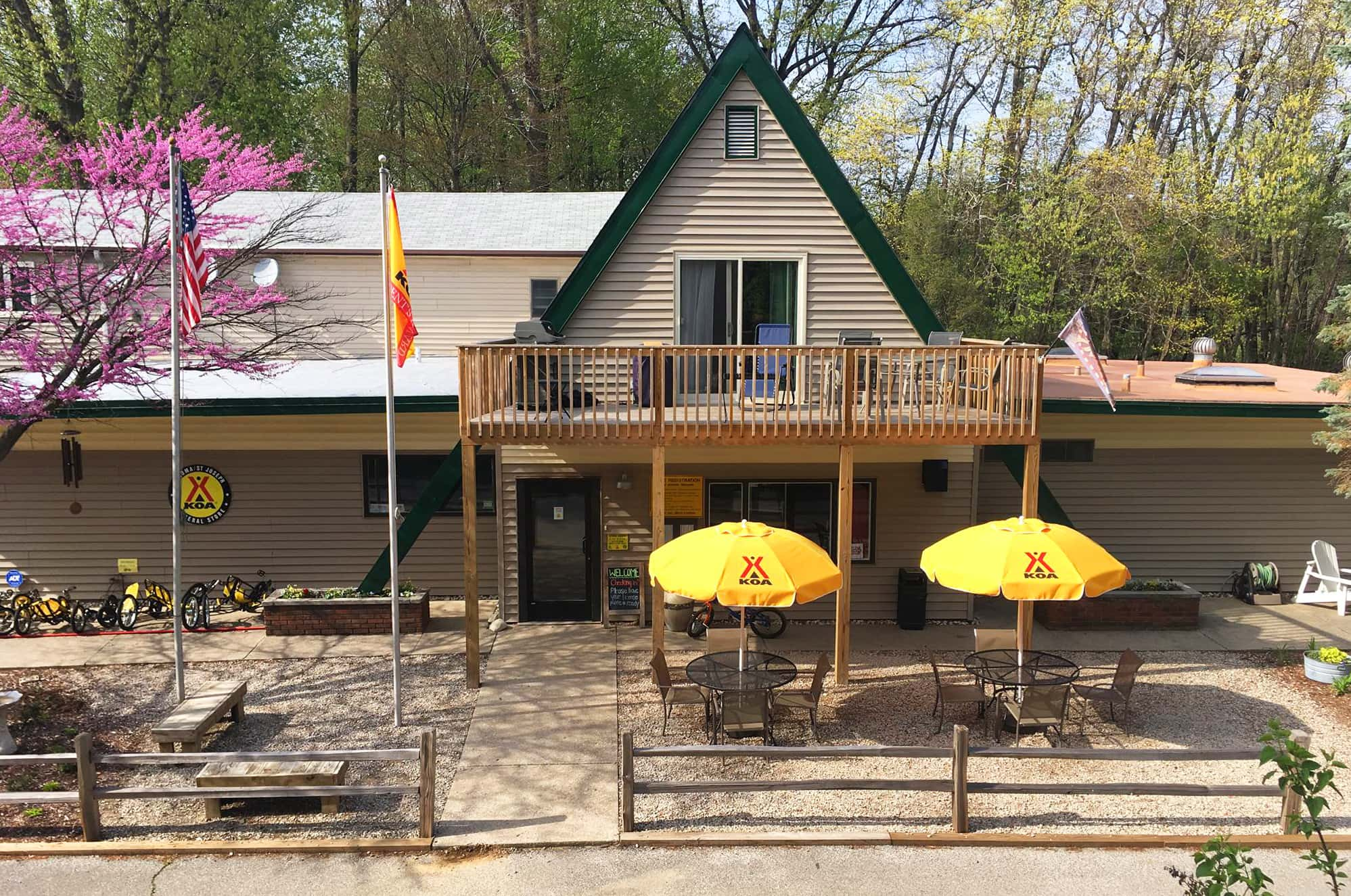 The fun and adventure of KOA Camping in Michigan's Great Southwest is about to take a quantum leap thanks to approval of a Commercial Rehabilitation Exemption Certificate which will pave the way for the Coloma/St. Joseph KOA to continue renovations with a next phase investment north of $600,000 by the owners and operators there.
The Hagar Township Board of Commissioners approved that Commercial Rehabilitation Exemption Certificate for the Coloma/St. Joseph KOA tonight, which will clear the way for dramatic advancements for the KOA, which is owned and operated by Mark and Karla Lemoine. They will tell you it is the premier camping destination in Southwest Michigan.
Cornerstone Alliance, Berrien County's lead economic development agency, has led the Commercial Rehabilitation Exemption process for Hagar Township and the Lemoine KOA.  Hagar Township officials originally approved a Commercial Rehabilitation District at their March 12 meeting, which made tonight's exemption a possibility.  The Commercial Rehabilitation Exemption freezes the current taxable value of the property for 10 years.
Shane Kissack, Business Development Manager at Cornerstone Alliance has been working with the KOA operators and says, "I want to thank Izzy DiMaggio and the entire Hagar Township board for their support of the KOA." Kissack adds "Mark (Lemoine) is a great community partner and business owner who is choosing to make Southwest Michigan a better place to visit.  The improvements he's made to the facility have made a big difference, and the additional changes will bring more people and more revenue to the Hagar Township area."
Lemoine purchased the 40-acre property in August of 2016 and began immediate improvements and renovations to the site. The next phase of renovations will create a $600,000 investment in the Hagar Township tourist attraction that includes major upgrades to plumbing, electric, water and sewer infrastructure, as well as rehabilitation of the clubhouse, restrooms and the pool.
Greg Vaughn, Cornerstone Alliance Chief Operating Officer, says, "The Commercial Rehab Exemption is a great partnership between Hagar Township and the Lemoine KOA." Vaughn notes, "Hagar Township's commitment to growth and investment is evident by the board's support of a business that brings people from all over the world to Michigan's Great Southwest.  These renovations will increase employment opportunities in Hagar Township and make for an even greater experience for those who use the KOA."
The Coloma/St. Joseph KOA Campground is the closest KOA to Lake Michigan in SW Michigan, and puts campers within minutes of several beaches ranging from St. Joseph to South Haven. Paddlers especially enjoy being centrally located to public access points along the Paw Paw River Water Trail.
They are also in the heart of southwestern Michigan's fruit country, enabling guests to visit several orchards, u-pick farms, fruit markets, and award-winning vineyards.
Campers can relax at the family-friendly campground enjoying shaded lots with mature trees, or be as active as they'd like to be at the pool, hot tub, bouncing on the Jumping Pillow, riding the fun bike rentals, playing mini golf, swinging at the playground, watching cable TV, surfing free Wi-Fi and more. Planned, staff-led activities and ice cream socials are held throughout the summer.
Guests will also enjoy paved roads at the campground and the newly renovated General Store and Cafe where they will find unique gifts/souvenirs, toys, groceries, and more.
The KOA pool & hot tub are open from Memorial Day Weekend through the Labor Day Weekend.
Cornerstone Alliance is a non-profit, investor-governed, economic development organization primarily focused on increasing employment opportunities, private sector capital investments and the local tax base in Michigan's Great Southwest; with specialized business services offered in economically distressed areas.
KOA Campground photo courtesy of Coloma/St. Joseph KOA.