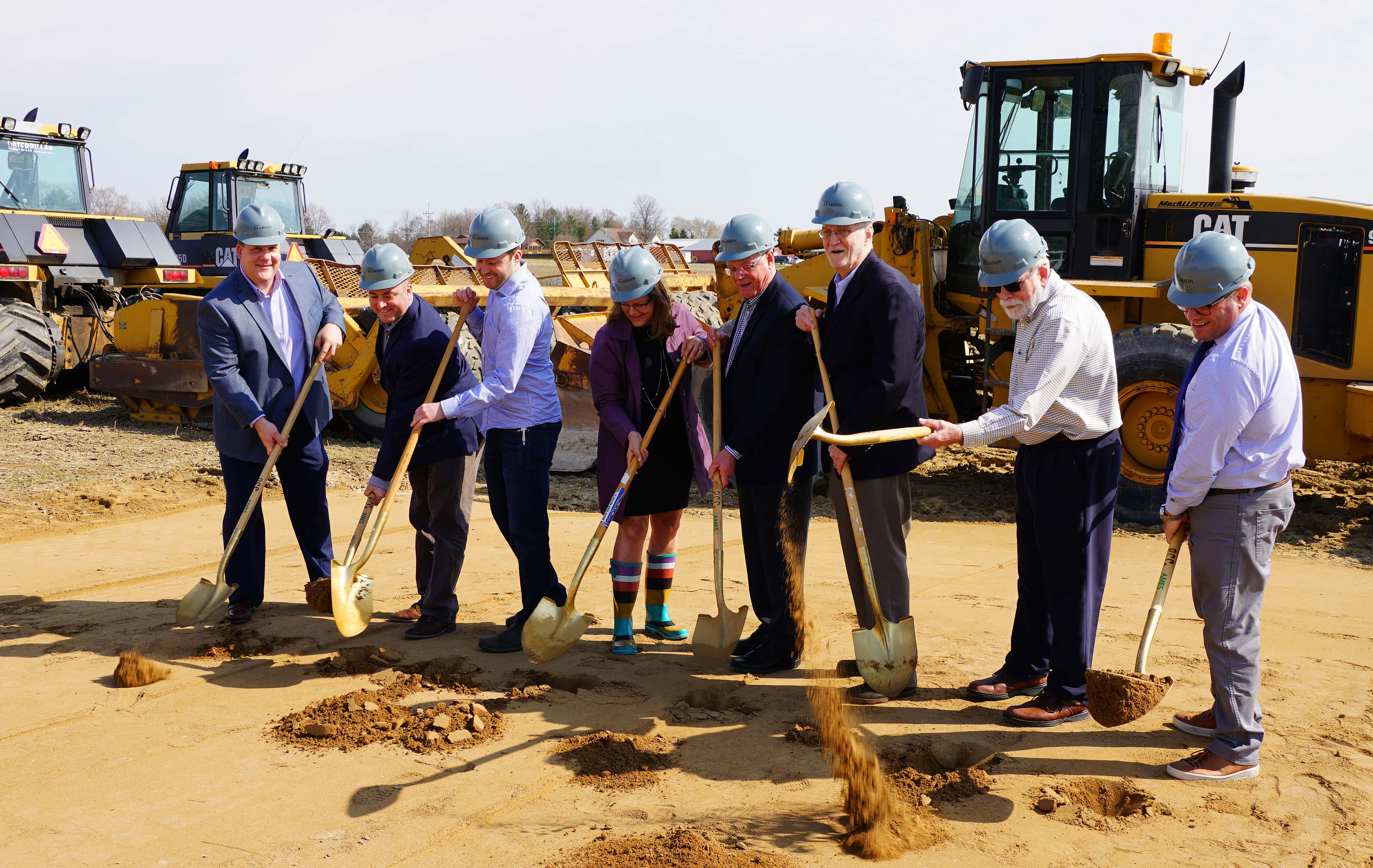 Admitting, "We've come a long way from making rubber horseshoes for horses drawing milk carts in Chicago," Beth Mandarino, the great granddaughter of Vail Rubber Works founder Vail Hanley, thanked the community of Michigan's Great Southwest just before she and many Hanley family members, board members, employees and other dignitaries tossed the first shovels of dirt on the company's major new expansion project in Royalton Township late this afternoon.
Mandarino, cousin to current Vail President & CEO Bill Hanley, joined him at the mic just minutes before the official groundbreaking just off the southwest corner of Glenlord and Hollywood Roads in St. Joseph and applauded her great grandfather's decision to bring the company to Michigan's Great Southwest. She says, "He had the foresight to relocate here and that's why we're here, but we're really looking forward to growing and being able to better serve our customers."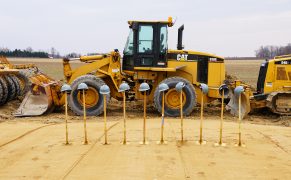 She says the new 58,000 square foot facility will help speed the work the company does for clientele around the country. As a long time member of the company's board of directors, Mandarino concluded, "We're going to streamline the process a little bit so we can be a little more efficient going forward."
As a sizable crowd was gathering, a few sprinkles fell, but as the appointed time arrived, the clouds broke free, the sun was shining bright, and the ceremony was spirited, thanks to the assistance of both Cornerstone Chamber of Commerce and Cornerstone Alliance who played critical roles in helping the company's strategic planning for the project.
Cornerstone Alliance President Rob Cleveland took the opportunity to thank the Hanley family, saying, "On behalf of a grateful community and for the generations to come that will work here and be able to make a good living for their families, we say thank you very much. We really appreciate your support and your growth in the community."
Royalton Township Supervisor Bob Basselman welcomed the more than 100 year old company to the township, telling the Hanleys, "We look forward to another 100 years of Vail Rubber Works in our community."
A leader in the rubber industry for 127 years, the family-owned manufacturer will erect a new 58,000 square foot state-of-the-art facility on the 30-acre parcel they've owned for a number of years. Once completed in early 2020, the new location will initially result in 10 new jobs for Vail Rubber bringing their total employment in the St. Joseph, Michigan and Mobile, Alabama areas to approximately 110 individuals.
Bill Hanley, President & CEO of Vail Rubber Works says, "This investment underscores the company's commitment to the St. Joseph-Benton Harbor community and our determination to maintain our position as a leader in our industry."
Congressman Fred Upton was also on hand for the proceedings and addressed the crowd, saying, "The Hanley family has done so much for all of us, and as an Upton family member I know a little about family influences in terms of jobs, and commitment to the area here and the Hanley family has been arm-in-arm with everybody here from day one. We are really proud that they continue to grow and expand here. We know that they have the leadership team that will ensure that they're going to stay, and to Bill, a good friend…thank you, sir, you've done well."
Assisting Vail Rubber Works on the $8.3-million project is Pearson Construction as Design Builder. Pearson will be using its in-house architectural firm TERA Architects for the design. Abonmarche will be acting as the owner's representative. All three firms are from Benton Harbor, and the project will also be using a number of other suppliers, many from the local area such as D.A. Dodd and Beaudoin Electric among others.
Bill Hanley says, "This facility will be the largest and most significant in our family-owned and fifth generation-operated company's 125-year history. This expansion reflects our confidence in our Vail team members and in the growing strength of the portion of the flat-rolled steel and aluminum industry we serve."