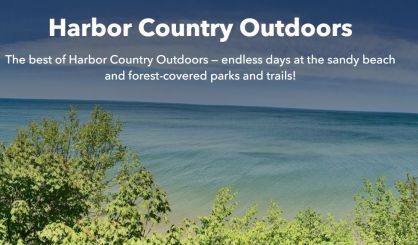 The Harbor Country Chamber of Commerce has launched a new website to promote all of the fantastic outdoor recreation opportunities the area offers. The chamber tells us more:
Get outside this weekend with Harbor Country's newest interactive tool! Officials with the Harbor Country Chamber of Commerce have announced a newly launched site designed to highlight many of the outdoor activities and attractions offered in the area. "We are fortunate to have a wide variety of outdoor recreation opportunities available year-round in Berrien County," stated Kimberlee Wendt, Executive Director of the Harbor Country Chamber of Commerce. "From hiking and cross-country ski trails to parks and nature preserves and other hidden gems, this new webpage highlights them all."
Developed by a generous grant from Antero Group, this online Story map is a completely interactive webpage which features 51 outdoor points of interest in Berrien County waiting for you to discover. Web visitors can explore the outdoors with an interactive map that allows users to filter by category and distance from their location. Each map point provides a GPS coordinate to easily navigate to trailheads and launch ramps. It also incorporates an events calendar featuring must-attend events throughout the area. If you would like to explore more of the Harbor Country® outdoors and would like suggestions, please visit the website: harborcountry.org/the-outdoors
The Harbor Country Chamber of Commerce is the center of business, tourism, and commerce for the eight communities that make up the region along the Lake Michigan Shoreline. With over 400 members, the Chamber serves as the central source of information for business interests, community services, and tourism. The Chamber applied for and was awarded a technical assistance grant by the Antero Group, a civil engineering, urban planning, and strategic consulting firm that has been working to support area initiatives. This tool highlights the importance of collaboration and innovation as new events and areas open for visitor and resident use!