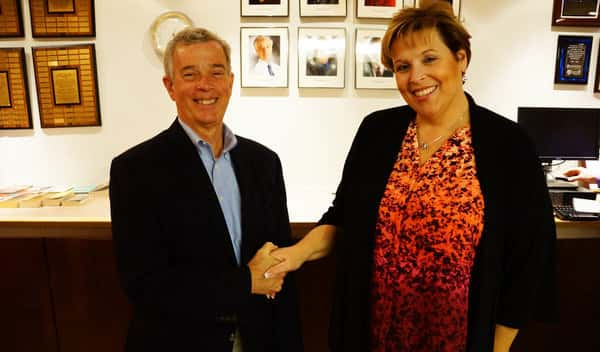 The Lake Michigan College Board of Trustees is breathing a little easier now, and extremely thankful that when Dr. Bob Harrison retired at the end of the year he didn't ride off into the sunset. In fact, he's riding back into the fray for now, pledging to hold down the fort as the Interim President of Lake Michigan College once again. It's a role he has held before, and one that eventually led to the balance of his career at the helm, but now he's back indefinitely while the board sorts through what to do next following their termination earlier this month of President Dr. Jennifer Spielvogel.
Harrison will play the role of Interim Acting Chief Executive Officer effective immediately following today's special board meeting. He returns as President Emeritus and acting CEO until the board is successful in resolving their issue in the executive suite. Harrison was under contract as a consultant to help with the transition of Spielvogel, but she lasted barely four months before being fired by the board following a brief suspension. The board voted to suspend Harrison's consulting contract, but continue to pay him the $5,000 per month for his interim role. His duties are not to exceed 30 hours per week and the contract is open ended for now.
Harrison agreed to the interim post contingent on a promise of "no more accolades or farewell parties," as he joked.
Meanwhile, the board will conduct its regular meeting in 8-days and between now and then will try to piece together a plan to either pick up where they left off with the selection process where they had a strong second choice in the form of Rob Spohr from Montcalm Community College, or re-launch the entire search process from the very beginning.
Spohr was actually at the meeting today, and board members gave him the opportunity to address them on why he would be a good fit for the college. Spohr updated them on his status from when they last met with him in December, and made an extended pitch for his candidacy. Spohr earned his bachelors degree in marketing from Grand Valley State University and his masters in career and technical education from Ferris State University. He will perform his doctoral dissertation on community college leadership this July.
Spohr served in the U.S. Marine Corps, has been a small business owner of a Domino's Pizza franchise and been in the construction business among other jobs in his career. Since joining Montcalm Community College northeast of Grand Rapids, he has served as both an adjunct and full time faculty member, a Dean, Academic Vice President and VP of Student Services. He has also been under contract with the Higher Learning Commission, played key roles in community and economic development organizations and more.
He was impressed that the board took action in the dismissal of Spielvogel, saying too often boards just wait it out and don't act to preserve the institution. His doctoral dissertation will be on how to train people for jobs that don't even exist yet in training for the workforce of the future.
The board of trustees will now study their options while also continuing research into Spohr's background. He and Spielvogel were considered to be equals in the evaluation process last fall, but the other four members of the six semi-finalists for the job to replace Harrison are all out of the running with other jobs since they were under consideration here.
Board Member Paul Bergan cautioned his colleagues, "We don't have to hurry…we should take our time." Dr. Mike Lindley suggested taking a closer look at Spohr and conducting a community visit to Montcalm in addition to continuing to research his background as they conduct their due diligence.
Bergan did note that in the not too distant future the board "will have to do something, or crank it open again, but we must be confident." Board member David Maysick says that when they meet again in eight days, "We should know enough as to whether we want to proceed and move the process forward" or start from square one again.
Board Chair Mary Jo Tomasini promised "We are all moving in the same direction, and we need to keep the process going."
Stay tuned.