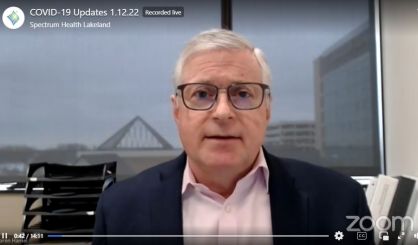 COVID-19 transmission remains very high in southwest Michigan as the Berrien County Health Department is seeing a percent positive of 34% for the week. Speaking during a Wednesday update, Berrien County Medical Director Rex Cabaltica said the county has never seen such high COVID rates.
"More than one out of every three COVID tests that are being done in a healthcare setting are actually returning positive," Cabaltica said. "That's not even counting the folks who are doing the home tests that are turning positive and are just isolating in place that way."
Cabaltica said Berrien is averaging 240 new cases per day this week. While the Omicron variant is less severe than previous versions of COVID, Cabaltica said the huge number of cases means the number of people hospitalized is not going down. Still, Spectrum Health Lakeland CEO Loren Hamel had some good news.
"The good sign is the Omicron is less virulent," Hamel said. "It's going to peak quickly. We expect it to go away more quickly than some other strains, probably a lot quicker than we saw the Delta resolve. That's what we're predicting. The next week or two is going to be really important. If you could stay healthy a few more weeks, I think your risks will significantly improve."
Cabaltica said wear a mask in an indoor public setting. Both noted getting the vaccine will greatly improve your chances of avoiding a severe case of COVID if you still get it. Hamel noted the hospital is no longer a good place to get tested as there aren't enough tests. He also said the antibody treatments are being limited.