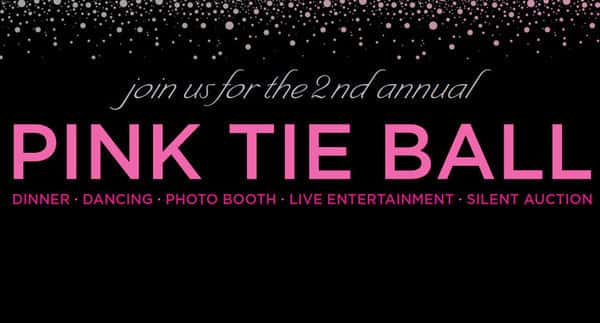 Even though huge strides have been made in improving cancer treatment and options, the most recent research has discovered that breast cancer still kills 35 women every month in lower Michigan. Clearly, the fight must continue…and it is. Fortunately for those impacted by this insidious disease, work continues unabated in the search for a cure, and fundraising efforts to keep research alive continue to abound. One is literally on our doorstep, and you are invited.
My friend and colleague Denise Bohn has asked me to alert you to the impending arrival of the 2nd Annual Pink Tie Ball presented by KitchenAid on Saturday, February 13, 2016 at The Inn at Harbor Shores. The event is all about fun, love and dancing, and all for a good cause.
Guests at the 2nd Annual Pink Tie Ball will experience a very romantic setting, perfect for the Valentine's weekend, featuring great food, live entertainment, a DJ, the Ben Pancoast Fun Loving Photo Booth, a Silent Auction, prize raffle, door prizes, a Chocolate Fountain, cash bar and more.
Keynote speakers for the evening include renowned breast cancer researcher Dr. Daniel Hayes from the University of Michigan and young breast cancer survivor Katie Hess, wife and mother of three daughters from St. Joseph. All monies raise from the Pink Tie Ball event help fund research as well as health screenings for women who cannot afford them. Additionally, funding for services and programs for breast cancer survivors will help share the impact. Last year, in fact, Komen Michigan's Southwest Service Area awarded Lakeland Health a $30,300 grant to fund their Compassion Card Program. In addition, Komen Michigan has funded small grants to other local organizations such as the Strong Women of Faith support group of Benton Harbor.
Denise Bohn tells me, "As a breast cancer survivor myself, who continues to deal with long term physical and emotional side effects of the disease, I want to ensure the community that we remain dedicated to fighting cancer and trying to positively impact local families." Denise has a daughter who, herself, is at great risk of getting the disease in her lifetime and she, as well as all mothers, sisters, aunts, grandmothers and friends deserve to enjoy a life without cancer.
Tickets to the 2nd Annual Pink Tie Ball at The Inn at Harbor Shores are $100 apiece and you can register online at the link below to reserve your space on the evening of Saturday, February 13th from 6pm to 11pm, underwritten by KitchenAid and hosted by Susan G. Komen of Michigan.
Other supporting sponsors include Starks Family Funeral Homes & Cremation Services, 98.3 The Coast, Bud Distributing, Dr. Edmund Paloyan from Lakeland Cancer Specialists, LeValley Chevrolet-Buick-GMC and United Federal Credit Union.
Here's the link for more information and registration plans: http://www.KomenMichigan.org/PinkTieBall