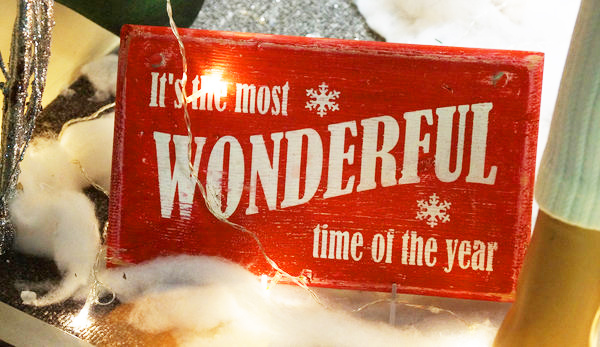 Shopping local this year could pay a very handsome reward well beyond the good feeling of knowing you're helping a small business enterprise stay alive at a critical time in the life cycle of their business. In fact, it could earn you a $500 gift certificate from St. Joseph Today during their Merry & Bright celebration beginning today.
St. Joseph Today Executive Director Amy Zapal reminds us, "Getting in the holiday spirit is easy when you visit downtown St. Joseph during November and December."
Her organization and dozens of merchants in the city's central business district are kicking off a veritable Countdown to the New Year as they work to make it Merry & Bright for everyone. Everyone can gain free entry with any purchase made at participating locations from today, Friday, November 20th through December 20th.
To enter, fill out an entry form for a chance to win a $50 gift certificate from a participating location. St. Joseph Today will draw daily winners through the month of December, and the Grand Prize will be drawn on December 31st for a $500 St. Joseph Today gift certificate good at more than 80 locations. You can find a list of the participating locations at this link:   http://stjoetoday.com/countdown
On Friday, December 4th, Light up the Bluff will transform Lake Bluff Park into a winter wonderland, featuring 1-million holiday lights. The lights will then remain on through Valentine's Day in Michigan's Most Romantic City. That display is sponsored by the St. Joseph Improvement Association in partnership with the City of St. Joseph.
From December 4th-10th, Window Wonderland invites everyone to stroll downtown to get into the holiday spirit as they take in the holiday window decorating contest. Dozens of storefronts will participate in the holiday window decorating event. You can vote for your favorite holiday window beginning at 10:00am on Friday, December 4th and voting will remain open until 11:59pm on December 10th at http://stjoetoday.com/vote. (Remember, that link does not go live until 10am on December 4th) That event is sponsored by Edgewater Bank, Southwestern Michigan Tourist Council and Holt Bosse. For those who love weekends in downtown St. Joseph, join in on Friday, March 12, 2021 for March Mannequins! Watch storefronts come alive as dozens of community volunteers pose perfectly still, like mannequins, from 7:00pm-8:30pm For more information, visit http://stjoetoday.com/marchmannequins.
If you find yourself in search of the perfect gift, you will appreciate unique selections, special prices and a festive shopping atmosphere this holiday season downtown. Shoppers and diners alike will enjoy holiday music playing throughout downtown St. Joseph until December 25th.
Additionally, new winter lights have been added throughout the downtown. Zapal says, "St. Joseph Today, Southwestern Michigan Tourist Council, City of St. Joseph, Southwest Michigan Regional Chamber and Cornerstone Alliance have partnered together this winter season to create a magical experience that will bring more consumers and business to downtown St. Joseph."
The new winter lights have been placed downtown along State St. (from Elm St. to Ship St.) as well as Broad St. and Ship St. (Lake Blvd. to Main St.) and Pleasant St. (Lake Blvd. to Court St.) and will remain up through February 14th in conjunction with Light up the Bluff.
St. Joe Today offers up special thanks to Edward J. Todd for helping to bring that winter project to the downtown. He is devoted to supporting the education of local youth as well as supporting the growth of local businesses through community events.
Letters to Santa will take the place of the traditional Santa visits in downtown St. Joseph this year. Santa's House will still be located outside the Welcome Center however, Santa will have to remain in the North Pole this year. Santa's House will be available as a drop off location for letters to Santa. The St. Joseph Today staff have been entrusted by Santa and his elves to help get the letters to the North Pole. That event is sponsored by The Herald-Palladium.
For more information visit http://stjoetoday.com/merryandbright.