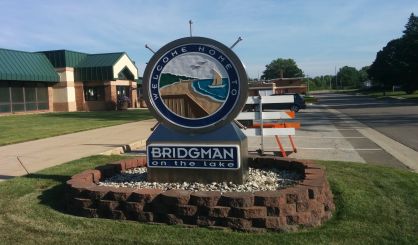 The city of Bridgman will bring back its downtown Holiday Village this month. The Southwest Michigan Regional Chamber tells us more:
Holiday Village is set to return to downtown Bridgman on Saturday, December 11th. The event, which is organized and operated by the Greater Bridgman Area Chamber and Growth Alliance (CGA), an affiliate of the Southwest Michigan Regional Chamber, is a holiday staple in the Bridgman community bringing hundreds to the downtown for family fun each December.
CGA Board President, Brett Boyd says, "After taking 2020 off due to concerns regarding COVID, we are excited to bring back Holiday Village and invite residents and guests of Southwest Michigan to downtown Bridgman. The past year and a half has highlighted the importance of continuing to support local businesses, as well as instilled a deeper feeling of community, not just in Bridgman, but county-wide. We are proud to provide a safe and fun environment for guests to gather and spread holiday cheer."
Attendees will enjoy a wide variety of festivities that are suitable for any age or family size through the downtown area as well as inside the giant inflatable igloo. Events planned include yoga with Lake Side Fit inside igloo at noon, the annual pet parade with Paws to Wash down Lake Street at 3:00 p.m., family friendly activities at participating downtown merchants, and a children's Christmas movie inside the igloo with the Bridgman Public Library at 3:30 p.m. At 6:00 p.m. the community is invited to gather around the Christmas tree for caroling with Miss Bridgman royalty and the Immanuel Lutheran Church Praise Team during the tree lighting ceremony. The night will end with Mark Ficks and the Significant Other's performing inside the igloo until 9:00 p.m.
In addition to shopping and enjoying activities with the downtown merchants, guests attending Holiday Village will be able to shop a Pop-Up Holiday Market with 40 vendors featuring home grown, homemade, and hand-crafted gifts. Many of the vendors found during the Pop-Up Holiday Market will likely be familiar faces for those who regularly attend the Bridgman Open-Air Market during the warmer months. Vendors will be set up in the parallel parking spaces down Lake Street between Maple Street and Mathieu Street, in the parking lot next to Transient Artisan Ales, and in the public parking lot next to Accents near the train tracks.
"We look forward to bringing this holiday favorite back and showcasing the year-round beauty and community pride that Bridgman has to offer. The CGA Board and Events Committee has worked incredibly hard to put together an event that appeals to a wide variety of individuals and families." says Sarah Spoonholtz, Director of Membership and Events for the Southwest Michigan Regional Chamber.
Over the summer the Bridgman Social District began operating in the downtown with Lazy Ballerina Winery and Transient Artisan Ales. Spoonholtz adds, "In planning this event, we wanted to focus the majority of the activities to be held inside the Social District boundaries. This allows for adults who are wanting to purchase a Social District cup from either location to be able to shop the Pop-Up Market, grab a bite from one of the food trucks, play a few games of cornhole, chat with friends around the firepits, or simply stroll through Bridgman's downtown and take in the holiday cheer all while supporting two of its merchants."
For more information about Holiday Village, including the most up-to-date list of activities and events, visit smrchamber.com/bridgman or search @BridgmanArea and @SMRChamber on Facebook or @BridgmanHolidayVillage on Instagram.
Full Schedule of Events:
12:00 – 12:45p.m.: Free yoga class in the inflatable igloo with Lake Side Fit
3:00 – 6:00 p.m.: Downtown Business Activities & Holiday Pop-Up Market
·         Pet Parade with Paws to Wash
·         Warm spiced cranberry wine at Lazy Ballerina Winery (21 and over please!)
·         Pet photo booth at Transient Artisan Ales
·         Hot Chocolate from Small Town Grounds
·         Story time and cookie decorating with Mrs. Claus at The Sandpiper Fashion, Fiber, and Gifts
·         Pictures with Santa at Accents at Himalaya Textiles
·         Sleigh rides and caroling through the downtown with the Miss Bridgman royalty
·         Paint your own ceramic Christmas ornament at Rebecca's Ceramics
·         Immanuel Lutheran Church Live Nativity and Praise Team singing with cider and donuts
6:00 p.m.: Tree Lighting Ceremony
6:00 – 9:00 p.m.: Mark Ficks & The Significant Others inside the igloo