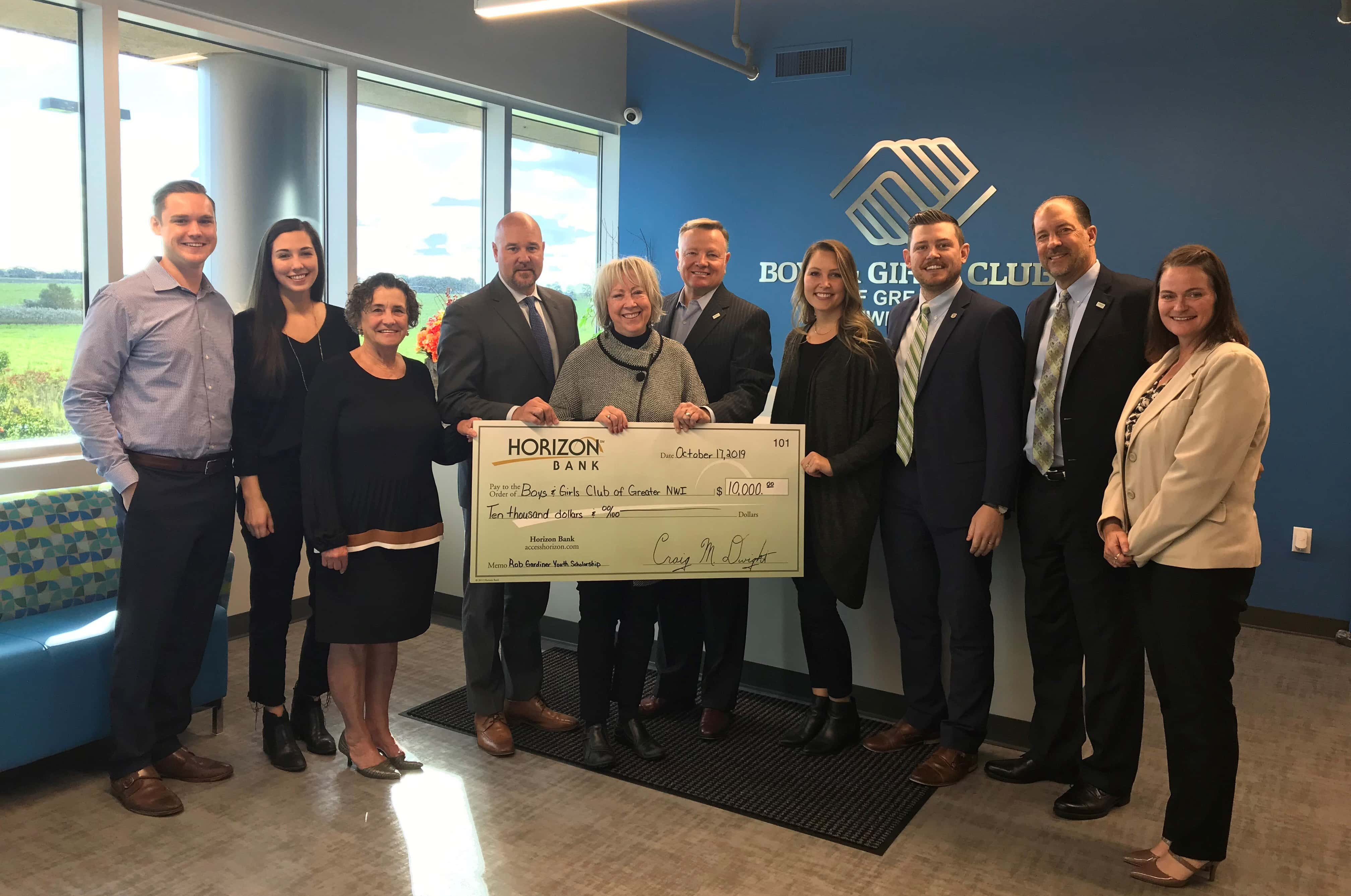 Christmas has come more than a month early for the Boys & Girls Clubs of Northwest Indiana thanks to Horizon Bank, which has branches across the region including in Michigan's Great Southwest.
Horizon Bank announced today a recent donation to the Legacy Foundation of Lake County, Indiana, to benefit local Boys and Girls Clubs there. The $10,000 donation was given in the name of Rob Gardiner, former Advisor and Lake County Market President at Horizon, who passed away in February 2019.
Horizon Bank CEO Craig Dwight says, "Horizon Bank is honored to be able to make this ten thousand dollar contribution in Rob's name," and adds, "This donation is to the Legacy Foundation for the benefit of the Boys and Girls Clubs of Northwest Indiana, to provide 'Rob Gardiner Youth of the Year' scholarships. Rob exemplified Horizon's core values including service to our local communities, and this scholarship will honor his legacy for years to come."
Carolyn Saxton is President of the Legacy Foundation. She says, "Rob Gardiner was a dedicated employee of Horizon Bank and served as a Board member for both the Boys & Girls Clubs of Greater Northwest Indiana and Legacy Foundation. The fund established in his memory honors his commitment to all of our organizations and memorializes his legacy of giving back."
Ryan Smiley is President and CEO of the Boys & Girls Clubs of Greater Northwest Indiana. He says, "Rob Gardiner was a long-time Board member for our Boys & Girls Clubs – and he made his volunteer work with our organization very much a family affair as his son Drew was part of our Hammond Club Advisory Board before moving to Chicago." He goes on to say, "Rob was instrumental in helping our organization in our merger process. But more than this, Rob had such a passion for youth and their success. He pushed us to continue providing top quality programming for children. Both he and his wife understood that children are the most precious assets of our communities. He strived to ensure our Club members were on a path toward successful futures." Smiley concludes, "While we miss his earthly presence, his memory lives on in every single accomplishment achieved by our Club members. For this, we are eternally grateful."
The Rob Gardiner Legacy Fund was established to support the mission of Boys & Girls Clubs of Greater Northwest Indiana in perpetuity. Each year, $5,000 goes to their Youth of the Year Club members and $2,500 to a runner up. Scholarships can be used for the next phase of a Club member's life such as higher education, trade school, or military expenses. Legacy Foundation will administer this scholarship program on behalf of the Club, and will also be able to obtain matching grants of 50 cents for each new dollar contributed.
Legacy Foundation is a community foundation and leading philanthropic partner that has been connecting people with resources since 1992. To learn more, you can visit online at www.legacyfdn.org.
Horizon Bancorp is a locally owned, independent, commercial bank holding company serving Northern and Central Indiana and Southwest and Central Michigan through its commercial banking subsidiary Horizon Bank. Horizon also offers mortgage-banking services throughout the Midwest. Horizon Bancorp may be reached online at www.horizonbank.com. Its common stock is traded on the NASDAQ Global Select Market under the symbol HBNC.