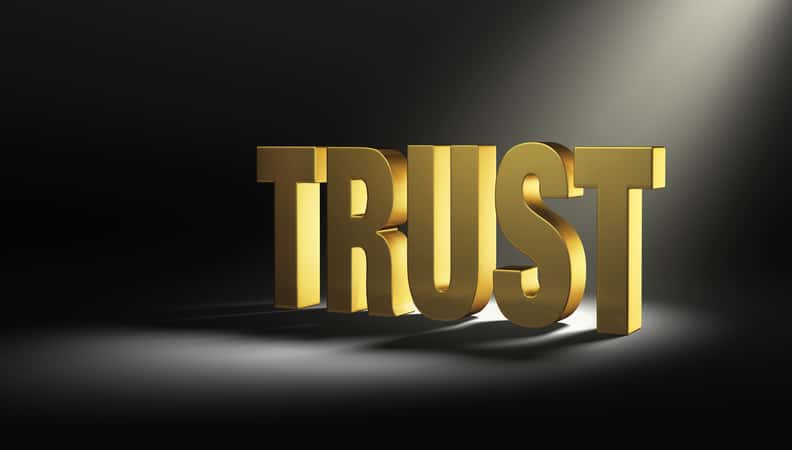 The Better Business Bureau "Starts with Trust." The question is, do consumers start with that same level of trust?
The Better Business Bureau Serving Western Michigan has released the Trust Lab Inaugural Assessment: Consumer Trust and Business Trustworthiness in Western Michigan. Partnering with the Calvin University Center for Social Research, the BBB surveyed consumers in the 38 county region of West Michigan. The survey asked consumers their impressions of both local and national businesses, with a focus on trust. The findings give a glimpse into how we, as consumers, feel as we approach businesses for the first time, how we view specific industries, and the things we look for when deciding if we will trust a business.
The BBB wanted to know, "Are consumers initially trusting?"
In 2017, The Council of Better Business Bureaus conducted the first Trust Sentiment Index survey, which was designed to take a deep look into how trust drives consumer marketplace decisions. It asked a simple question:
"On a scale of 1 to 5, with 1 being More Skeptical and 5 being More Trusting, how would you describe yourself when it comes to working with a company for the first time?"
Using a similar question, the Better Business Bureau asked consumers across Western Michigan if they are more trusting or more skeptical when working with a company for the first time. The results show West Michigan consumers are more skeptical at the first business interaction than the national average found in the 2017 study.
Phil Catlett, President of the Better Business Bureau Serving West Michigan, says, "This study is a first step at understanding how consumers in Western Michigan interact with businesses," and adds, "The results show there is still work to be done with both companies and consumers to help foster an environment where both sides can have confidence when they do business."
While within the survey's margin of error, when broken down by region, Northern Michigan residents were the most skeptical, followed by respondents in the central portion of West Michigan, while we here in Southwest Michigan were the most trusting.
Age also appears to play a factor in how consumers look at trust, with young consumers being more skeptical initially than older consumers.
Dr. Neil Carlson, Ph.D., is Director of the Calvin University Center for Social Research. He tells us, "It's a privilege to be invited to join the BBB of Western Michigan in bringing the Trust Lab concept into practice. We are enthusiastic about the transformative potential of sharing new analytics and insights among business and consumer stakeholders through the BBB's expert intermediation."
So, who do consumers trust, according to the survey?
Not all industries are trusted the same. The Trust Lab survey asked consumers to rate 10 national industries and 21 local industries on a scale between "not trustworthy" and "very trustworthy." Dentists, doctors and restaurants topped the list of most trusted industries in Western Michigan. At the bottom of the list, the least trusted industry according to the survey is used car dealers, followed by landlords and lawyers.
The BBB's Catlett says, "While not particularly surprising, the data shows there are clearly industries that consumers find harder to trust," adding, "However, these results show there is a unique opportunity for trustworthy businesses within these industries to set themselves apart from the crowd."
According to the survey in West Michigan, reputation is everything
One key question from the data was, "How can companies gain trust before that initial business interaction with a customer?" The Trust Lab survey finds reputation is critical for businesses. The survey asked consumers to rank a list of the most important factors they use when deciding to trust a company with their business. The top three responses were:
Good reputation
Good customer service
Recommendations from family and friends
The least important factors according to the survey are social media presence, articles on the Internet and advertising.
Catlett points out, "These results make it clear that what other people say about a business means more to consumers than what a business says about itself." He notes, "One of the best ways to build trust with new consumers is to have a loyal customer base that is willing to share a good experience with others."
So, what comes next, now that the data is out there?
The report is the first public release of data from the Trust Lab Inaugural Assessment: Consumer Trust and Business Trustworthiness in Western Michigan. The Better Business Bureau Serving Western Michigan will continue to examine the results and use the findings to create and expand programs and offerings to help enhance trust between businesses and consumers.
Trust Lab is a unique program created by the Better Business Bureau Serving Western Michigan. Trust Lab is working to identify trends among businesses and consumers, and using that data to create programs that foster trust with the goal of making our community the most trusted place to do business in the United States.
Founded in 1970, the Calvin University Center for Social Research (CSR) collaborates with campus and community partners to support evidence-based decisions through innovative social-scientific research. CSR trains and employs current Calvin students and recent graduates as professional research staff. Their vision is to be valued learning partners for academic, public-sector, nonprofit, religious, and business organizations seeking wisdom-driven social research and development.
A full copy of the report can be found by clicking the link below:
bbb-trust-lab-report-final-8-14-19-1