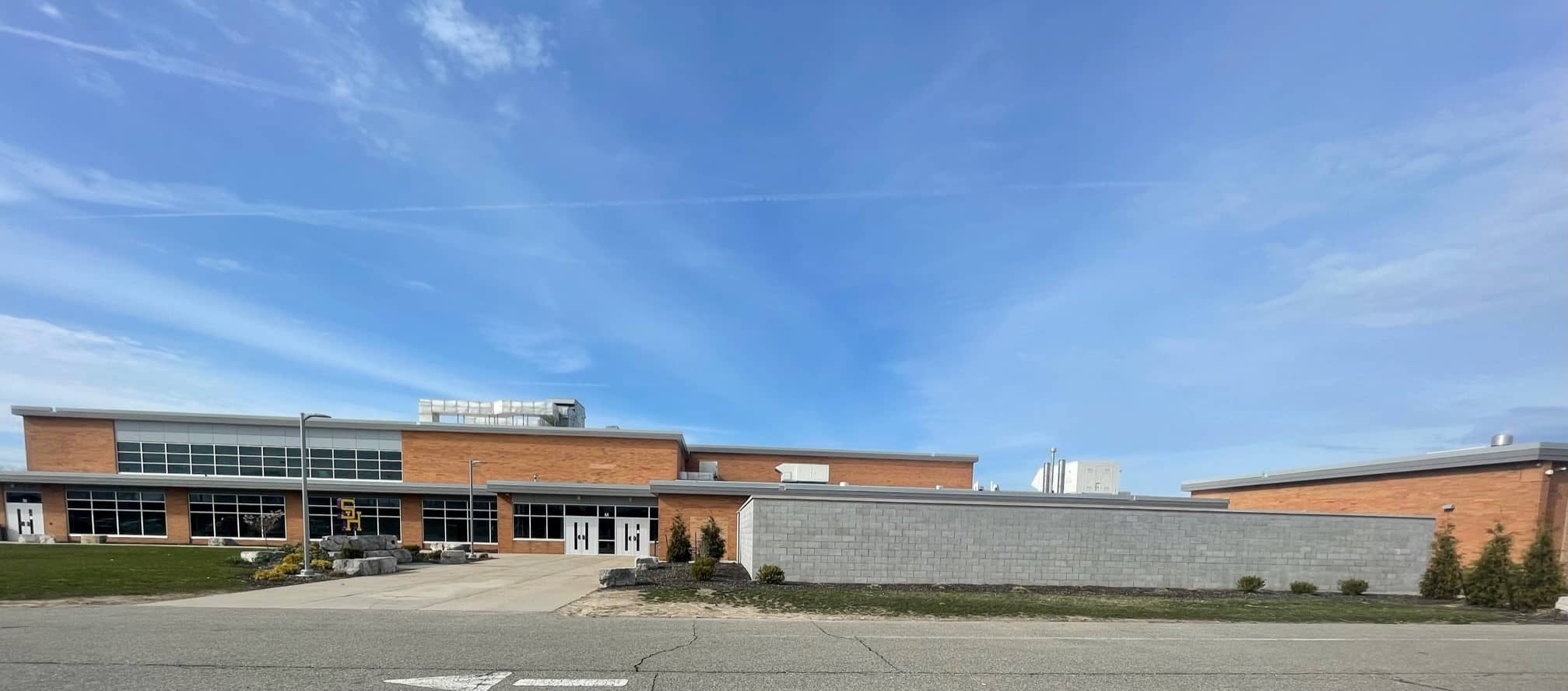 South Haven Center for the Arts and Project CURB are collaborating with South Haven Public Schools to commission a 1,375 square foot mural to be painted on screening walls located at the south entrance of South Haven High School. SHHS students will have an opportunity to participate in the project from design concept to execution as they will provide creative input, select the final design, and have painting opportunities.
To guide creative direction regarding design elements, themes, and color schemes, surveys were distributed to all high school students. The results were tabulated and delivered to local professional artist Kayla Ridley, for design creation. Two designs will be presented to the students for voting in mid-April. Ridley and student volunteers will begin work when the weather permits. "The mural project will allow all high school students to be a part of a legacy project. We hope it will help create a deeper connection between the students, the school, and the community as it will collectively represent every student at South Haven High School", says Robyn Henrickson, co-founder of Project CURB.
The mural will sit across from Project CURB's 2020 beautification project featuring a welded sculpture created by South Haven High School student Zachary Emmenhiser which has become a signature backdrop for students. "We are excited to orchestrate a project that provides all students an opportunity to make a long-lasting impact and hope it serves as a pride piece for them for years to come," says Kevin Dee, Director of Non-Instructional Services for South Haven Public Schools.
The art project is partly funded by a grant awarded by the Michigan Arts and Culture Council, South Haven Wal-Mart and Whiteford Wealth Management. Project CURB is currently fundraising for the remaining funds. Sponsorship opportunities are available. Those interested in sponsoring or donating to the project can contact Project CURB by email shprojectcurb@gmail.com, or by visiting the website www.shprojectcurb.org.
This will be the fifth beautification project sponsored by South Haven Project CURB. Other projects include the installation of a 300-foot berm and landscaping on the east lawn of South Haven High School, a student gathering area featuring a student-created sculpture at the south entrance of the high school and perimeter landscaping at neighboring Lincoln Elementary. South Haven Project CURB is a 501c3 non-profit parent and community-led organization whose mission is to orchestrate, sponsor and execute annual outdoor beautification projects at each school within the SHPS district. The group was established in 2019 and has raised nearly $40,000 in funding for projects at district buildings. Visit www.shprojectcurb.org to learn more.