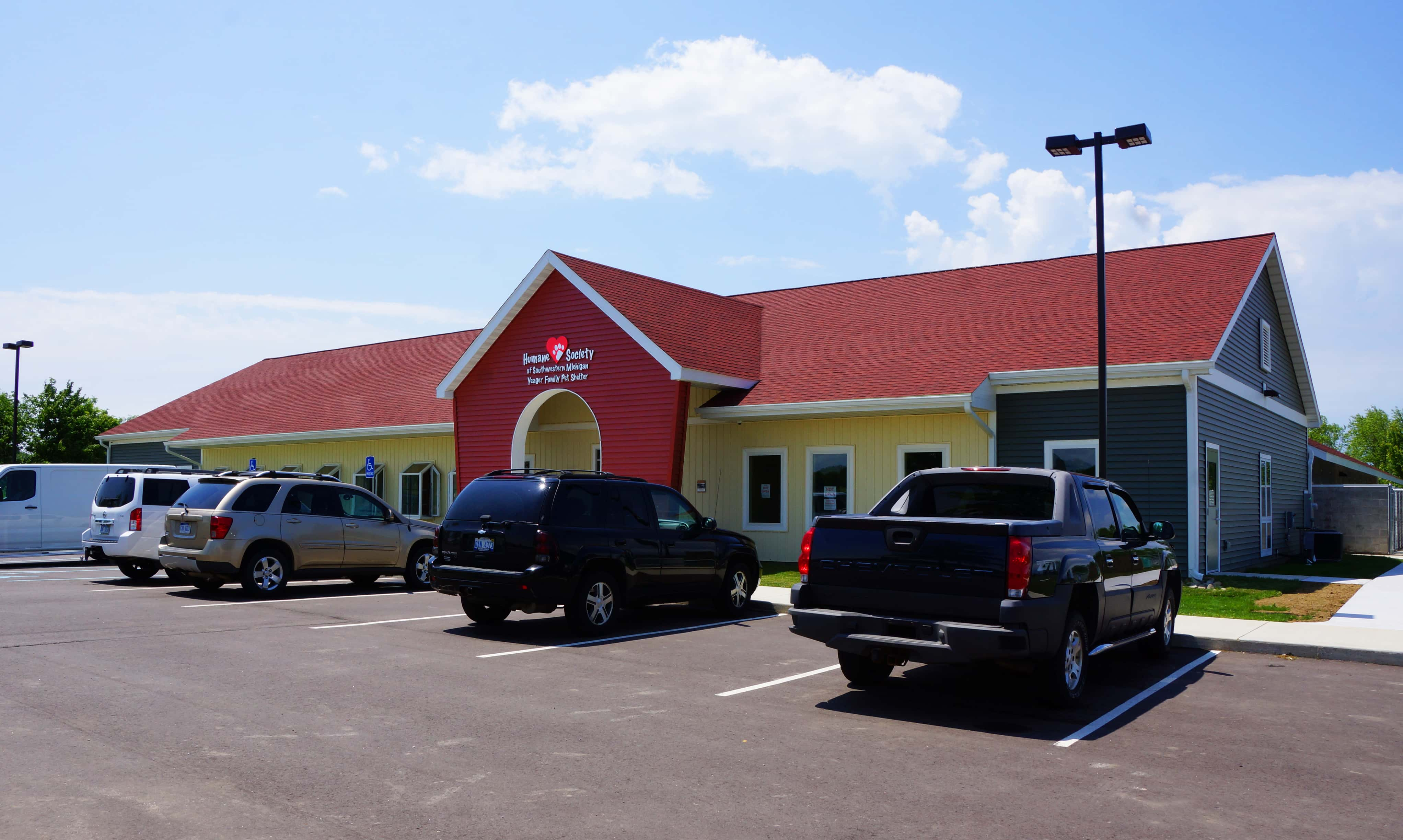 It's going to be a very emotional weekend for friends, fans, staff members and donors when the Humane Society of SW Michigan hosts ribbon cutting and open house celebrations at the sparkling new Yeager Family Pet Shelter at 5400 Niles Road in St. Joseph.
After nearly half a dozen years or researching, designing, planning and fundraising, the new state-of-the-art Yeager Family Pet Center takes center stage at noon this Saturday, June 9th followed immediately by an open house to showcase the new 13,000 square foot facility and the once homeless pets who reside there. There will be plenty of tears, cheers, high fives, and smiles all around.
Located in a great rural location just south of the Concord Ridge Equestrian Center between Marquette Woods and John Beers Roads, the new shelter replaces a worn-out, downtrodden, out-of-date facility that long ago outlived its useful life.
The Humane Society started in 1934 and has operated their shelter at 641 South Crystal Avenue from the 1960's until the property was sold last month. Now, the new 13,000 square foot shelter, designed specifically with the Humane Society's needs in mind is ready to take a bow.
Funding for the new facility is provided solely from private donations. The key donor is the Yeager Family, which has acquired building naming rights, as a result, the new facility is officially the Humane Society of Southwestern Michigan -- Yeager Family Pet Shelter.
The Yeager Family Pet Shelter will be a vast improvement over the old facility. It is nearly three times the size, with nearly double the animal capacity. Additionally, it will provide dogs and cats with the generous accommodations they deserve.
There are separate wings in the new shelter for dogs and cats, training and education spaces, two veterinary rooms and isolated care and quarantine accommodations for both, administrative offices, spacious outdoor play areas, and dedicated heating, cooling, pluming and air exchange systems. Those are just a few of the amazing features of the state-of-the-art shelter.
The Humane Society of SWM is proud to operate as a No-Kill organization, which means that all of the animals will live at the Yeager Family Pet Shelter until they are adopted. Some may have a short stay, others may end up staying for years. With space for up to 100 dogs and 160 cats, the Yeager Family Pet Shelter will save more dogs and cats and help eliminate the homeless cat and dog problem in Southwest Michigan.
It is never too late to join the fundraising efforts to allow the shelter to eventually operate mortgage-free and continue to build the operating fund endowment plan so that staff members can concentrate on the care and welfare of the animals rather than having to continually scramble for monetary donations, which are always welcome. Click the link below to join those efforts: