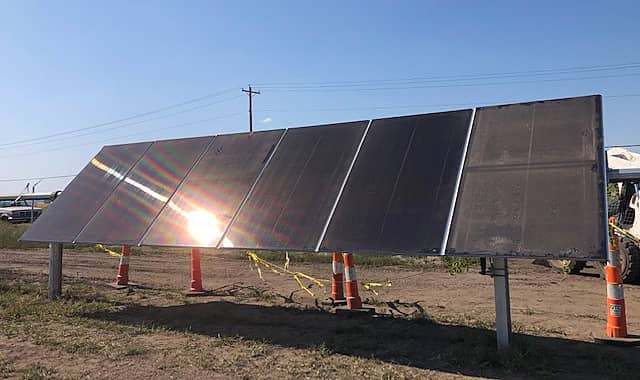 The installation of nearly 58,000 high-tech solar panels is underway at Indiana Michigan Power Company's St. Joseph Solar Farm, a partnership with the University of Notre Dame.
The construction progress is visually advancing, as crews install more than 20 megawatts (MW) of advanced thin film solar panels made by U.S.-based First Solar, Inc., allowing the facility to generate clean energy at the highest level for customers and the community.
White Construction employees, with the support of I&M employees, are installing 57,720 of First Solar's Series 6 panels at the St. Joseph Solar Farm. The industry-leading solar panels will track the sun from east to west during the day and feature an anti-reflective coating, which will allow the plant to optimize energy generation. The panels are also able to withstand even the most severe weather elements, including hail.
Installation is expected to be finished by the end of November, weather permitting.
The St. Joseph Solar Farm, which is located in the area of Bittersweet and Cleveland Roads in St. Joseph County, Indiana, will be operational in the Spring of 2021. It will be I&M's fifth and largest solar facility – generating 20 MW of energy, enough to power 2,700 homes annually.
I&M will work in partnership with the University of Notre Dame on the St. Joseph Solar Farm. Meanwhile, Notre Dame is committing to support 40-percent of the renewable attributes of the facility to uphold its sustainability goals. I&M and Notre Dame will collaborate to capitalize on educational opportunities and research benefits as well.
The facility serves as a flagship for sought-after green technology and growth in the Michiana area providing a long-term sustainable future for I&M customers and businesses.
I&M customers can voluntarily put solar and wind power to work in their own home or business at a reduced cost with the IM Green program. With newly lowered costs, customers in both Indiana and Michigan can support green energy for less than 1-cent per kilowatt hour per month.
Typical residential customers in either state can attribute a portion of their energy use to wind and solar power generated in Indiana and Michigan for less than $1 a month, or attribute 100-percent of the energy used in their homes for less than $10.
I&M encourages businesses and communities to make contact with them to find solutions to customize green energy projects that suit individual needs.
To learn more or participate, you can visit online at:  http://IndianaMichiganPower.com/IMGreen
For more information on construction of the St. Joseph Solar Farm you can visit: http://IndianaMichiganPower.com/StJosephSolar.