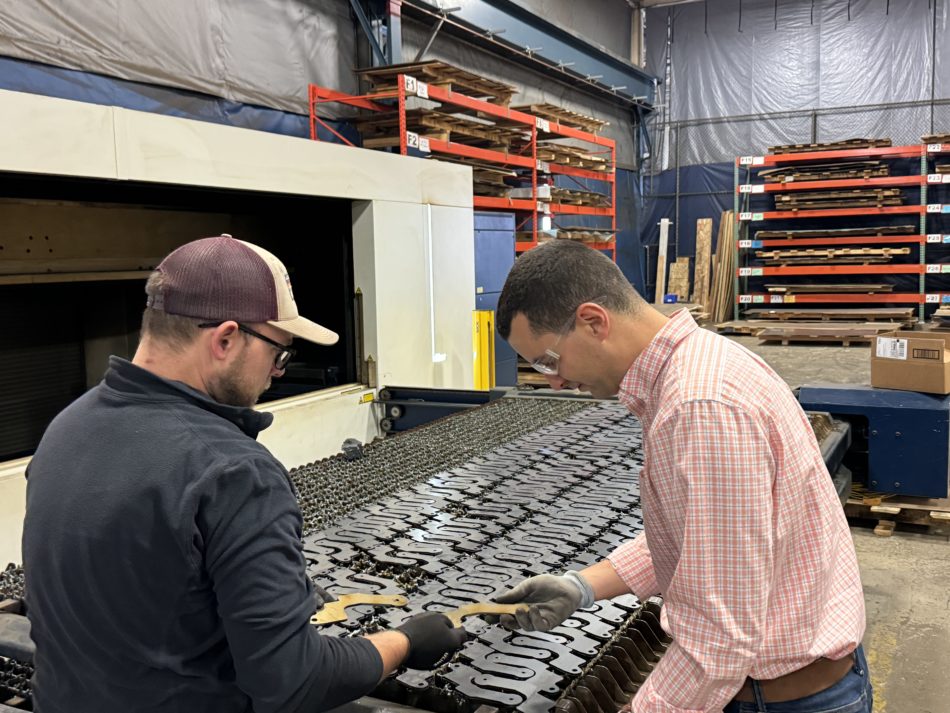 Moody on the Market recently published a story about an ownership change at Fortress Manufacturing when longtime owner Fred Huff sold his company to former Whirlpool Corporation strategist Andrew Petro. We sat down the Petro to understand more about him, why he chose to purchase Fortress Manufacturing, and what made him choose Southwest Michigan as the place to further establish and grow his new company.
Fortress Manufacturing at 2255 Pipestone Road in Benton Harbor is a specialized sheet metal fabricator focused on production components as well as small batch runs. The seven-employee company primarily serves clients in Michigan and throughout the Midwest.
Why Fortress Manufacturing
Petro said he's had designs on owning his own company for some time. Because he wasn't in a hurry and wanted the right opportunity, he screened potential investments through a tight filter of two requirements – would it let him be an entrepreneur and would it let him keep his family local.
"When you're looking for a business (like this) in an area like Southwest Michigan, those can be pretty tight parameters. You know, we're not in Chicago or Grand Rapids where multiple businesses come up. So I had been loosely looking and I'd always consider in the back of my mind, 'We might have to move for an opportunity.'"
That's when the chance to purchase Fortress Manufacturing arrived.
"When this opportunity arose, the size was right. It gave me the confidence to make the jump from the comfort of a corporate job to the unknown of business ownership."
Petro said Fortress felt like the size of business he could maintain, it had a strong foundation to build from, the industry has a future, and the location in Southwest Michigan was right.
"We jumped on it. We said, 'This is it.' I'm fairly young into my career. I recognize that. And this great opportunity probably came a few years sooner than I had anticipated. However, those things gave me the confidence to kind of make that jump. If we can make this happen now, and it's a good fit, and we have good rapport with Fred, let's do it."
Who is Andrew Petro
"I grew up in Ohio. That's where my parents still live. In college, I went to school down in Miami, Ohio. I met a Michigan girl, and she really introduced me to the state. We've vacationed on the east side, but she introduced me to the state, and I fell in love with it quickly."
Petro said in the summer, his wife's family would vacation up north and he had the opportunity to see much of Michigan. He appreciated the beauty of other places, but the water and the sunsets here were enchanting.
"I'm a big outdoors guy. I love boating. I love all things water. And that summer just opened my eyes to the beauty of Western Michigan. I'll never forget going to watch the sunset was an event. We'd get a group of us together and we'd go over and we'd watch the sunset for 45 minutes and you'd cap off the day and that was just like the type of lifestyle I loved. I absolutely loved it."
But it wasn't all vacation and sunsets. Petro said he first started working in manufacturing in Holland.
"My introduction to manufacturing – where this all comes kind of full circle – was with Gentex up in Holland. That internship not only introduced me to Western Michigan, but also introduced me to Whirlpool Corporation, where I didn't really know who they were, didn't know where they were headquartered (here), they didn't recruit in Miami."
Petro would apply for roles at both Gentex and Whirlpool – both significant manufacturers headquartered in Western Michigan. Both offering interesting career opportunities.
"I ended up getting a role in Whirlpool's manufacturing team because of my relevant experience. So, long story short, it took me seven, eight, nine years to get back to Southwest Michigan where I ultimately wanted to be a decade ago."
What's next for Fortress Manufacturing
On the day we sat down with Petro, he was conducting interviews for an office manager. He's feeling good about having filled that role, but he's still looking for two immediate employees in welding and machine operating. Beyond the hiring, Petro said his primary focus is nurturing Fortress's existing customer relationships.
"Increasing the channels of communication, increasing the relationship on what they're looking for and how we can better serve them, and how we can help with things that maybe they've been struggling with."
Petro points to advantages Fortress offers that are frequent pain points companies might experience from other vendors. Specifically meeting deadlines, competitive pricing, and agility when it comes to flexing between running small batches to large-scale production runs.
"We're very agile. We have the capabilities, and we have the agility to flex to small batches. If the (research and development) team needs some prototyping, we can build 5 to 25 pieces for them in a week or two. But we also have the capability and repeatability to build production parts when they need 5,000 or 25,000 pieces a month."
Investing in people, process, and tools
Petro appreciates the team Huff has developed at Fortress and he looks forward to continuing to invest in people and "most likely" in additional equipment. Part of the transition, though, will see the introduction of repeatable processes.
"I think there's plenty of capacity currently on our shop floor to take our company to the next level just through driving more efficient processes and maybe hiring. Sooner or later, we also have to invest in equipment (because) we want to stay cutting edge. It's the relationships that bring the bring additional jobs into the shop, and then the investments in the people, into the equipment, and the systems. Really, it's those three things."
Petro said his experience in manufacturing, primarily with Whirlpool Corporation, influences what he plans to introduce into Fortress's strategic and daily operations.
"I would say the value that I'm going to try to bring personally is the systems – the process focus. The team here will hear me say a lot, 'We need to create a predictable process and predictability comes from a repeatable process, and the only way to get a repeatable process is to have a standardized process.'"
Petro admits it's a careful balance.
"How do we keep the flexibility for some of our customers that call and they say, 'Hey, we need this tomorrow.' And we have that good relationship and we want to serve them in those instances. But how do we standardize the process? How do we make it repeatable? And then ultimately, how do we make it predictable so that we can do what we say? That's how I'm thinking about it."
Asked where he sees Fortress Manufacturing in 20 years, Petro says it's still here, though it might be ten times the size of what it is today.
"Ultimately, what I want to build is a company that stands behind its values and offers great opportunities to the local team. Whether we're making widgets for one customer or complex fabrication components for another, it's about how the team functioning within the four walls. Are the people looking forward to coming to work? Are people growing and developing? Are they changing generational habits? That's why I get excited and why I wanted to take the risk of what I'm doing. With that, we grow the company, provide a great product, and a great service."
In love with Southwest Michigan
Even though Petro's been living here and searching for a Southwest Michigan-based opportunity for years, it won't surprise him to see people and companies from outside the Midwest migrating to our area more frequently. He says with all that Berrien County has to offer, it's only a matter of time before more people discover the hidden gem that is Southwest Michigan.
"I have a passion for this area. I love Southwest Michigan. I'm still waiting for the Great Migration North. I swear, Austin, Texas, Florida, Arizona… I'm waiting for people to find Southwest Michigan on the map and start coming up here."