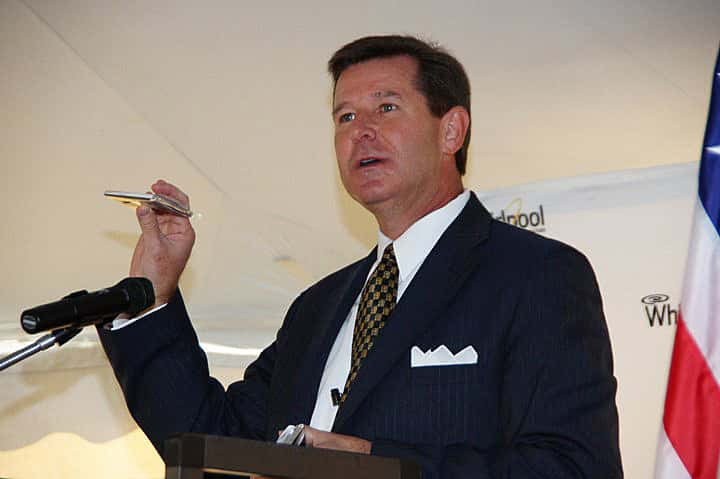 If your plans are to launch a new networking series featuring leadership and the connections formed by being a leader you'd be hard pressed to find a more dynamic inaugural speaker than Whirlpool Corporation's Jeff Noel. The Lakeshore Chamber of Commerce has selected Noel, arguably the most articulate, stimulating, and most knowledgeable leaders of the current age to kick off their new Leadership Connections networking series later this month.
The kickoff event featuring Noel, who serves as Vice President of Communications & Public Affairs for Whirlpool, is being co-sponsored by Tosi's Restaurant. It will take place from 4pm to 6pm on Tuesday, August 21st at Tosi's, located at 4337 Ridge Road in Stevensville.
Ashlie Guyberson is the Interim President at the Lakeshore Chamber. She says, "One of the goals of the Lakeshore Chamber of Commerce is to provide more social and networking opportunities for our members." She adds, "This is just the beginning of a series of events that we've envisioned to bring the community together, to learn from each other, and share opportunities to hear from leaders in our community. We are very excited that Jeff Noel has accepted our invitation to be the guest speaker for our inaugural event."
Noel was appointed corporate Vice President, Communications and Public Affairs at Whirlpool in 2004. In that role he is responsible for the company's global external and internal communications, government relations, and business travel departments. He also serves as the President of the Whirlpool Foundation. Jeff has managed delicate issues for the company, including false accusations of a cancer cluster, environmental issues involving Erin Brockovich, the Grenfell Tower tragedy and conducted interviews on all three nightly news outlets, as well as on the BBC, CBS Sunday Morning and many others.
Noel has served as Vice-Chairman and Chairman of the Association of Home Appliance Manufacturers, and President of the Harbor Shores Development ─ a $500 million golf and residential redevelopment property ─ and St. Joe's Bluffside project, a $12 million tourism based development including the Silver Beach Carousel, Compass Rose Fountain and more. He also serves as a member of the Michigan Chamber Board of Directors, and Business Leaders of Michigan Board of Directors. Noel is Vice Chair of the Michigan Economic Development Corporation and Chair of the Michigan Economic Development Foundation.
Prior to joining Whirlpool, Noel served for 11 years as president of Cornerstone Alliance, Berrien County's lead economic development agency. He also served as commissioner of the Kentucky Cabinet for Economic Development Department, Director of Government Affairs for Brown & Williamson Tobacco Corporation, and Executive Assistant to U.S. Senator Wendell Ford of Kentucky. Noel also was an owner/developer of more than 700,000 sq. ft. of commercial real estate.
Noel holds a master's degree in business administration from Marymount University and a bachelor's degree in agricultural economics from the University of Kentucky.
The new networking event is free of charge for Lakeshore Chamber of Commerce members and $10 per person for non-members. Light appetizers and wine will be served with a cash bar available. Space is limited and and RSVP is required. You can RSVP via the Lakeshore Chamber website at www.lakeshorechamber.org.
In 1966, the Lakeshore Chamber of Commerce organized for the purpose of uniting as a group for the promotion of the Lakeshore area and to tell the "Lakeshore Story" for the advancement of commercial, industrial, civic, cultural, and general interests of Lakeshore, and its trade area.
The file photo accompanying this story on Moody on the Market is from the groundbreaking ceremonies for Whirlpool's Riverview Campus.