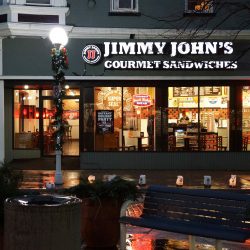 The collective business community of Michigan's Great Southwest must be doing something right. For the second time in a handful of days eager entrepreneurial business owners from outside of the immediate community have shown up on local doorsteps offering to buy highly successful establishments from their long time owners to get in on the action. This time it's the two local Jimmy John's franchises in St. Joseph and Benton Harbor that have been snapped up by another ownership group, changing hands here in the New Year.
Just yesterday I told you of the sale of the St. Joseph and Stevensville Dairy Queen stores to a South Bend franchise holder, and now the sandwich shops have been sold.
Deb Sailor Molitor, who — with her husband Rick — owned both St. Joseph and Benton Harbor Jimmy John's restaurants, says of the local market, "It's amazing and I forecast that its just going to continue to get bigger and brighter and bolder, and more people will join those who say that's where our next location needs to be. They're spot on. It's a great place!"
The Molitors have sold their local enterprise to MVK Management, Inc., of Norton Shores outside of Muskegon, already owners of eleven other Jimmy John's franchises in West Michigan. These will be numbers 12 and 13 for the partnership headed up by John Lindenbaum. Nick Stenholm is Director of Operations for MVK and is now actively operating Rick Molitor's store in the Fairplain Plaza, having taken over last week. Deb Molitor is expected to hand over the keys to the downtown St. Joe store next Tuesday, January 16th.
The couple launched the Benton Harbor store nearly 13 years ago and arrived in downtown St. Joseph just short of ten years ago. Originally from the west Chicago suburb of Glen Ellyn, Southwest Michigan has long been a destination attraction for both, with Rick's family cabin on Big Crooked Lake in Sister Lakes and Deb vacationing her since her high school days in the 70s. Prior to their Jimmy John's careers, Rick was a factory owner and Deb was a teacher.
MVK Management has offered all employees at both stores the opportunity to stay on board, and Deb says most are taking advantage of not only that fact, but also the opportunity to work for a larger corporate group where chances of advancement and potential general management roles are dramatically increased for some of those folks.
As for what's next for the Molitors, Deb says, she's not sure, adding, "We're looking for new opportunities, because we're not quite ready to retire yet. This great opportunity came along, so we're moving on." For her immediate future, Deb's hitting the road to the Pacific Northwest to visit her first granddaughter due the first week in February in Vancouver, British Columbia.  She adds, "When we come back, we'll try to figure out what's next. We fully intend to stay in the area, as we own some investment properties here, and we absolutely love and adore this area, and moving here was one of the best decisions we ever made, so we have no intention of leaving the area, or getting out of being involved in downtown St. Joe, and all the great things that happen here."
Looking back over the years of long, busy days — especially in the heat of summer — Deb says, "We will miss our customers, and all the things that happen down here, day to day, we however, will not be missing the daily grind of making sandwiches every day." She adds, "We love our staff, they're an amazing group of young people that work for us, and almost all are intending to stay on, which is a great opportunity for them, with the new company."
The good news for partners and organizations in the community that have enjoyed working with Jimmy John's is that, as Deb says, "The new company intends to stay fully vested and carry on a lot of the things we've done and supported, which was one of the reasons we agreed to sell to them, meanwhile, we'll look for new opportunities."
While they're not ready to retire completely, and Rick keeps talking about some sort of food establishment, Deb admits, "I'm not ready to say that's what we want to do, although there are some great opportunities. Downtown Benton Harbor's Arts District is screaming for a new place. There are some properties opening up down here. I just don't know. We're hoping the right opportunity will present itself, just like Jimmy Johns came to us at the right time and right place." She concludes,  "I'm not saying no to anything, but right now my knees are saying, 'no, not another restaurant, you're too old.'" Then she punctuates it with, "We're not saying yes or no to anything, we'll just explore and see what comes our way."
The Molitors have typically had a staff of some 40 or so people in the off season surging to 50+ in the summer, and most all of them have the chance to stay with MVK Managment going forward.
Asked about the irony of following so closely on the heels of the Dairy Queen transition, Deb spoke glowingly about the market, saying, "We got here at exactly the most opportune time ever to open this store. Great things were happening, thanks to St. Joseph Today, Cornerstone, the City of St. Joseph and the SW Michigan Tourist Council. The 100's of visionaries who saw something bigger and bolder for this area, and really worked to develop it to attract new businesses, and make people want to come and live here…'living in Paradise' as Millicent Huminsky calls it at the Tourist Council. All of that drove our success, and our love for this community is just overwhelming. We appreciate the work of so many other people that allows a place like ours to come here and be successful, and open the doors for so many other small entrepreneurs."