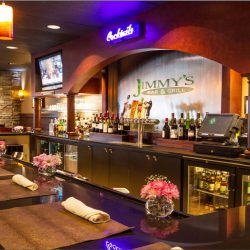 If your name is Jimmy and you've always wanted to own your own Harbor Country restaurant, this just might be your lucky day. The Harbor Country Chamber of Commerce is sharing news today that Jimmy's Bar & Grill has gone on the block with the current owners looking to sell the place quickly in order to pay off debt.
The once wildly popular restaurant on the opposite side of I-94 from the Four Winds Casino in New Buffalo is up for sale as a full turnkey operation ready for whoever buys it to simply step in, start cooking and serving and take over as soon as the deal can be consummated.
Located at 18529 Harbor Country Drive, a stone's throw from I-94, the 3,000 square foot restaurant which seats 96 indoors and has seating for 13 more at the bar and a patio capable of handling 40 patrons, Jimmy's has been around for a number of years, and is a nicely-appointed, physically attractive bar and grill that garnered many regular customers in its hey day.
The current owners admit that they were, "Unfortunately unable to adequately staff the business to be successful." Additionally, they had an established buyer all lined up who apparently got cold feet because they already had other seasonal restaurants which accounted for "too many negatives for their circumstances."
The asking price for the place is $150,000 which includes the Class C Liquor License with dance permit and Sunday sales. The bar is black diamond granite with 8-taps (which can be expanded to add more) and a custom mirror water wall as a back-bar.
The kitchen features a 150-square foot walk-in cooler, another 50-square foot walk-in cooler, and a 40-square foot walk-in freezer, plus a 60-inch counter-top freezer. The restaurant features two gas fireplaces, all LED lighting and an LED fiber optic star constellation in the ceiling.
Interested parties can call 708-218-0100 for further details or to begin negotiations to take the reins.