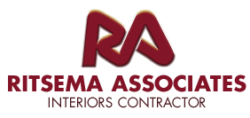 Website Ritsema Associates
Interiors Contractor
Wanting to be part of a team and part of the family?
Look no further, Apply with us today.
Responsibilities; Supervise and direct foreman and field employees to the successful completion of all projects they are assigned. Must monitor projects from planning to completion, including tasks such as budgeting, scheduling, and subcontractors. They follow quality standards and ensure the safety and security of the construction site.
About The Company
With over 65 years of experience, Ritsema Associates turns ceilings, floors and walls into showpieces. On each job, large or small, Ritsema craftspeople demonstrate their unique ability to translate an architect's vision into reality. The results: floors, walls, and ceilings that integrate function beautifully with the interior. Craftsmanship means each job must meet Ritsema's own exacting quality standards, the foundation of our reputation, from skillful estimating through final installation.