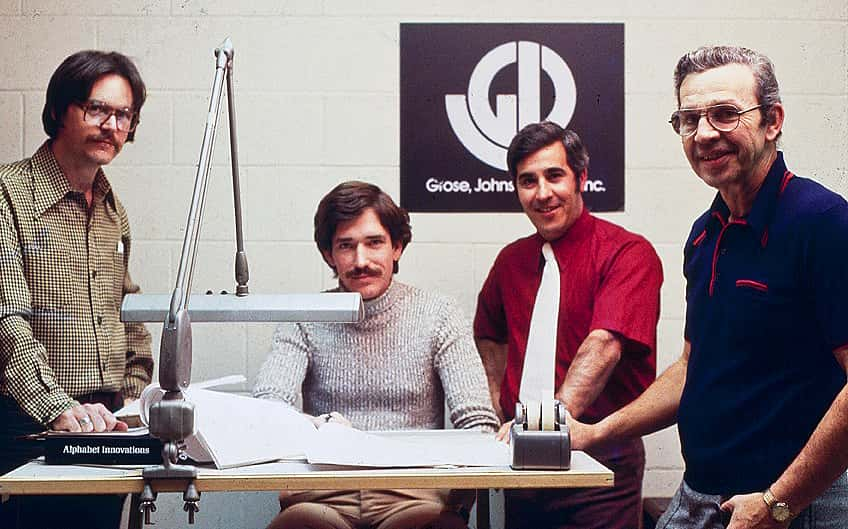 Ever notice how some of the most successful people in the world launched their business either in the basement of their own home, the home of their parents, or set up shop in the garage before hitting the big time? Essentially proving that from the most humble beginnings even the most resourceful business people start at the bottom of the ladder to success.
Exhibit A in that arena is right here in Michigan's Great Southwest as the team at JohnsonRauhoff — or in this day and age simply JR — marks 50-years in business.
JohnsonRauhoff (JR), an award winning strategic content agency, has announced its 50th anniversary is at hand as the agency credits that longevity to client partnerships, technology adoption, and its people.
It was Don Johnson, Army Veteran turned Adman, who founded the company in 1969 as a one man studio operating out of — you guessed it — his basement. During its infancy JR went by the name Don Johnson Art and Design and created Use and Care Guides for its very first client, Whirlpool Corporation. The firm later changed its name to Grose, Johnson & Reed in 1977, then a year later evolved to Grose, Johnson & Associates. It landed on Johnson-Rauhoff Inc. in 1988, later eliminating the hyphen and "Inc" from the name.
After a half century and various iterations of the company name, JR has experience with more than 200 brands with large client partnerships lasting an average of 21-years in that span. Agency personnel claim success at the company is partially due to early technology adoption leading to service differentiators.
John Frambach is IT Manager at JR. He says, "We purchased four Macintosh Plus computers after they were first released in 1986," adding, "We managed to connect them together to increase storage and improve copywriting efficiency. That was cutting edge back then."
That tech adoption extended to the studio where JR was also an early adopter of digital photography.
Rob Regovich, who serves as Studio Director at JR, says, "The early 2000s felt like the Wild West," explaining, "Dealing with the new manufacturers felt like working with three guys in a shed somewhere. Getting your hands on digital cameras to test was complicated." Nevertheless, JR navigated the landscape complexity by acquiring digital photography equipment in 1996 and then scaling the capability for clients in 2002.
CEO Jackie Huie explains that the company's pursuit of innovation was driven by their dedication to their clients, telling us, "Our company was founded on driving results for our clients and helping them succeed. This was the genesis of our first mission statement which was 'To earn long and mutually rewarding partnerships by delivering unsurpassed service, quality and value.'"
That culture has attracted talent from all over the country and other nations as well. Perhaps that is what contributes most to the success of the company. As Founder Don Johnson, now retired and serving as Chairman Emeritus, said in 1995: "The business is our people and they are what makes the business special."
JR is headquartered on Red Arrow Highway across from Bosch Braking Systems at Shoreham, south of St. Joseph, with several other facilities in Berrien County including its main studio in Benton Harbor. A current satellite office in Atlanta is slated to move up the eastern seaboard to Boston.
JR is a strategic content agency that combines the strengths of a full-service agency with the added value and efficiency of an in-house studio. Strategic insights and innovative tech solutions fuel powerful creative work. You can learn more online by clicking this link: http://johnsonrauhoff.com
Here is a timeline of JohnsonRauhoff 50th Anniversary Milestones:
1969:​ Founded by Don Johnson with Whirlpool as first client
1972:​ First employee, Tom Mesinger, joins the company
1983:​ Expands to include an in-house photography studio
1986: ​As an early adopter of new technology​, ​purchases four Macintosh Plus computers shortly after they were released
1990:​ Digitization of all work processes. Instead of doing catalogs by hand, agency begins doing them digitally
1997:​ Reaches #8 on the PROMO100, an annual list of the top 100 U.S. promotion agencies
1999:​ Partners with WalMart and helps to launch Walmart.com by providing photography and copywriting
2008: ​Produces nationally broadcast cooking show
2013: ​Street talent casting database exceeds 1,000
2016: ​Don Johnson retires and names Jackie Huie CEO
2019: ​Celebrates 50th anniversary with large client partnerships lasting an average of 21 years
As Don Johnson's legacy continues, the company will continue to evolve with plans to advance into such leading edge technologies as voice activation and virtual reality. Stay tuned to a remarkable company with a global footprint right here at home.
In the photo accompanying this story on Moody on the Market, founder Don Johnson is shown in red, Tom Mensinger, the first employee is seated at the table and Dudley Gray is on the right. The man on the left was unidentified by JR who provided the photo to us.