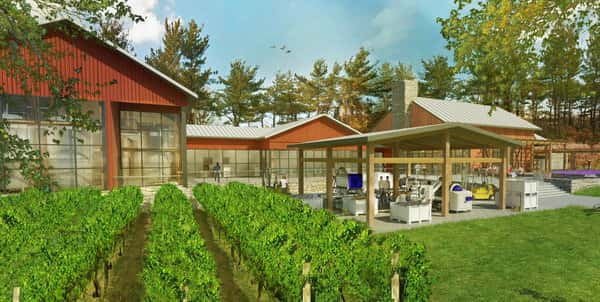 As tourism and hospitality play an increasing role in the commerce of Michigan's Great Southwest, Lake Michigan College continues to evolve their plans for what they hope will be not only a training center, but a destination attraction for those engaged in those career fields. The LMC Board of Trustees advanced the plan last night by approving a bid for infrastructure work for their Wine & Culinary Education Center slated for property on the periphery of the Napier Avenue Campus.
Trustees authorized an increase in the project budget to $1.25-million from the original target of $1-million as the plan moves forward with a $1-million grant from the State of Michigan, and in the same motion awarded the infrastructure bid to Kalin Construction Company of Sodus in the amount of $642,217.
Architectural planning for the center was performed by Evan LeDuc's ALDS Architecture & Design of Benton Harbor, as shown in an early rendition depicted in the image accompanying this story on Moody on the Market.com. Work along Empire Avenue on the back side of the Napier Campus has been underway to clear the land, and Kalin's bid will cover installation of new water service, storm drain systems, a forced main sanitary system, and will deliver electrical power to the construction site while also expanding the existing storm water detention basin.
The only other bidder in this phase of the project was CPM Construction of St. Joseph, whose bid topped $1.06-million.
The increased project budget stems from inclusion of the culinary program into the facility and also reflects increased infrastructure costs.
The LMC Wine program continues to operate out of temporary space in the Mendel Center pending eventual completion of the new Wine & Culinary Education Center.
Coincidentally, the Board was introduced at last night's meeting to the new Culinary Instructor Luis Amado, who became the first such instructor at LMC in the history of the school when he began his new role last week. He comes to LMC after 18 years as program director of Baking & Pastry Arts at The Culinary Institute of Michigan at Baker College. He holds a bachelor's degree in general education from Baker College and is a Certified Executive Pastry Chef by the American Culinary Federation.
At this juncture, there is no firm timeline for the opening of the Wine & Culinary Education Center. Ongoing plans and construction bids will come as those plans advance.