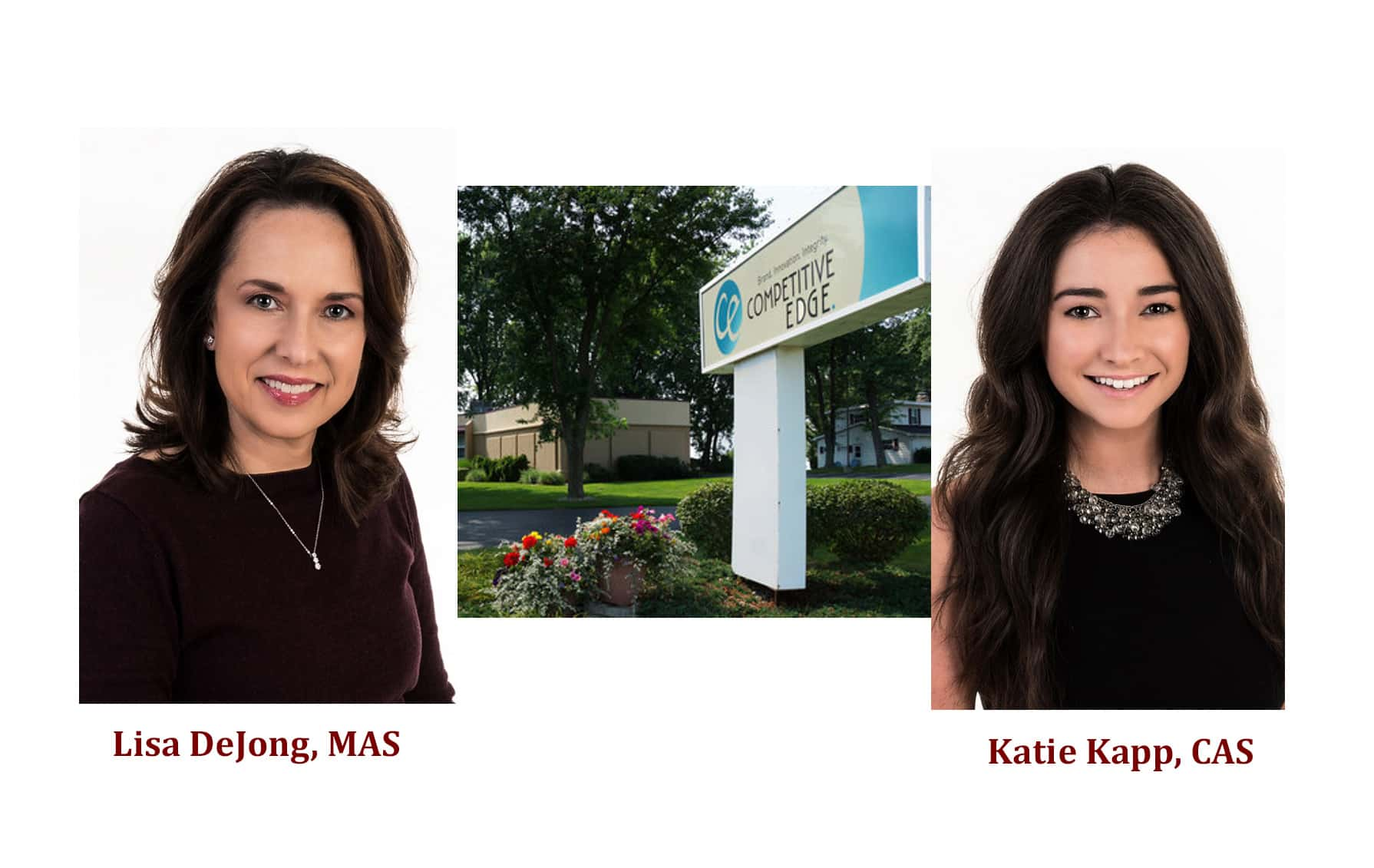 The level of expertise in the house at Competitive Edge in Stevensville continues to soar thanks to the hard work and certification of two key players for the promotional products firm.
Lisa DeJong and Katie Kapp of CE Competitive Edge have earned the certification of MAS and CAS, respectively, administered by Promotional Products Association International (PPAI), the largest international not-for-profit association for more than 15,000 members of the $23-plus billion promotional products industry.
Lisa DeJong, MAS is the Vice President of Sales at Competitive Edge and has been with the company for 17 years.  Katie Kapp, CAS joined the company in 2016 and is the Market Manager at Competitive Edge's Denver, Colorado location. Both DeJong and Kapp recognize the importance of these certifications – not only for their own professional growth, but also for the added value they bring to their clients, co-workers and the promotional products industry as a whole.
The Certified Advertising Specialist (CAS), Master Advertising Specialist (MAS) and Master Advertising Specialist Plus (MAS+) Certifications are the promotional products industry's premier professional designations. Individuals with a PPAI Certification are industry leaders—those who have attained a higher standard of professional competence, knowledge and experience.
PPAI industry certification is acquired through a combination of: required certification classes, demonstrated years of employment in the industry, education, industry contributions and a successful demonstration of expertise. Certification is maintained through continuing education to ensure current knowledge and leading-edge professional skills.
The Certified Advertising Specialist (CAS) Certification requires 75 hours from a structured industry approved curriculum, a minimum three years of experience in the promotional products industry and a passing score on the CAS Certification exam. The rigorous curriculum required includes an overview of the promotional products industry, promotional programs, best practices/ supplier-distributor relations, advertising and marketing overview, product safety basics and business ethics. Upon completion of the core curriculum, individuals then can structure their own course schedules to deliver the greatest relevance and value for their careers.
The Master Advertising Specialist (MAS) Certification requires completion of and current CAS Certification, a minimum five years of experience in the promotional products industry, additional MAS level course curriculum, industry service and passing a comprehensive exam.
The PPAI Master Advertising Specialist Plus (MAS+) Certification is an advanced industry program targeted towards seasoned promotional products professionals with seven or more years of industry experience. This project-based certification requires demonstrating advanced promotional products industry knowledge with the submittal of a work product in lieu of a comprehensive examination.
A relatively small percentage of professionals hold these certifications and are known as the industry's innovators and leaders. The PPAI Certification Program has been recognized as a reliable indicator of professionalism and excellence in the promotional products industry. For more information on the CAS, MAS, MAS+ Certifications, you can visit www.ppai.org/certification or e-mail Certification@ppai.org.
Competitive Edge consider the promotional products medium to be an essential element in the marketing communications mix. They say that a "branded" tangible product turns an ordinary message into a marketing experience an audience can see, touch, hear, smell and even taste. Promotional products are one of the most efficient and effective media buys within the advertising industry.
Competitive Edge, one of the largest full-service promotional product distributors in the United States was started in a basement by Mary Jo Tomasini.  Today, Competitive Edge employs 22 people.  Always mindful of developing a successful business within the promotional product industry, Ms. Tomasini and Competitive Edge has been the recipient of many awards locally, regionally and nationally, including the Outstanding Women Business Enterprise of the Year.
Founded in 1903, the Promotional Products Association International (PPAI; ppai.org) is the world's largest and oldest not-for-profit association serving more than 15,000 corporate members of the $21-plus billion promotional products industry which is comprised of more than 40,500 businesses and a workforce of more than 500,000 professionals. PPAI represents the industry in Washington, D.C., and advocates on its behalf, and operates The PPAI Expo, the industry's largest trade show.