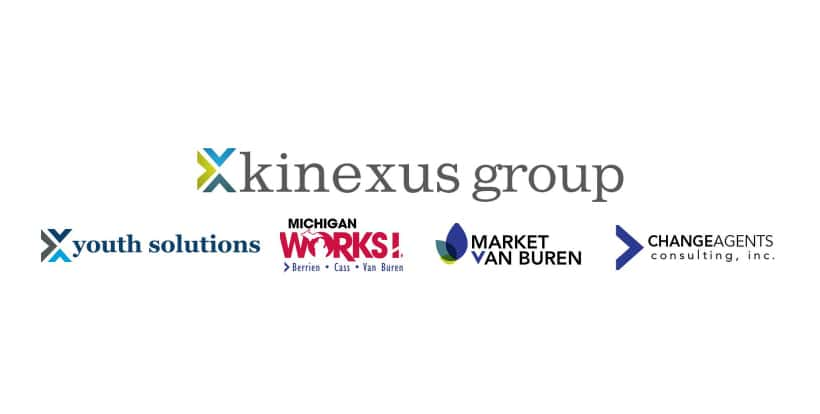 They've long been change agents in the community of Michigan's Great Southwest, and their success on multiple levels has fostered a number of sub-agencies, organizations, initiatives and efforts. Now, in a bid to corral all of that positive energy into a singular entity, team Kinexus has evolved into Kinexus Group and explains the drive that has brought them here.
Kinexus Group is committed to inspiring positive economic change one person, one business, one community at a time, and now the nonprofit headquartered in Southwest Michigan is bringing a family of organizations together to drive solutions to the complex challenges that keep our region and state from thriving.
Todd Gustafson is President & CEO at Kinexus Group. He says today, "We have been diligently preparing to share the launch of Kinexus Group with our community and state," noting, "In a world that demands constant adaptation, we are excited to announce the launch of Kinexus Group."
Gustafson explains, "We've created a group of related entities in recognition of our evolution as an organization. As such, we've organized ourselves and our scope of work into economic, workforce and community development. This is a recognition of our effort to drive solutions at the local level to many of the challenges facing our communities. These problems are buried in an interrelated ecosystem where business, education, workforce, housing, transportation and other issues are interdependent and not independent of one another. And they require a new business model and approach at the local level to solving them."
With an innovative staff and an influential Board of Directors including key private, public, and non-profit leaders, Kinexus Group is poised to deliver these results in the years to come.
Christopher Randall is Board Chair for Kinexus Group. He says, "We have played a pivotal role in Southwest Michigan for over five decades," and points out, "In the last 50+ years, we have gone from a small federally designated workforce program to a diverse multi-faceted nonprofit organization."
Randall goes on to say, "It all started with the belief we could make a difference with economically disadvantaged people, and has grown into a belief we can provide solutions to complex economic challenges facing our region and the state of Michigan. This launch has been a long time coming and the Kinexus Group Board of Directors are excited to see all of the things our family of companies can accomplish in the next 50 years."
The family of organizations includes:
Youth Solutions, Inc.,
Michigan Works! Berrien, Cass, Van Buren
Market Van Buren
Change Agents Consulting
Further explaining the scope of the newly clustered organization, Gustafson reports, "Our work ranges from alternative education to award-winning dropout prevention programs that help students shed barriers to graduation; to working with companies to retain and retrain their number one resource – their people. We work with thousands of employers and thousands of people each year to create impact for the people who utilize our broad array of services for personal and business growth." He concludes, "Kinexus Group would not be here today if we didn't see the gaps that exist in our communities across the state."
Last year Kinexus Group, through its family of organizations:
Served more than 1,675 employers across the state
Served 3,177 at-risk-youth in 41 cities across Michigan
Helped 687 students obtain their high school diploma or GED
Trained 2,298 people in industries that grow our economy
Filled 3,035 positions for 415 southwest Michigan employers
Looking back, as he looks forward, Gustafson suggests, "The lessons learned at the local level have earned us the opportunity to expand our services and impact every region across Michigan. We look forward to building our network of partnerships and continuing to drive positive change. Moreover, each entity has recruited a wide array of talented leaders to serve on their respective board of directors, affording us valuable guidance, counsel and connections that benefit the people, businesses and communities we serve."
About Youth Solutions, Inc.:
Youth Solutions, Inc. is a premier youth opportunity organization. The organization's leading program, Jobs for Michigan's Graduates, delivers employability and education services to nearly 3,000 youth in 245 communities across Michigan. Youth Solutions delivers results that ensure students complete their high school education, gain employment, and begin down the pathway towards a meaningful career; they help youth win in education, employment and in life. For more information, click this link: https://ouryouthsolutions.org/
About Michigan Works! Berrien, Cass, Van Buren:
Michigan Works! of Berrien, Cass, Van Buren is a nonprofit organization that is part of a statewide and national system of workforce development boards. Michigan Works! mission is to provide the talent necessary to meet the needs of employers. The organization specializes in workforce development, including education, training, and job placement. They work with local businesses to find out what keeps them up at night and help them tackle the most pressing challenges they may face, including attracting and retaining talent. For more information, click the link below:
About Market Van Buren:
Market Van Buren is an economic development organization dedicated to the advancement of economic growth in Van Buren County. The organization was formed to bring the public and private sectors together to advance the economic interests of Van Buren county.  For more information, click this link: http://www.marketvanburen.org
About Change Agents Consulting:
Change Agents Consulting is a spin off organization of Kinexus Group's own Human Resources. Change Agents was launched in the fall of 2018 as an organization that provides customized HR consultation, training, and education services. They create cultural and organizational change within businesses to foster a more efficient and appealing work environment. For more information, click this link: https://www.changeagentsconsulting.com/