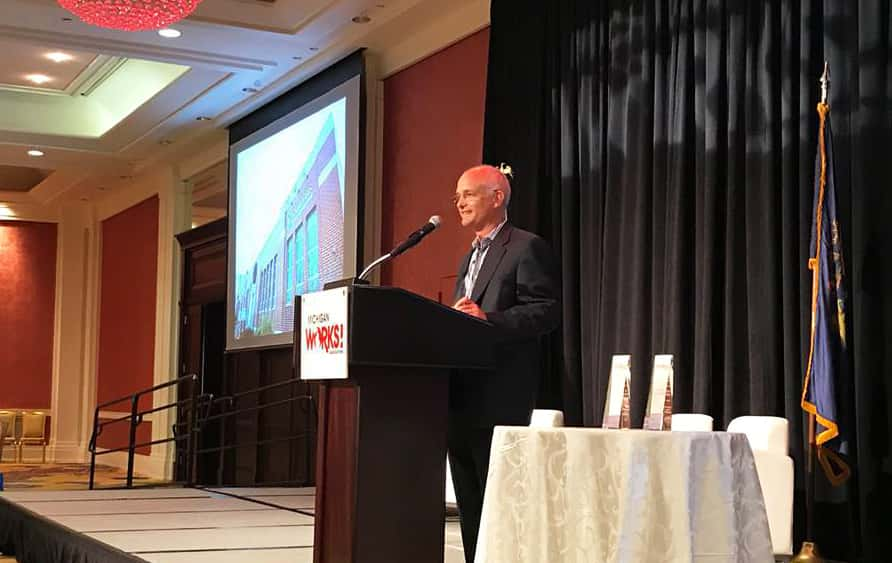 The rest of the state of Michigan is getting a taste for home innovative and truly transformational the team at Kinexus of Benton Harbor really is. This morning, the Michigan Works! Association presented the Kinexus Board of Directors with it's 2018 Annual Board of Excellence Award at the organization's annual conference in Grand Rapids.
Amazingly, it's not the first time that Kinexus has received that high honor, having earned it for the first time 8 years ago in 2010.
The Michigan Works! Association Annual Conference at the Amway Grand in Grand Rapids recognized Kinexus for the "Innovative and transformation approach to workforce development," they employ every day in Michigan's Great Southwest.
The Michigan Works! Association Tuesday recognized the Kinexus board of directors for its innovative and transformational approaches to workforce development.
Luann Dunsford is Chief Executive Officer at the Michigan Works! Association. She says, "The Kinexus board's strategic vision and plan have had an extraordinary impact on southwest Michigan." She adds, "Their leadership has helped boost the region's economic outcomes and changed thousands of lives for the better."
Dunsford praised the board members for their willingness to tackle unique areas of unmet demand. For instance, Kinexus now runs an alternative school that introduces at-risk youth to careers in high-demand, high-growth industries.
Dunsford told other Michigan Works! teams from across the state, "Through their innovative programming, aggressive fund development and persistent measurement of impact, the Kinexus board is not only recognized as an invaluable community partner and stakeholder but as an indispensable community transformation agent."
The Kinexus board is also focused on building a statewide talent pipeline and leading the development of crucial business resource networks.
Dunsford notes, "For the past two decades, Kinexus has been privileged to have a board of community leaders that have generously shared their time and expertise in support of lasting regional economic strength."
In 2017 and 2018, Kinexus was nationally recognized by the prestigious NonProfit Times and was awarded Best Nonprofit to Work For along with 49 other nonprofits across the nation. As a result, it serves as an exemplary ambassador for the Michigan Works! system.
Christopher Randall is Chair of the Kinexus Board of Directors. He responded to the award saying, "Thank you to the Michigan Works! Association for recognizing this remarkable Board." He went on to say, "It is a pleasure to serve with a group that is strategic, innovative, and focused on impact for the community. Our effect is then magnified by the amazing team at Kinexus and community partners that implement the vision."
Kinexus serves Michigan's Berrien, Cass and Van Buren counties from headquarters operations in downtown Benton Harbor and satellite offices in the region.
The photo accompanying this story on Moody on the Market is courtesy of the Michigan Works! Association Annual Conference team in Grand Rapids.