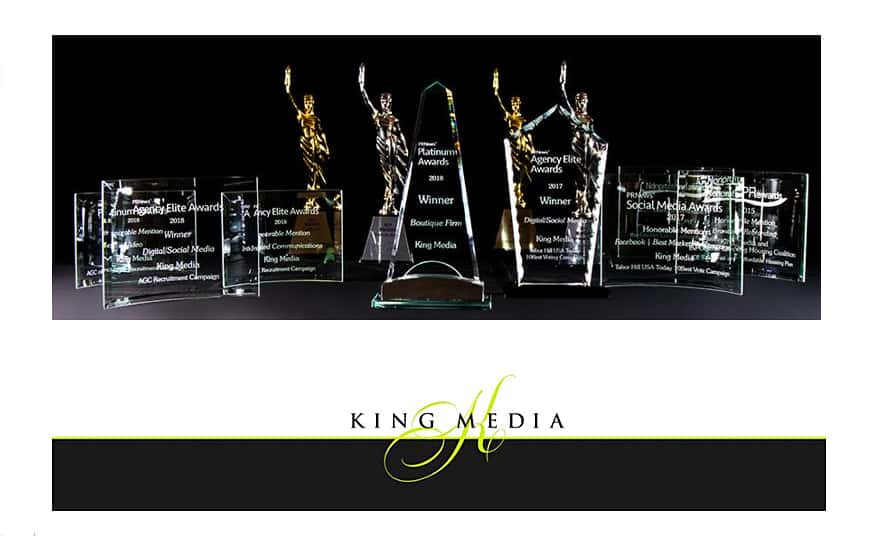 The New Year is already reaping rewards for St. Joseph's King Media, which has landed another trophy. Admittedly it's a decidedly unique trophy for sure. In addition to recent awards of a hardware nature for the agency's burgeoning trophy case, this trophy is a proven creative professional who joins the team as a Senior Creative Director.
St. Joseph native and accomplished pro Michael Finnigan joins the local full-service, award-winning marketing and advertising agency as a Senior Creative Director, as they welcome his experience in developing global brands and creative problem solving.
Coleen King is President & Founder of King Media, based in St. Joseph and East Lansing. She says, "We are excited to continue deepening our relationships with Southwest Michigan businesses and continuing our own growth, especially in the manufacturing sector." King adds, "Michael's addition to the team brings decades of experience developing and positioning global brands. He shares with us a keen understanding of the value a strong brand brings to a company, and values innovation, passion and versatility."
For his part, Finnigan tells us, "From the first moment I met Coleen King, I loved the way she talks about her employees as family and her office as a home." He adds, "She reminded me of a Richard Branson quote, 'Clients do not come first. Employees come first. If you take care of your employees, they will take care of the clients.'"
Finnigan joins the agency on the heels of its recent international MarCom Awards for Southwest Michigan clients Harbor Shores Resort and Shadowland on Silver Beach. He brings his own ADDY award wins and 20 years of success and innovation for brands like Whirlpool, Gladiator, Wightman & Associates, Disney, United Airlines, Visa and more. Since King Media opened its second office in St. Joseph in 2016, the agency's portfolio of local clients has been growing – and these local companies and organizations are achieving new goals.
Coleen King says, "Our goal is to shine a spotlight on Michigan's Great Southwest, and I'm so excited to be a partner for companies looking to grow in a regional, national and global marketplace." She notes, "I've been part of the Southwest Michigan community my whole life, and I want to share the beautiful place we call home with the world."
King Media is a full-service marketing, advertising, public relations and digital media agency and was named the PR News 2018 Boutique Firm of the Year. King Media has two offices – St. Joseph and East Lansing – with a coast-to-coast footprint. Additional services and case studies can be found online at the link below: