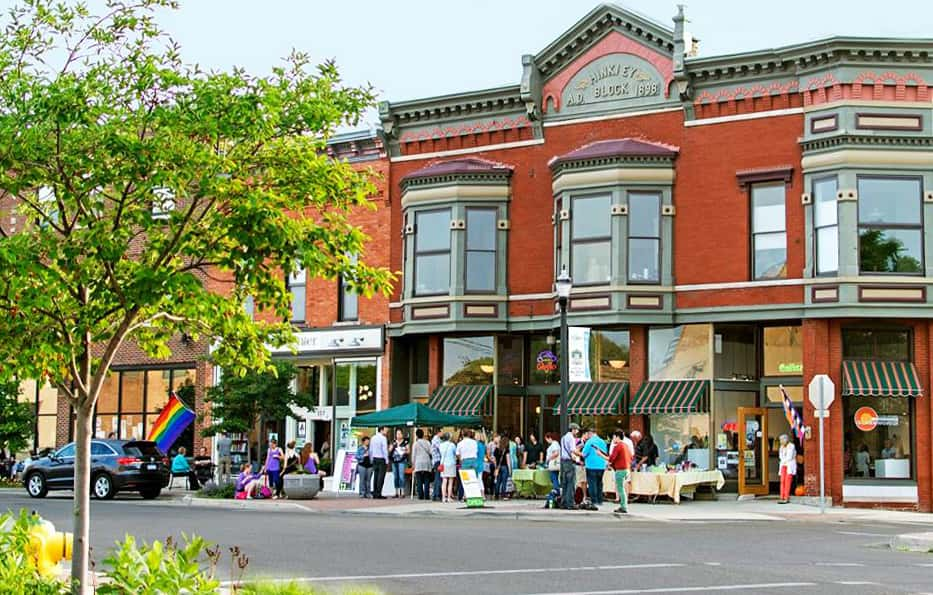 If you want to picture a great summer day in your mind, just conjure up the audio of one of those great Pure Michigan campaign ads voiced by Tim Allen and your memory banks will immediately take you there. Or, you can make plans now to hit the 2018 Summer Solstice Art Hop in the Benton Harbor Arts District.
The days are longer, lake breezes are warmer and local artists and musicians are ready to celebrate summer in the Benton Harbor Arts District. The Spectacular 2018 Summer Solstice Art Hop features the Krasl Biennial Sculpture Invitational Opening Party – a huge art event for the entire community at large in Michigan's Great Southwest.
The New Territory Arts Association's Summer Solstice Art Hop will include 12 walkable locations throughout the Arts District, featuring art, artists, comedy, musicians, food, drink, an installation by BIGthink, and even shuttle service to and from St. Joseph for Krasl sculpture installations and the MAAC at the Box Factory for the Arts.
Art Hoppers will find nationally acclaimed artwork, free entertainment, local foods and beverages at venues and parks, and the promise that this Art Hop is Bigger, Better  and More Fun than ever.
The fun starts at 6 pm on Friday evening, June 15th and the shuttles will run until 10:30 pm.
These are the participating venues in this event and what they offer:
Krasl Art Center Sculpture Invitational Opening Party
KAC Party Site is the corner of Territorial Road & 5th Sreet + The Collective
Opening Party: 6-11pm
The 2018 Biennial Sculpture Invitational Opening Party is part of a multi-city arts and culture celebration. Sharing the night with the Art Hop in Benton Harbor and the Michiana Annual Art Competition (MAAC) at the Box Factory for the Arts, this is an evening everyone will want to experience. Exceptional artworks by artists near and far will be on view indoors and out. Biennial beverages and small bites will be provided by The Collective. Biennial sculpture tours will travel from the KAC Party Site, throughout the Arts District, to the Box Factory for the Arts and along the waterfronts. Knowledgeable guides will speak about the artworks as passengers sit in the comfort of a passenger bus especially for them.
BIGthink is a Michigan-based artist collaborative and they are the hosts of this year's opening party. Through sound, light, projection and performance, BIGthink will creatively activate the shipping container and surrounding green space at the corner of Territorial Road and 5th Street.
The GhostLight Theater
The GhostLight will feature a multi-media art exhibition by local and regional artists known as the FUN SQUAD.  Live music, comedy, swings and a rotating teeter-totter will also be featured.
"With Our Powers Combined" is a multi-media art exhibition by artist collective Fun Squad. Just like Captain Planet and the Planeteers, Fun Squad is a diverse group of do-gooders whose combined energy is greater than the sum of its parts.
6:30 pm – 7:30 pm: Live music by The Good Guys
7:30 pm: Stand-up comedy by Loon Mabians
8 pm-???: Dance party with deejay Dan McAllister
Artists include Bill Boyce, Lea Bult, Ben Good, Marc Dombrosky, Shannon Eakins, Dave Krofta, Lyzz Luidens, Nathan Margoni, Loon Mabians, Josh Mason, Ellen Nelson, Andrea Ellen Reed, Cara Ronk, Mark Rospenda, Clem Teo, Gabe Thompson, Xiaoquing Zhu, Jennifer Zona
Citadel Music Center
Open House with live music by students and faculty. Wine and hors d'oeurves.
Water Street Glassworks
Water Street Glassworks will host their annual Jewelry Trunk Show featuring the work of seven area artists including Jackie Baker, Lynne Clayton, Gina Edwards, Donna Sauers, Heather Seawright, Anna Strach, and Tina Tavolacci. Meet the artists, enjoy refreshments, and shop the gallery's new work that reflects the season.  A portion of any purchase supports Water Street Glassworks programming.
Aveline Gallery
Aveline Gallery features the original work of 25 artists in a wide range of media, including paintings, photography, jewelry, weavings, wood, felted specialties, clothing, and so much more. This fascinating and festive art destination will be celebrating its six month anniversary of bringing joy and amusement to this great community. Light refreshment for Art Hoppers.
The OutCenter
Exhibition by Mikayla King – Efflorescence: Deflowering the Poison from Belladonna
Mikayla King is a graphic designer and photographer from the tiny village of Quincy. Efflorescence features film photography capturing a person's beauty without the fluff by learning to appreciate internal and external beauty in all parts of one's self. Efflorescence showcases growth and development. This gallery is a reflection of the artist's favorite quote – "From the dirt, a flower must grow," No matter how low life seems to bring you, there is always tomorrow, a fresh start. Includes small bits and sips.
The Phoenix Coffee Shop
The Phoenix Coffee Shop is a local cafe featuring third wave coffees, frozen drinks, specialty teas, homemade baked goods, with a lunch menu friendly to carnivores and vegans alike.
For Art Hop, the Phoenix Coffe Shop will be featuring live painting by the artist Just Plain Calina, and art works on display and for sale by the Krasl Clay Artists Guild, a group of local ceramicists.
3 Pillars Music
3 Pillars Music will have local favorites "The Boulevard Billies" performing outside in front of the store from 7:00 to 8:30 pm. Along with that there will be sales on records, guitars and stereo gear. Light bites and sips will be available.
210 Art Space
The 210 ART Space artist studios located in the Arts District are home to a montage of local artisans' work. Along with fine hand-crafted furniture and art, they also feature fused glass work, mosaics, refinished and re-purposed pieces, funky clothing, small decorative home and garden items, various types of handcrafted jewelry as well as used books within the unique studios and the Gallery of 210 ART Space.
210 ART Space native Angela Caldwell returns from Bloomington, Indiana with her one-woman studio creating unique and wearable jewelry for modern women. Using hand selected gemstones and lovingly discovered vintage elements, each piece is delicate yet durable and versatile. Inspired by simple shapes, she seeks to find combinations that attract and intrigue. Angela Caldwell Jewelry will never overwhelm you but draw subtle attention to you and your own style.
210 artists will provide fruits & vegetables, various cheese & crackers, and other delectable homemade hors d'oeuvres and diminutive dessert bites, to be paired with area wines, locally brewed beer, and water for patrons and visitors that attend the June Art Hop.
ARS Gallery
Exhibition by Kimberly Wood – Fearless
Kimberly Wood is best known for her slight obsession with detail, whether in graphite on paper or chalk on pavement. She has always been inspired by nature and its ephemeral moments, especially in trips throughout the U.S., exploring new landscapes and indigenous animals of the region, or simply exploring her own backyard.
Today, Kimberly is a full-time commercial art instructor at the Van Buren Technology Center to high school students and a freelance artist/dog adopter on the side. She works in almost every medium: graphite, colored pencil, pastel, chalk, oil paint, watercolor, and photography. No matter the medium, she strives to bring a sense of wonder and appreciation for our surroundings. The event will include small bites, wine, live music, and a chance to meet the artist.
The Collective
YogaMuse Yoga Studio…Living in Sinew Fitness Studio…Souls Ground Vegan Café…and Rebel Co-op Coffee all come together to provide healthy living options and guidance in the Arts District. The Collective provides healthy sustenance, education, motivation, philosophy, kinesio-analysis, yoga and strength training in an inspirational space.
The Collective will host the hors d' oeuvres for the Krasl BSI party.
Benton Harbor Public Library
The public library has provided unlimited access to our world for over 100 years and is located right in our backyard. The Benton Harbor Library will offer light snacks and will host local band, The Rain Dogs.  Come to the library for rock, rockabilly, swing and Indie-pop.
The Livery
Beer: Firk yeah, it's Friday! This Friday, they'll tap Silver Queen dry hopped with Styrian Wolf from their friends at Hop Head Farms in Baroda. This will give their classic Helles Lager flavors of strawberry, passion fruit, and a little citrus with slight black current and floral notes as well- yum!
Plus…Lil' Filly Summer Beer Release!
After a few years of experimentation and using the freshest ingredients as well as more raspberries than ever before, Head Brewer Simon Rusk says that this is the best batch yet! Along with its classic pink hue that seems to glow in the Summer sunlight of the Beer Garden, you can expect a bit more body, a bit more alcohol, all with a more balanced and slightly less bitter hop profile.
Food: There will be a new and unique specialty pizza creation dreamed up by Chef Becky featuring fun and fresh local ingredients – what will she think of next?!
Art: Exhibition by local painter Markianna Svorec
Markianna's eclectic art is displayed on the third floor balcony and is available for purchase.
Entertainment: Summer Art Hop after-party, with – Benjaman James – 7-piece-force-de-funk
9PM – "Pay What You Want"!
Benjaman James is a Michigan-based, Traverse City-native, artist, musician, and bandleader of a self-titled, horn-heavy, pop-funk band. As a singer-songwriter and multi-instrumentalist, Benjaman inspires his audience by generating dance-worthy, captivating, lyrical music that takes listeners on an energetic improvisational journey, tastefully bridging funk and R&B with high-energy pop arrangements, built on a foundation of jazz. Benjaman features seven incredible Michigan-based musicians, including a heroic horn section that has made dancers out of the most static crowds since the band's conception in 2016. With the structure of a pop arrangement, and the freedom of a jazz standard, Benjaman is able to grab the interest of a diverse range of listeners
New Territory Arts Association hosts an Art Hop quarterly. Art Hops are family friendly evenings filled with an entertaining mix of art, music, dance, theater, culinary arts and more. It's an opportunity to visit multiple venues along the walkable Arts District streets, meet your neighbors, talk with business owners and see impressive art. These popular events truly connect people with NTAA's belief that "Art Builds Community."
Photo courtesy of New Territory Arts Association