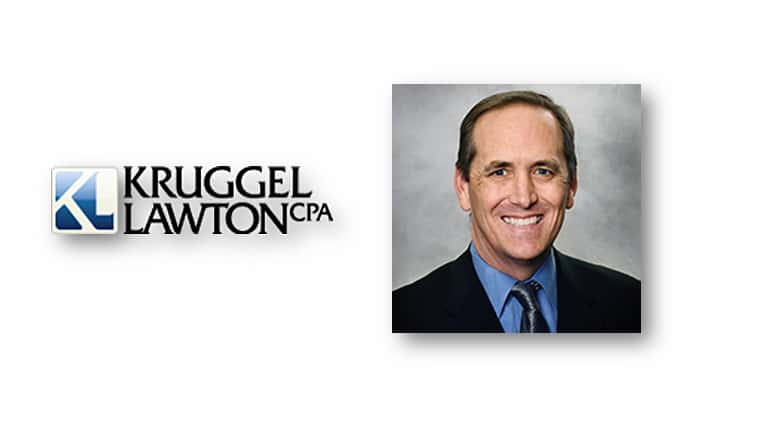 When Kruggel Lawton CPAs first approached the team at Schaffer & Layher of St. Joseph back in 2015, they were drawn to the firm by the expertise on board as exhibited by partner David Schaffer and his partner Mike Layher. Dave's 25 years of experience in the Certified Public Accounting community, first as a co-owner at McMurray, Marks & Edmunds and later when they evolved into the partnership of Schaffer & Layher, were critical to the success of the merger into Kruggel Lawton.
The trust that partners in Kruggel Lawton placed on Schaffer, Layher and their team has been rewarded multiple times over in the four years since the firms merged, and their faith in Schaffer was easily doubled-down late this summer when he was tabbed by 1st Source Bank as one of an elite handful of leaders selected for the prestigious Ernestine M. Raclin Community Leadership Award.
Back on August 23rd, 2019, David Schaffer, CPA, was one of 11 award honorees at the award ceremonies and luncheon for the bank's coveted award. The Ernestine M. Raclin Community Leadership Award honors leaders in volunteerism through business in the local community. The award is named after Ernestine M. Raclin, Chairman Emeritus of 1st Source, who strongly demonstrated the spirit of volunteerism throughout her career by giving of her time and talents to help others.
Schaffer is a partner in Kruggel Lawton's St. Joseph, Michigan office. He volunteers with a broad array of community organizations including the likes of Spectrum Health Lakeland, Cornerstone Alliance, the Lake Michigan College Foundation and the biennial KitchenAid Senior PGA Championship. He is also a long-time member of the St. Joseph Lions Club.
Dave says, "I am honored to be a recipient of this award. More importantly, I'm so proud to be a part of this community, working alongside countless others who selflessly give of their time, talent, and treasure. It's all of our efforts combined that make this region a great place to call home."
For their part, 1st Source Bank's Chairman & CEO Christopher J. Murphy III says, "We are so impressed by our honorees and by all those who were nominated for this year's consideration." Murphy adds, "1st Source is thankful for their dedication and commitment to making our local communities better places to live, work, worship and raise families. These individuals, and the many other thousands of volunteers who serve so many good causes, are the backbone of our communities and weave a strong fabric that supports us all. Again, we are so grateful, and their service inspires us to get even more involved."
Honorees were presented a Globe of Leadership award, a $1,000 personal cash award and a $1,000 award donated to the local charity of their choice. At his request, Schaffer's donation was given to the United Way of Southwest Michigan.
Dave graduated from Western Michigan University with a Bachelor's Degree in Business Administration and Accountancy.
In 2000 Schaffer and his partner, Mike Layher, purchased the firm of McMurray, Marks and Edmunds to create Schaffer & Layher, which provided a full range of services to commercial, government, non-profit, health care, and individual clients in Southwest Michigan. Fifteen years later, in December of 2015, they combined their talents with Kruggel Lawton CPAs, and Dave's focus as partner and office manager in St. Joe is tax, tax planning and consulting services. He is experienced in audit, review and compilation engagements as well.
Kruggel Lawton & Company, LLC, is a full-service accounting and business consulting firm offering assurance services, tax compliance and consulting, estate planning, business valuation, business accounting services, and executive searches. Kruggel Lawton also offers national and international resources as an independent member of the BDO Alliance USA. They have offices in South Bend, Elkhart, and Goshen, Indiana; St. Joseph, Michigan; and Knoxville, Tennessee.