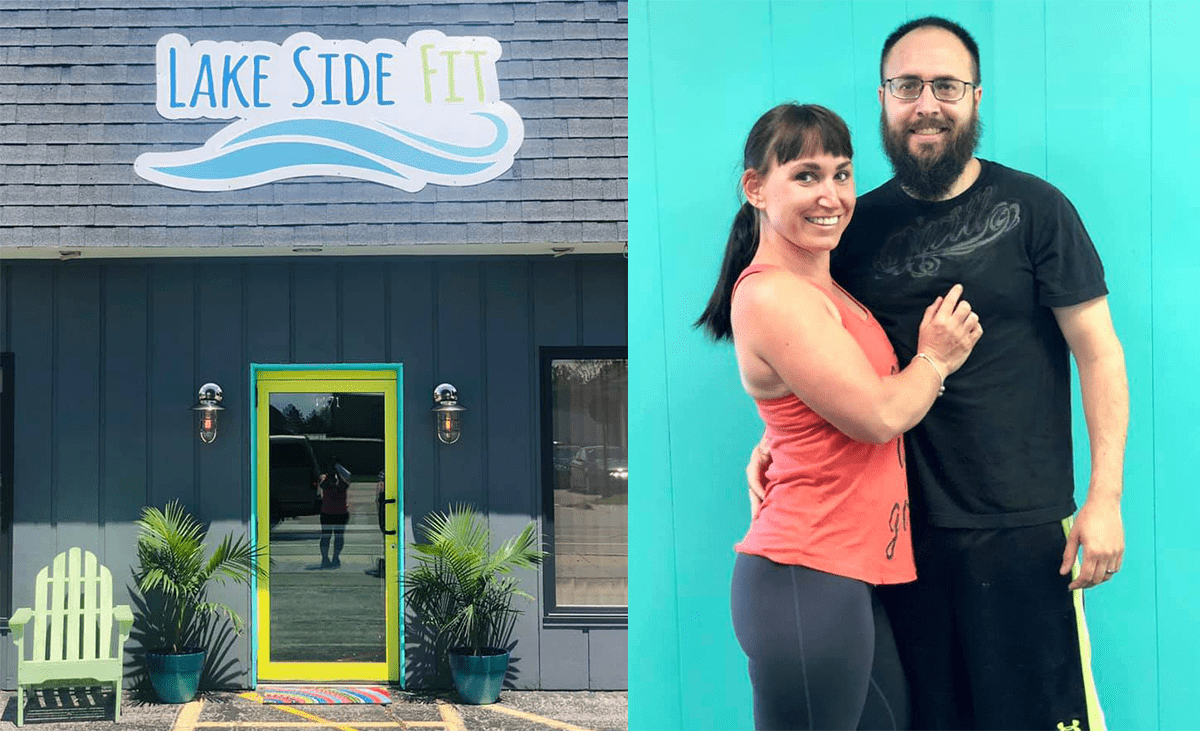 Lacey Lucas says she has always had a love for fitness.  From walking Weko Beach in Bridgman to Warren Dunes in Sawyer every day in the summer as a kid with her mom, to working at the YMCA location in Niles/Buchanan and St. Joe /Benton Harbor.
"In 2011," she tells us, "I took a yoga class and instantly knew I wanted to teach after taking numerous classes of all types at the St. Joe YMCA. I visited the Niles YMCA and they thought I was a trainer and asked if I wanted a job!" Lacey took that job in 2012, as as well as another at Lace Studio, and became a certified group fitness instructor.
She tells us her experience teaching ranges across many different classes including cardio kickboxing, boot camp, Tabata, ab classes, weights, kickboxing with a bag, senior fitness classes, cycling and kids classes.
"I've always dreamed about opening my own studio but put it in the back of my mind thinking the idea was too far-fetched. In 2015, I met my wonderful husband Jimmy Lucas and we had two beautiful babies together." But, Lucas says family life caused her to "fall out of fitness."
"Just this year I started working out at home trying to lose my baby weight, [when] I realized my love for fitness was still there, but doing it alone wasn't enough." Lacey's journey to start a gym of her own began.
"I love motivating others helping them get healthy and fit, [but] I can't do it alone, I need that push from them just as much as they need me." Lacey tells us her husband knew just how much she enjoyed teaching, so he came up with the crazy idea of opening a studio at their hometown in Bridgman.
The idea was quite a surprise to her, since Lacey never shared her dream with her husband of opening her own studio. With both partners on the same motivational page, they knew they had to follow her dream.
After looking at a building, they signed, and just about a month later opened Lake Side Fit in Bridgman. The studio is located at 4171 Lake Street, right across the railroad tracks from Dollar General in downtown Bridgman. Their hours are Monday through Friday, 5:30am till noon, then 5:30pm till 8:00pm; and Saturday, 7:30am till 11:00am.
Lacey tells us that they offer many different classes including Cardio Kickboxing, Take It Easy, Lake Side 20/10, Beach Ready Abs/Butt, Circuit, Lake Side Pump, Beachside Bootcamp, Lake Side Fight Club, Vinyasa yoga, Basic yoga, Beach yoga, slow flow yoga, MMA strength, step, PiYo and Zumba. Besides Lacey, the Lake Side team is made up of four other instructors that assist in teaching the expansive list of classes.
She says, "one of the community's favorite classes is our Saturday 7:30am morning Beachside Bootcamp, where we meet at the studio walk, skip, run, or hop down to Weko Beach do the steps workout in the sand, and make our way back to the studio."
It's been a successful start, as the Lake Side Fit team has the trust of 30 members in their first month of business, and there are  plans in the near future to acquire Spin bikes so they may begin offering cycling classes.
You can find this brand new business on Facebook and by calling (269) 449-3092.
The photos accompanying this story were provided by Lake Side Fit's Facebook page.