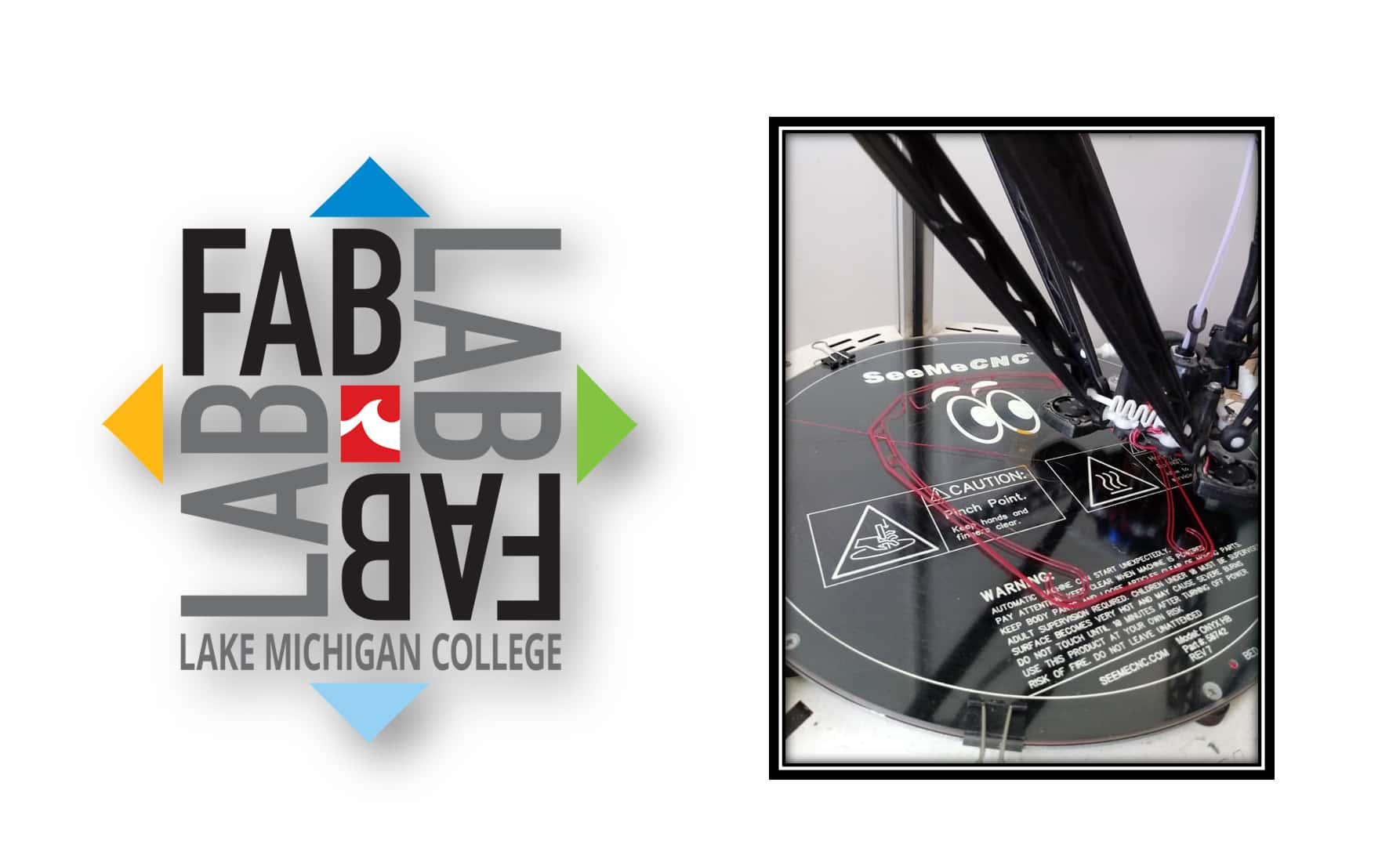 Recognizing only too well during this time of pandemic that "we are all in this together," the team at Lake Michigan College's Fab Lab inside the Hanson Technology Center on the Napier Avenue campus in Benton Harbor has stepped up to help a community that has supported them for years.
When Chad Dee, who manages the Hanson Tech Center, saw repeated calls from first responders and the entire medical community for help in acquiring personal protective gear to keep those on the front lines in the pandemic battle safe, he and Fab Lab colleagues swung into action. Once they perused the materials on hand in the popular Fab Lab setting and determined what else they would need, they immediately went to work to design a way to create plexiglass face shields mounted to visors and started manufacturing them right on site.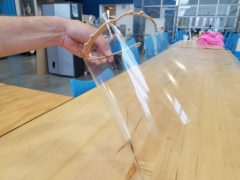 This morning Dee told me that 245 visors have been printed to date  in 3 different styles, and 2 different designs for different sized heads.
Chad says, "The 3D print version takes about 65 minutes to make a single unit, so we changed the 3D file to a laser file and now we can print them in just under 2 minutes using acrylic."
When Dee's LMC team reached out to the community to determine which agencies would be able to use the face shields they are creating, they came up with the following units who will be getting them as production continues:
All 21 law enforcement agencies in Berrien County
Berrien County Health Department
Spectrum Health Lakeland in St. Joseph & Niles as well as their unit at University Medical Specialists in Berrien Springs
Life Treatment Center in South Bend
Physicians Hospitalist Team at St. Joe Health System in Mishawaka
Decatur Michigan Police Department
Logistically speaking Chad says, "We needed to figure out what we had material for, what we could actually do and what the need actually was, so we had to work on all three of those things at the same time, which was very challenging."
However, once the Fab Lab team reached out to vendors and suppliers for materials donations, they started pouring in. Chad says, "We are setting up an account so people can donate directly to the Lake Michigan College Foundation to support this effort." More on that below.
In the meantime, he tells us, "If people or agencies want access to the face shields, please email fablab@lakemichigancollege.edu and I'll put them on the list."
Delivery and pick up won't happen until next week. Chad says, "Once they are produced, we will re-sanitize them and then seal them in baggies for 3 days, just as an extra safety measure, before putting them out into the community."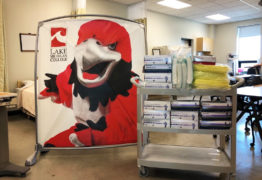 In addition to the personal protective equipment being manufactured by the Fab Lab, the LMC Nursing, Dental Assisting, Medical Assisting, Pharmacy Tech, CNA and natural sciences departments have donated the following resources:
150 isolation gowns
86 surgical masks
110 boxes of gloves
8 boxes of masks
1 box face shields
1 pack of protective gowns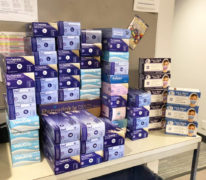 If you are interested in contributing to LMC's efforts to produce and donate PPE, you can do so by visiting the link below and choosing "Covid Relief Fund." Here's the direct link: