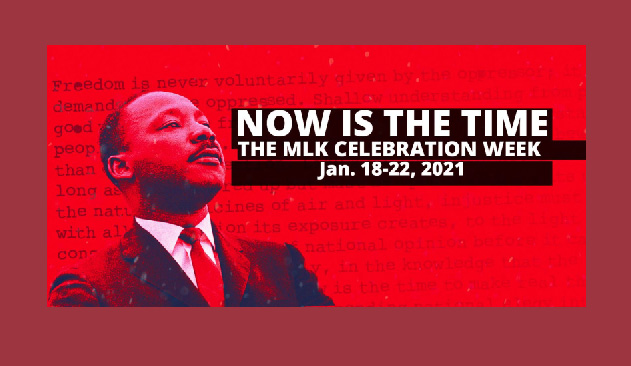 Matching the indomitable spirit of the Rev. Dr. Martin Luther King Jr. himself, the team at Lake Michigan College isn't letting pandemic conditions stand in the way of their annual celebration, they're simply converting it to a community-wide virtual celebration wherein everybody is invited to join the ceremonies.
Each year, Lake Michigan College invites the community to come together for a breakfast celebration honoring Dr. King, but while the pandemic prevents an in-person gathering, it isn't keeping the community from uniting to advance his legacy.
Now is the Time! The MLK Celebration Week is a free, virtual, community-wide effort inspired by King's "Letter from a Birmingham Jail." It will take place next week from January 18th to the 22nd. The event, presented by Lake Michigan College, Whirlpool Corp., and supporting sponsors Kinexus Group, Horizon Bank and United Way of Southwest Michigan, will feature speakers, performances, round table discussions, a virtual food drive, historic and local trivia contests, and more.
LMC President Dr. Trevor A. Kubatzke says, "Bringing community members and leaders together to reflect on Martin Luther King's contributions and teachings has been such an impactful, poignant event for us at Lake Michigan College," and adds,"While the pandemic may prevent us from gathering in-person over breakfast, we were compelled to reach out to our community and develop ways to celebrate, educate and inspire throughout the week and beyond."
Now is the Time! The MLK Celebration Week begins at 8:30 am Monday, January 18th, with the MLK Celebration Week Kickoff. The event includes welcoming messages from Congressman Fred Upton, St. Joseph Mayor Mike Garey and Benton Harbor Mayor Marcus Muhammad, a presentation from Benton Harbor High School graduate Tekeidra Masters, the Boys & Girls Clubs of America 2020 Midwest Regional Youth of the Year, and remarks from new Benton Harbor Boys & Girls Clubs CEO Mackenzie Kastl. The kickoff also features inspirational musical performances and the announcement of the inaugural Spirit of MLK Spotlights, shining a light on an individual, organization, and student who embodies MLK's spirit of brotherhood/sisterhood and love in our community through their direct action.
Whirlpool Corporation Chairman and CEO Marc Bitzer says, "We are proud to join Lake Michigan College and our community to honor the life and legacy of Dr. Martin Luther King, Jr.," adding, "Inclusion and diversity have always been a top priority for us as a company. We look forward to this week in reflection and in channeling Dr. King's spirit to drive toward a more equitable future for all."
Here is the full schedule of events (click on the highlighted link for each event to learn more):
Monday, January 18th
8:30 a.m. – MLK Celebration Week Kickoff
7 p.m. – Book Discussion Group: May We Forever Stand: A History of the Black National Anthem 
Tuesday, January 19th
10 a.m. – MLK Trivia 
4 p.m. – Discussion Group: I See Me, I See You, I See Us: Children's Books about Diversity 
7 p.m. – Discussion Group: Juneteenth 
Wednesday, January 20th
1 p.m. – Civil Rights Movement Trivia 
7 p.m. – Discussion Group: Letter from a Birmingham Jail – How Far Have We Come? 
Thursday, January 21st
10 a.m. – Local Civil Rights Trivia 
7 p.m. – Discussion Group: Social Justice: A Matter of Equity 
Friday, January 22nd
1 p.m. – Miscellaneous Trivia 
2 p.m. – Press Conference/Public Art Special Announcement 
7 p.m. – Discussion Group: "The Best of Enemies" – The 2019 Major Motion Picture  
All Week
• United Way of Southwest Michigan Food Drive – Proceeds will support food pantries in the tri-county area 
• MLK Art Activity Packets – Pick up at Benton Harbor and St. Joseph libraries while supplies last 
• Martin's Dream: Virtual theater performance for children ages 8+, streaming free 
• United Way of Southwest Michigan 21-day Equity Challenge beginning Jan. 18
In addition to these events, several new resources also can be found at this link: lakemichigancollege.edu/MLK. Those resources include a new Underrepresented Businesses Directory, an awareness and equity guide to woman-and-minority-owned businesses in Berrien, Van Buren and Cass counties; an MLK Resource Gallery for books, podcasts, films, community resources and more that explore race relations, bias, racism and current events; and MLK Artistic Reflections, where people can submit their creative reflections about King and his legacy.
All events are free. To sign-up for individual programs or for more information, visit: lakemichigancollege.edu/MLK.