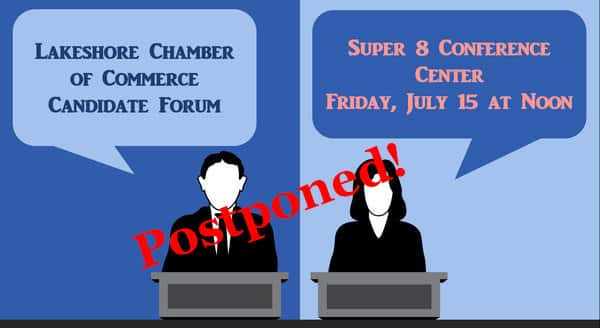 If you're still straddling the fence when it comes to which candidate you'll vote for in the local August primaries, your friends at the Lakeshore Chamber of Commerce hope to help resolve some of those issues for you. They are hosting a 2016 Candidate Forum this Friday at the Super 8 Motel on Red Arrow Highway in Stevensville.
The forum is an open event to the general public and will take place during the noon hour on Friday at the Super 8 Conference Center located at 4290 Red Arrow Highway in Stevensville. You are invited to bring a lunch with you, if you'd like, however lunches will not be provided on site.
Lakeshore Chamber officials hope you'll be there and bring your key questions with you, as well. These are the candidates who have signed on to take part in the forum:

U.S. Congress — Paul Clements & Nate Henschel (appearing on behalf of Fred Upton)
State Representative 79th District — Ryan Arnt, Mary Brown, Kim LaSata and Troy Rolling
Berrien County Drain Commissioner — Kevin Gillette & Christopher Quattrin
Berrien County 7th District Commissioner — Larry Klett and Debra Panozzo
Berrien County Sheriff — Paul Bailey
The Lakeshore Chamber of Commerce Candidate Forum is free of charge to attend, and everyone is invited.
*******UPDATE!!******UPDATE!!********UPDATE!!*****
The Lakeshore Chamber Board voted this afternoon and decided to postpone the Meet the Candidate Forum due to funeral services for retired State Police Post Commander Joe Zangaro on Friday afternoon at 1pm, realizing that most of the candidates would like to attend.
They are rescheduling for Friday, July 29th, at the same time and in the same place, with follow up invitations being sent ASAP to the parties involved.