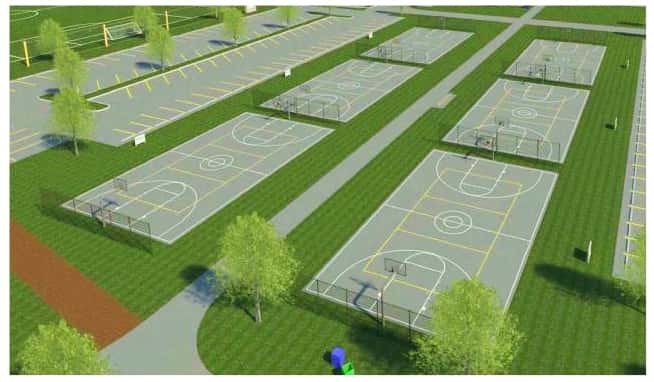 The busy mega sports complex along Cleveland Road in Stevensville will become even more robust with further expansions announced today by both the Lakeshore Youth Soccer League and the Southwest Michigan Kickers Soccer Club.
The Lakeshore Sports Complex located along Cleveland Road will be expanded this spring under the plan. Essentially, the current baseball, softball, football and soccer facilities will be enhanced by the proposed addition of basketball and Futsal courts, volleyball courts, a large playground, running/fitness trails, increasing the number of soccer/lacrosse fields, including a Championship Stadium, and vastly expanded parking within the complex.
According to Lakeshore Youth Soccer League President Mark Smith, this is the next piece of the Lakeshore Sports Complex Master Plan, originally designed by Nature's Way Landscaping in early 2013 in cooperation with Lincoln Charter Township engineer Dave Austin, of Williams and Works, Grand Rapids.
While the initial phase of expansion project will focus on additional soccer fields and parking, the overall project plan is designed to benefit families and businesses of the community by offering a wider variety of sports and fitness venues.
The Lakeshore Youth Soccer League (LYSL) and Southwest Michigan Kickers (SWM Kickers) Soccer Club, both non-profit organizations, have teamed up on the project and are dedicated to completing this next part of the sports complex. The initial phase of the expansion/upgrade project will provide more access to soccer fields, which are currently at maximum capacity on most days during the soccer seasons.
Smith says, "The youth [soccer] segment currently has 1,260+ annual participants.  By almost doubling the number of soccer fields, adding six new sports; plus a fitness trail and playground, it is anticipated that the complex would see a 50-percent increase in annual participants. The complex expansion will also allow the hosting of soccer tournaments of up to 250 teams, which is approximately 3,000 participants, plus their family members."
Once completed, the Lakeshore Sports Complex will provide Southwest Michigan families and businesses with a unique multi-sports and fitness park that is expected to further positively impact local communities and the overall economy. Smith says that combined with the great area schools, the complex would provide a significant contributing factor for families and businesses choosing to live in, or relocate to, the community.
Once completed the Overall Sports complex will include:
10 – Baseball/Softball Fields
1 – Basketball Court
5 – Football Fields (3 current)
2 – Lacrosse Fields
32 – Soccer Fields
2 – Volleyball Sand Courts
A 1.5 Mile, 20 station Fitness Trail, Cross Country practice course
All in one continuous Sports Park that covers 3,438,725 sq ft (79 acres) with over 1,200 parking spaces!
If you would like more information about the facility and fields, or how to contribute, you can contact Mark Smith by email at president@lakeshoreyouthsoccer.com.