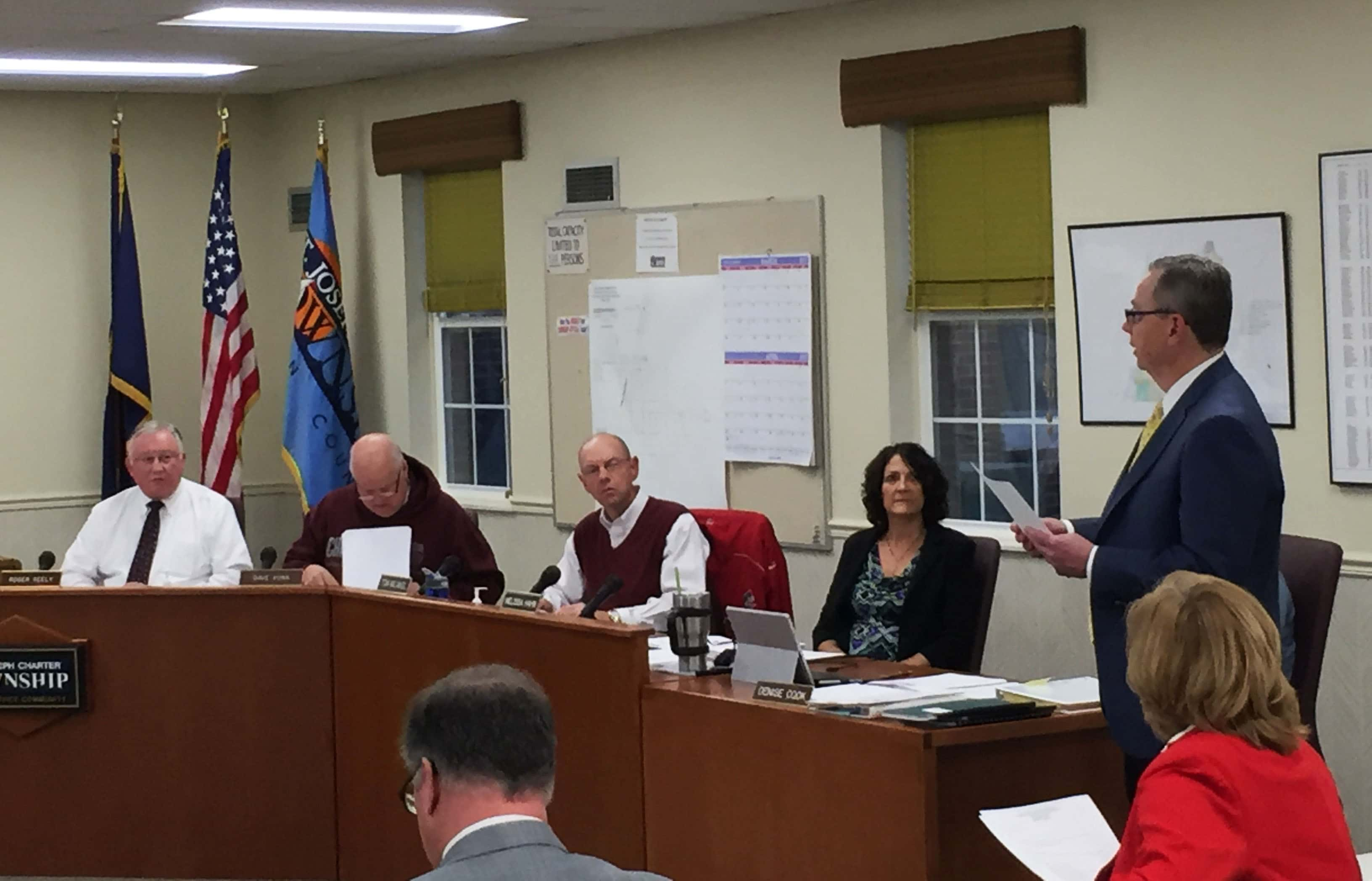 If you've been paying close attention, you've seen heavy earth moving equipment being strategically placed on LECO Corporation property along Hilltop Road in St. Joseph Charter Township over the last several days and now we know why.
LECO Corporation announced today they will invest $19 million in a new 64,000 square foot applications laboratory and customer demonstration facility adjacent to the company's existing campus, located on the south side of Hilltop Road.
The scientific laboratory company was joined at the St. Joseph Charter Township Board of Trustees meeting tonight by Cornerstone Alliance who led the efforts to secure tax abatements for the major new project.
Joel DeBruyne is Vice President of LECO. He appeared before the board this evening and said, "LECO would like to thank the St. Joseph Charter Township Trustees for their approval and continued support of this project." DeBruyne added, "We have been part of this community for more than 80 years and have been fortunate to attract and retain the best and brightest talent as we've continued to grow throughout the years."
LECO and Cornerstone officials set the stage for the project nearly a year ago when they sought rezoning on a part of the land involved in the new site. At that time company officials gave no indication as to what their plans might be for the land they had purchased adjacent to Auto Zone which was not zoned the same as property already owned by the company on the corporate campus which straddles both sides of Hilltop Road in both the City of St. Joseph and St. Joseph Charter Township.
Cornerstone Alliance President Rob Cleveland says, "LECO Corporation's continued investment in St. Joseph Charter Township is proof that companies can recruit a workforce to Berrien County with a high- level of technical expertise including chemists, engineers and laboratory specialists." Cleveland notes, "High skilled jobs such as these add to the diversity of Berrien County's talented workforce and strengthen the region's economy."
In addition to laboratory and customer demonstration space, the sales, marketing, international business and customer communications departments will relocate to the new facility. Construction is estimated to be completed in late 2018.
LECO Corporation has provided industries worldwide with fast, accurate and trustworthy solutions for laboratory analysis. The company's high-tech products include high-quality instrumentation for elemental analysis and mass spectrometry, metallography and optical equipment and the consumables used by such instrumentation.
The company's world headquarters are along Hilltop Road in St. Joseph, but they also have more than 25 subsidiaries across the globe, with additional distributors authorized to sell or service LECO products to the rest of the world.
Cornerstone Alliance is Berrien County's lead economic development agency, and a non-profit, investor-governed organization primarily focused on increasing employment opportunities, private sector capital investments and the local tax base in Michigan's Great Southwest; with specialized business services offered in economically distressed areas.
In the photo accompanying this story on Moody on the Market, LECO VP Joel DeBruyne thanks Township Trustees for their approval of the tax abatement process, paving the way for the new $19-million investment. The photo is courtesy of Rob Cleveland of Cornerstone Alliance.