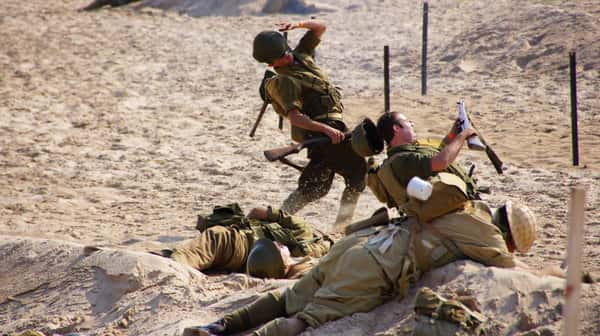 The ever vigilant band of U.S. veterans who have been bringing major reenactments to the shores of Lake Michigan and the Southwest Michigan Regional Airport for years now will once again host a patriotic concert next month and everyone in the region is invited.
Lest We Forget promises it will be active, it will be loud and it will be as patriotic as ever when the Southshore Concert Band joins the Lest We Forget crew in saluting veterans of all conflicts in their annual Veterans Patriotic Concert on Nov 6, at 2pm at Lake Michigan College's Mendel Center in Benton Harbor.
This will be the 11th veterans concert hosted by Lest We Forget and the Southshore Concert Band under the direction of Dale Reuss. The Southshore Band will be featuring their 80 piece band with vocalist Jeff Whittaker of Niles. There will be traditional patriotic songs and salutes for the branches of the service, plus patriotic songs from the wars that the nation has fought. For example, for the Revolutionary War of 1776 the signature song will be "Yankee Doodle Dandy." For the Civil War it will be "To Heal a Nation" featuring the "Gettysburg Address." For the Vietnam War it will be "Black Granite March" and "Mansions of the Lord." This concert will be a solid hour of musical history that promises to be very educational. Parents and grandparents are invited to bring children and grandchildren for a history lesson they'll never forget.
There will be several new features at this patriotic concert. The first new feature is the awarding of two $500 scholarships, donated by Michigan State Representative Al Pscholka and Lest We Forget. One scholarship will be for students in grades 7-9 and the other for students in grades 10-12. Students will be required to submit a 500-word-or-less essay on what they learned about American patriotism from attending the concert.
There willl also be a student check-in table and schools will be notified of those who attend the concert. Students do not have to submit an essay, however, by recording their attendance they might be able to receive extra credit from their social studies or history teacher. If a school would like to arrange a field trip, they can notify Lest We Forget organizers in advance and a special section will be blocked off for their students. Additional information can be obtained from Larry Wozniak at 269-429-2098 or www.49wozniak@gmail.com.
At past Lest We Forget Veteran concerts pictures of WWII veterans were taken and later sent to their homes. This time pictures of all veterans, from Afghanistan/Iraq to WWII will be taken. Photography will be provided if veterans arrive between 1 pm and 1:45pm. There will be no charge for the service.
The master of ceremonies will be Korean veteran Jim O'Malley who always manages to keep things lively. Jim is replacing Jim Cassidy who was the announcer for six years. Tickets to the concert will be available at the Lake Michigan College, Mendel Center Box Office (269-927-1221) or at www.lmcmainstage.org, or from Martin's Super Markets in St Joseph and Stevensville and from Lest We Forget members. Tickets from Martin's or from LWF members are $10. Tickets from Lake Michigan College are $12.50. High school students and under are admitted free of charge.
There will be a map of Vietnam and Vietnam veterans will be able to sign their names in the location they served. They will also receive a medal thanking them for their service. There will be an opportunity at the concert to purchase Lest We Forget shirts, books and DVD's. For questions call Lest We Forget at 269-925-7176 or go to www.lestweforgetusa.org.