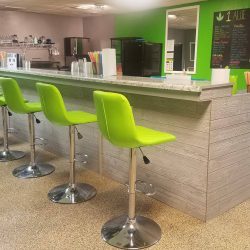 With offerings like Brownie Batter, Pineapple Upside Down Cake, Blueberry Muffin, Strawberry Shortcake, Salted Turtle Cheesecake, White Chocolate Reese's, Elvis Shake and Strawberry Margarita Tea...Angela Johnson may soon find she doesn't have nearly enough stools at her smoothie bar in Dowagiac.
New to the Greater Dowagiac Chamber of Commerce and the community itself, Angela's new Lifestyle Nutrition is now open for business at 56042 M-51 in Dowagiac, and will host a ribbon cutting ceremony next Tuesday, August 14th at 4pm followed by a Grand Opening celebration on Saturday, August 18th from 7am until 7pm.
Those colorful and delicious names are just a few of the myriad offerings that Lifestyle Nutrition is now and soon will be offering to customers at the business. The shop quietly opened in mid-July and has already drawn rave reviews for both product and customer service. They were a hit at the Cass County Fair, as well.
The flavors mentioned here are just a few of many smoothie and energizing herbal tea options available at the shop where Angela and her family, crew and friends spent lots of hours painting, building the smoothie bar, designing the signage and all the other things necessary to get the shop ready for business.
Shop hours are from 7am until 2pm and you can reach them by phone at 269-783-0414 where you can phone in orders ahead of your arrival.
The photo of Lifestyle Nutrition's new in-house counter is courtesy of the team at Lifestyle in Dowagiac.