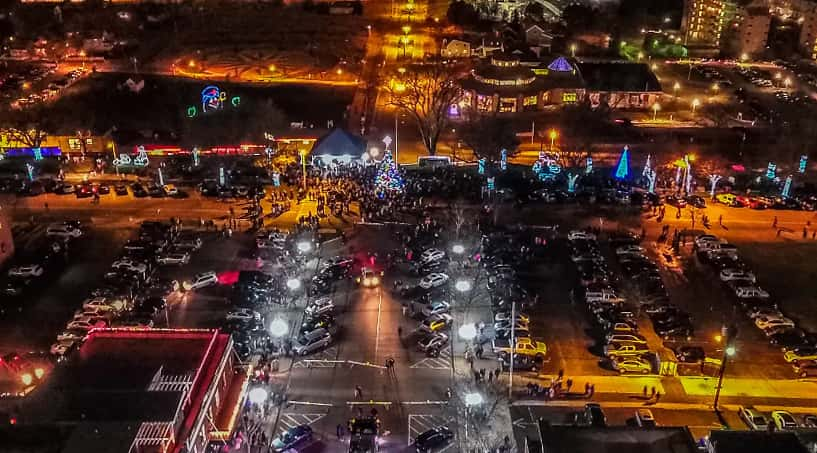 What would it look like if you were to string a million Christmas lights from one end of Lake Bluff Park in downtown St. Joseph to the other and then light them all up at once? Anybody who has ever joined the festivities for the Light Up the Bluff ceremonies in St. Joe certainly knows the answer and they and everybody else are invited for another annual encore performance on December 7th, kicking off  an entire weekend of great holiday family fun in the community's central business district.
In essence, getting in the holiday spirit is easy when you visit downtown St. Joseph during the month of December. Four family-favorite events to celebrate the season will take place back to back on the weekend of December 7th and 8th.
Light Up the Bluff on December 7th  will transform Lake Bluff Park when the mayor flips the switch at 6:30 pm and a million lights twinkle on the community tree and holiday-themed displays. The lights will then remain on through Valentine's Day in Michigan's Most Romantic City. The display is sponsored by the St. Joseph Improvement Association.
Following the tree lighting, visitors can stroll downtown and enjoy Live From Downtown! sponsored by Edgewater Bank and the Southwestern Michigan Tourist Council. Dozens of storefronts will participate in this inaugural holiday window decorating event from 7:00 to 8:30 pm. Those in search of the perfect gift will appreciate unique selections, special prices and a festive shopping atmosphere that evening and throughout December.
For those who love weekends in downtown St. Joseph, join the crowds on Saturday, March 2nd, 2019 for the inaugural March Mannequins! wherein you can watch storefronts come alive as dozens of community volunteers pose perfectly still, like mannequins, from 7:00 to 8:30 pm. For more information, you can visit online at stjoetoday.com/marchmannequins.
On Saturday, December 8th, the 20th Annual Reindog Holiday Parade, sponsored by FuzzyButz, steps off at 4:00 pm, with pets and pet owners dressed up in holiday costumes to entertain visitors along State Street. Anyone wishing to participate in the parade must register, and parade participants can get registration forms at FuzzyButz on State Street, at the St. Joseph Today downtown office or online at stjoetoday.com/reindog. Day of registration will take place at the Welcome Center  at 301 State Street from 2:00 pm to 3:45 pm. A portion of the proceeds from participant registration fees will be donated to Berrien County Animal Control.
After the parade, children can share their wish lists with Santa at Santa's House, sponsored by the Herald-Palladium, until 7:00 pm. Santa will be at the house, located at State and Pleasant Streets, until December 23rd. House hours are Thursdays and Fridays from 4:00 to 6:00 pm, Saturdays from noon to 5:00 pm, and Sundays from 1:00 pm to 5:00 pm. Special hours will also be offered December 21st from 1:00 pm to 6:00 pm for those last minute requests. Photography is not provided, however you are encouraged to bring your own camera to capture that special moment. Gift hunters will appreciate the unique selections, special prices and festive shopping atmosphere that evening and throughout December.
Keeping with the Reindog pet theme, local charity Animal Aid of Southwestern Michigan will hold its annual open house at the St. Joseph Public Library on Saturday December 8th from 1:00 pm to 3:30 pm. Visitors can buy treats from the bake sale, learn about pet adoption opportunities, make year-end donations and more.
For more information on the Merry & Bright Weekend visit stjoetoday.com/merryandbright.
St. Joseph Today is a membership-based 501(c)(3) nonprofit organization, dedicated to developing and promoting events and businesses in St. Joseph and its surrounding communities. For more information about these and other December activities, contact St. Joseph Today at 269-985-1111 or visit stjoetoday.com or facebook.com/stjoetoday.
The spectacular aerial photo of the Light Up the Bluff ceremony accompanying this story on Moody on the Market is courtesy of Great Lakes Drone Company of Watervliet.