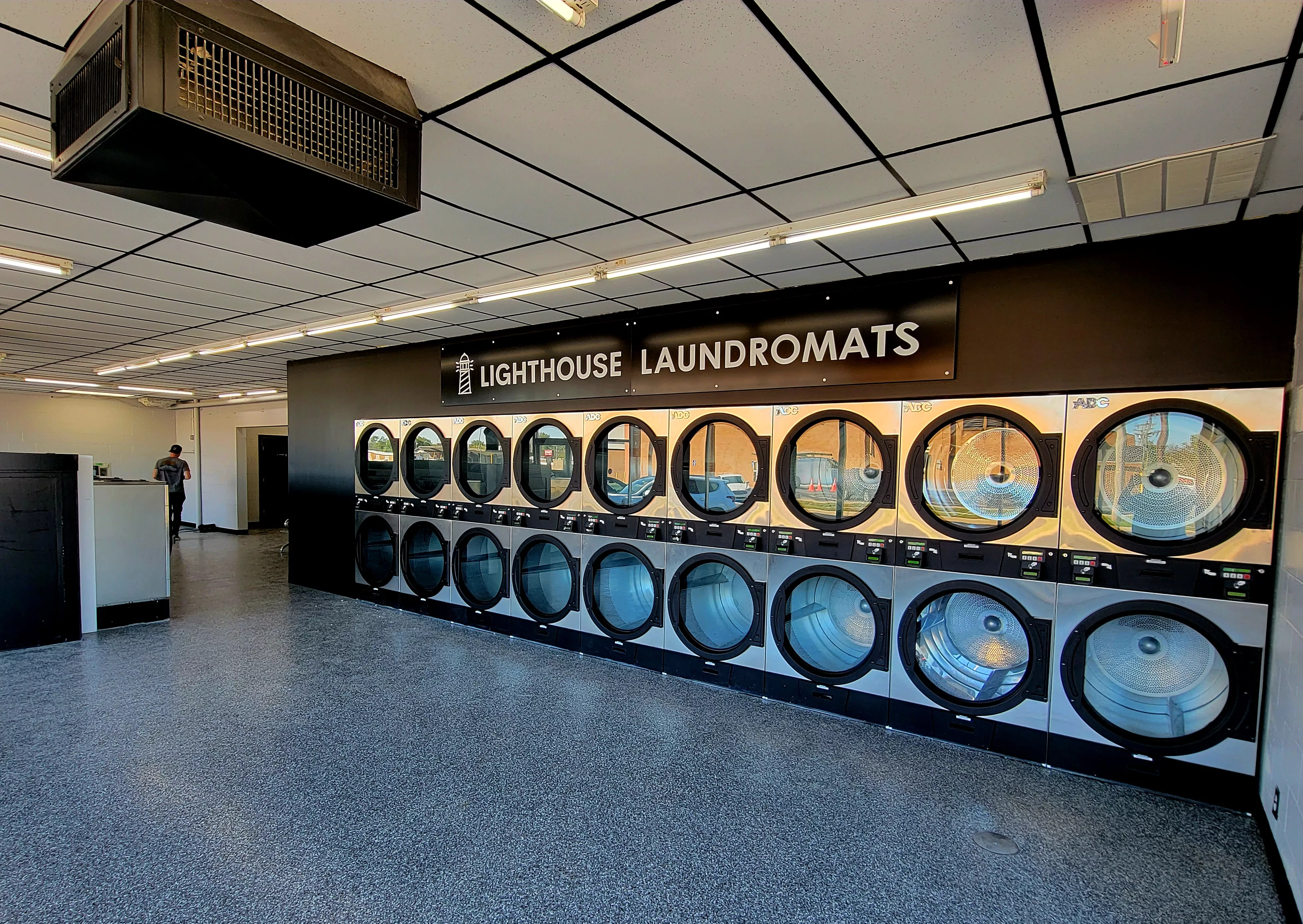 After three months of updates and new equipment installation, the new Lighthouse Laundromat in St. Joseph is opening this morning, Tuesday, September 19.  New owners John and Lauren Knight are looking forward to showing customers all the improvements they've made to help make Laundry Day easier at the former Laundry Village, 700 Midway, St. Joseph.
The first thing you'll notice when you walk into Lighthouse Laundromat is that everything is new, bright, shiny and clean.  Freshly refinished floors, repainted walls, excellent lighting and brand new washers and dryers.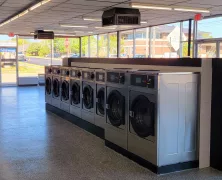 28 Fagor large capacity washers, designed in Spain.  (above)
32 ADC heavy duty dryers made by Whirlpool.  (headline photo)
Expanded seating areas and ample folding tables.
John Knight told us the goal is for an average customer to be in and out in an hour or less.  He said that will be accomplished utilizing four different sizes of washers:  25 lb, 40 lb, 60 lb, 80 lb.
Washer Per-load pricing ranges from $4.75 to $11.55.
Dryers hold up to 50 pounds of laundry and cost $ 1.25 per load.
For comparison, Knight explained an average home washer holds about ten lbs of laundry.  With his new 80 lb washers, a family's entire week's laundry can be handled in short order!   There will also be an attendant on duty during all hours of operation to solve problems and facilitate smooth operation.
Lighthouse Laundromat will be open 6am-8 pm every day.
Knight said the era of the 'Coin Laundry' is over.  Two customer service machines similar to an ATM will handle credit card or cash transactions, dispensing a Laundry Card (similar to a Gift Card) you'll use to pay at each washer and dryer.  A vending machine for soap products is also planned.
Knight plans an introductory "Double Your Money" promotion:  For example, Customers will be able to purchase a $100 Laundry Card for $ 50 for a limited time.  Knight said he hopes to encourage former Laundry Village customers  to 'come home' to Lighthouse Laundromat, rather than traveling to laundromats in Benton Township or Stevensville, as they have in recent months.
In addition to the self service laundromat, Lighthouse will offer 'Drop Off' service, with laundry handled by a Lighthouse staff member.  Knight said that service is particularly attractive to restaurants, beauty salons, and similar businesses.  Pricing is based on how quickly you need the items laundered and ready for pickup.
The Knights purchased the old Laundry Village in February from Dan and Pat McCrery, who had owned it for many years.  They operated it for several months before deciding that a major update was needed. Knight may expand to other laundry locations or look for other businesses that might benefit from new energy and a 'refresh.'   He said the couple plans to become fulltime St. Joseph residents, having grown to love the community in many visits here in recent years.  They are originally from Illinois and currently reside in Northern Indiana.